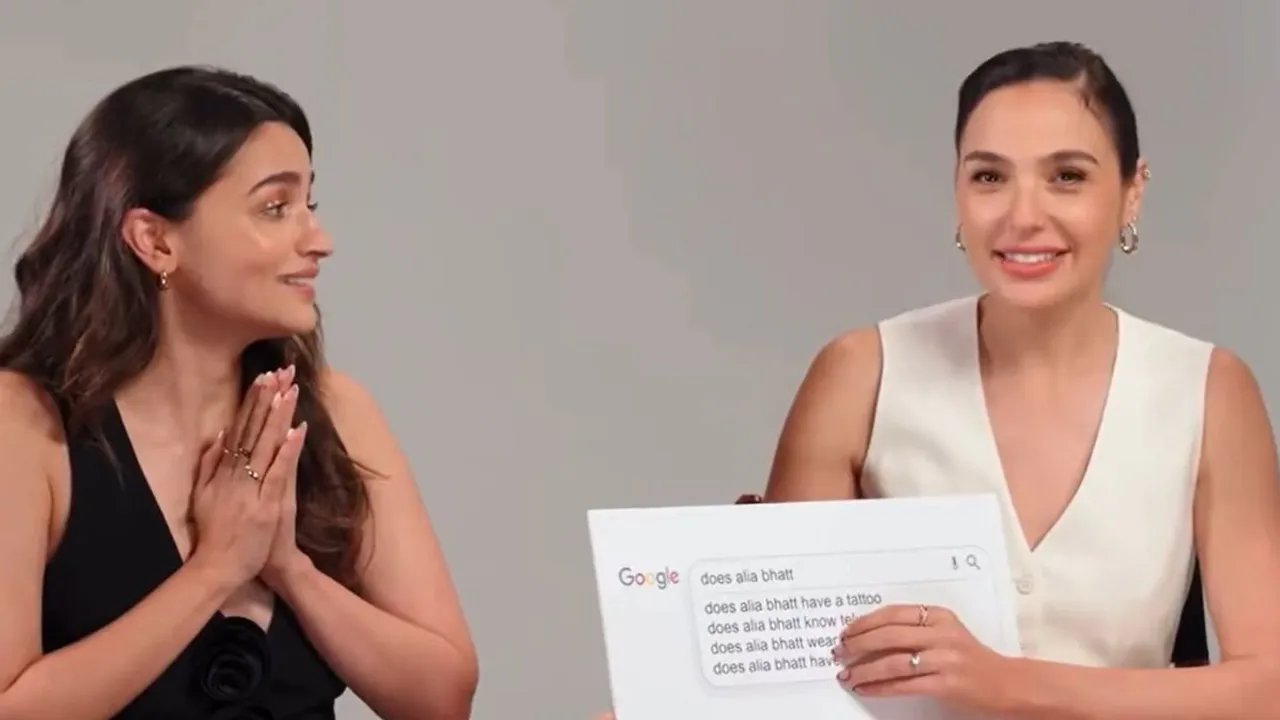 Bollywood Industry is a place where celebrities are always in the spolight. People always want to keep an eye on their favourite celebrities. They are always eager about their favourite celebrities from their movies to their personal lives everything is in limelight. With the rise of social media, nowdays things goes viral very quicky. Recently, some of the bollywood celebrities videos have gone viral on social media and tey are in the  limelight. 
Viral videos of B-town celebrities
1. Alia Bhatt teaching telugu to her Heart of Stones co-stars
Recently, Alia Bhatt's video has gone viral, where she is seen teaching Telugu to her co-stars Gal and Jamie. Gal asked Alia if she speaks Telgu, to which she replied that she knows a few sentences but is not fluent in the language. Then Gal asked her to teach her soemthing in Telgu and Alia taught her "Andariki Namaskaram" which translates to "Hello everyone". This video has been trending on internet.
#RRR Actress #Aliabhat Teaches telugu language to #GalGadot during promotions of #HeartOfStone #Bollywood #Telugu #hollywood #RamCharan #Prabhas𓃵 #rajamouli #ntr #maheshbabu #ShahRukhKhan𓀠 #SalmanKhan pic.twitter.com/Of8aFe40Mm

— X (Parody) (@SunoritaTrading) August 8, 2023
2. Ananya Panday and Aditya Roy Kapoor
Bollywood rumoured couple Ananya Panday and Aditya Roy Kapoor were spotted together enjoying vaccation on the streets of potgual. From their romantic vaccation many photos and videos have been circulated in the Internet and have become headline. The video of Ananya Pandya and Aditya Roy Kapoor enjoying electric scooter ride in Portugal went viral. Fans could'nt stop gushing over the couple.
3. Deepika Padukone and Ranveer Singh
Deepika Padukone is Ranveer Singh's biggest cheerleader she has always supported him. They are one of the most loved bollywood couple. It has become trademark, that whenever Ranveer's movies comes out Deepika is always seen lip sync his movies famous dialogue or songs.  other. Recently, Ranveer shared a video on social media platform of Deepika dancing on the hook step of his song "What Jhumka?". The video has gone viral on social media and fans can't stop  gushing over couple's love and support for each
4. Uorfi Javed's Fashion experiment
Uorfi Javed is a social media sensation she is well known for her fashion experiment. She is unapologetic and has always put her opinion forward. Everyday, she shocks people with her new looks and fashion experiment from wearing a cloths made of bubble gum to cloths made out of food. All her looks and fashion expremients have gone viral on social media platfroms. Recently, she visited big boss ott 2 house and her look made alot of headline and her outfits was made of screw and its video went viral on social media.
5. Malaika Arora's scary reaction
Malaika Arora's walk has become one of the most trending meme material in the town. There many videos of her walk that has gone viral and people are seen making meme videos out of it. Yesterday, Malaika Arora was spotted in town and she  gave a priceless reaction as we got sacred when a nearby stall falls down while she was crossing it. It has grabbed people's attention and the video is going viral on internet as well people have hilarious reaction.