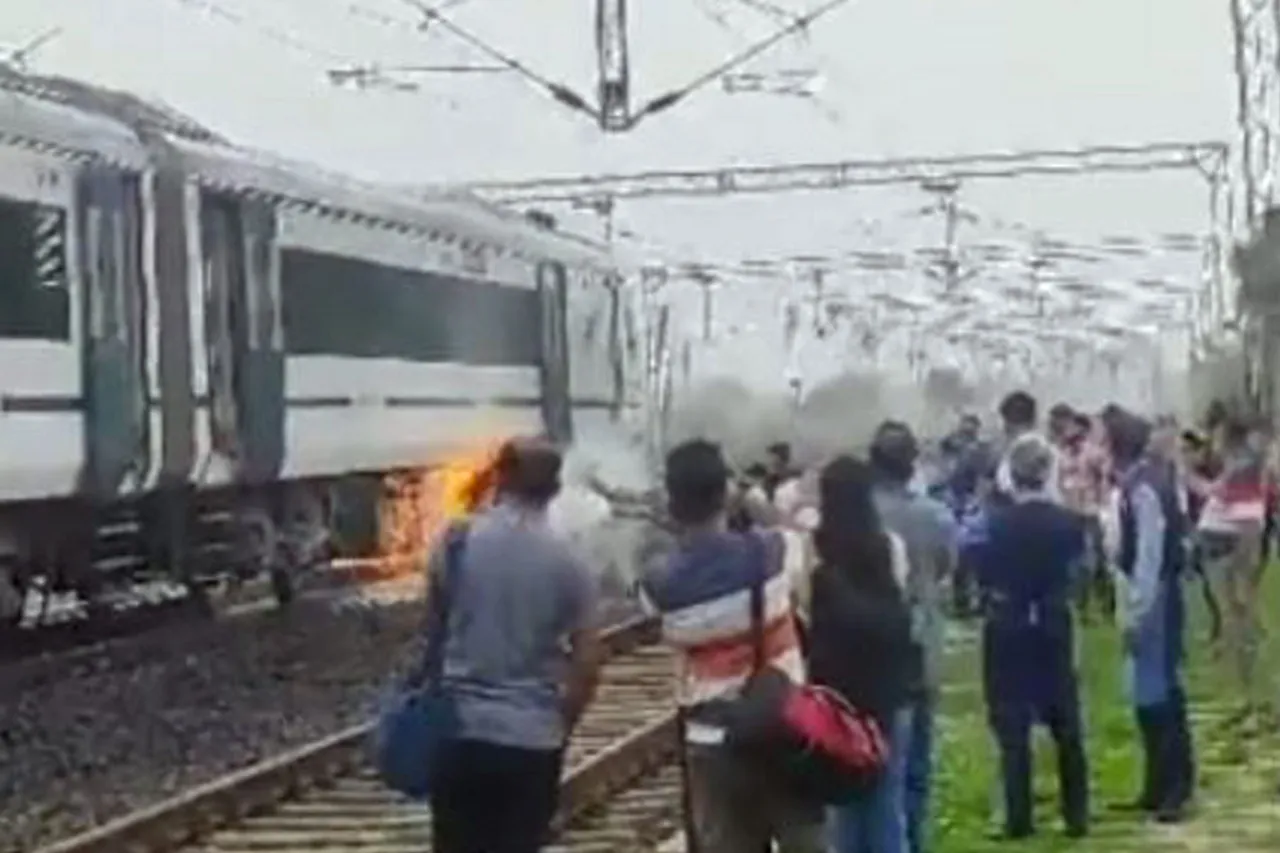 On the monday morning Fire broke out in a  coach of Bhopal-Delhi Vande Bharat Express train. The train was running from Rani Kamlapati Bhopal to Hazrat Nizamuddin Terminal near bina station in Madhya Pradesh. According to the report, the battery box of Vande Bharat Express was caught by fire. No casuality has been reported. The train was leaving from Bhopal to New Delhi on Monday Morning. According to the offical report,  Some railway staff had noticed fire in the battery box of C-12 coach after which the Rani KamalapantiHazrat Nizamuddin Vande Bharat train was stopped around 7.10 Am.
 According to the report it is estimated that 36 passengers were present in the coach. there has been no casualty reported and no one was injuried. Congress Leader Ajay Singh was also present in the train and many other prominent figures were aslo present. According to the passengers, after the sound of fire emerged people started panicking and there was rush among all of them they are in state shock and fear .All passenger were removed from the train and the local fire brigade team came and controlled the situation and local village people also helped fire brigade team and the passengers. Railways have released a statement, "Fire extingushed and defective batteires taken off. Train is ready to move".
Here are some of the clips caputred by lacal people and passengers from the  incidents.
Vande Bharat train from Bhopal to Delhi catches fire today morning at around 7:15am. Was on board but by God's grace everyone is safe!#VandeBharatExpress #traincatchesfire pic.twitter.com/8k5uHDn7lT

— Nupur Singh (@NupurSiingh) July 17, 2023
Fire broke out in Vande Bharat Express

This Vande Bharat train from Bhopal to Delhi was flagged off just a few days back.#VandeBharatExpress | Vande Bharat Express

pic.twitter.com/jwzWBPsjrh

— Siddharth (@SidKeVichaar) July 17, 2023
A #fire broke out in the battery box of a coach of the Bhopal-Delhi #VandeBharatExpress, today, when the train departed from Rani Kamalapati station to Nizamuddin. It was stopped at Kurwai Kethora stn. Fire fighters doused the #Flames and all the passengers are safe.#TrainFire pic.twitter.com/wgSHlFmmit

— Surya Reddy (@jsuryareddy) July 17, 2023