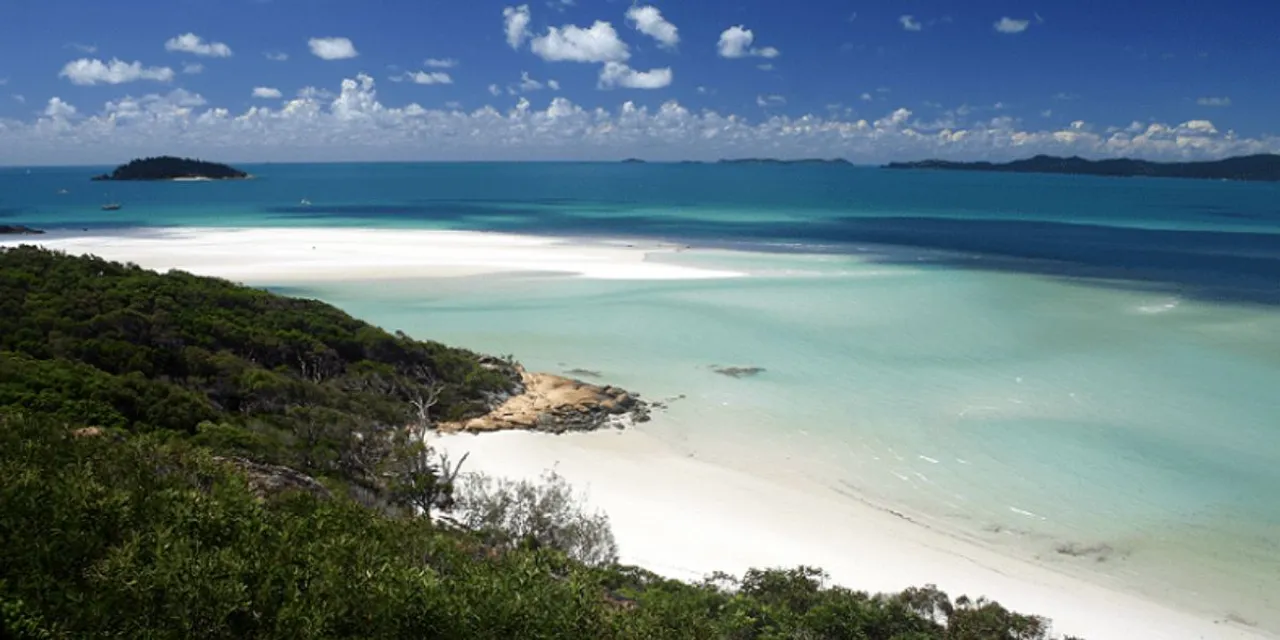 The stunningly beautiful location known as Whitehaven beach formed on a portion of what now bears the name as Whitsunday Island. Whitehaven beach is on Whitsunday island, Queensland, Australia. The first non-indegeneous person to discover this gorgeous location was Staff Commander EP Bedwell. 
This site didn't become known to non-natives until the year 1879. Commander Bedwell, a British naval officerv at that time, also gave the island the name it now bears.
Whitehaven beach is a pristine, award winning beach on Whitsunday island, the largest of the 74 islands in the Whitsundays. This beach streches over 7 kms and boasts with sand made up of 98% pure, tiny silica beads, making it dazzlingly white and luxuriously fine. The magic of the beads of sand is that they don't retain heat from the sun. This makes it the perfect sand for the beach strolls without burning the souls of your feet! The fineness of the beads also makes it perfect for exfoliating - a free spa day whilst at the beach. The sand can also help to polish your jwellery because of its fine nature.
At the northern end of the Whitehaven beach is Hill Inlet, a stunning inlet where the tide shifts the sand and water to create a beautiful fusion of colours. Many people claim Hill Inlet and Whitehaven beach are the most beautiful places they've ever seen.
The lookout at Tongue Point is the best spot as we can see the swirling sands of Hill Inlet. The blue waters of this area are like nothing you have seen outside of the movies. The beach is known for its crystal white silica sands and turquoise coloured waters. The silica sand is amongst the purest in the world. It is cool to touch as you relax on the sand under the warm Whitsunday sky. The island is accessible by boat, seaplane and helicopter from Airlie beach, as well as Hamilton island.
There is plenty of Wildlife and marine life viewable at the beach, including baby lemon sharks, stingrays, blue soldier crabs, goannas, white-bellied sea eagles, and many more.
The Whitehaven Beach Ocean Swim is a 2km open swiming competition held on the beach in November each year since 2009 as a part of Hamilton Island Trialthon.
In 2018 Flight Network collated a team of 1200 travel proffessionals who, put together, have seen over 165 countries. The team then listed the world's top 100 beaches. Giving a rating out of ten for 'Sheer untouched beauty', 'Remoteness' and 'Sand and Water Quality'.
Rivalled only by one other - Whitehaven beach ranked 2nd in the world, gaining a 10/10 beauty and remoteness and a 9/10 for sand and water quality. The professionals called Whitehaven Beach a 'Picturesque Oasis'.
THINGS TO DO AT WHITEHAVEN BEACH
Walks and lookouts
Overnight Sailing
Bareboating