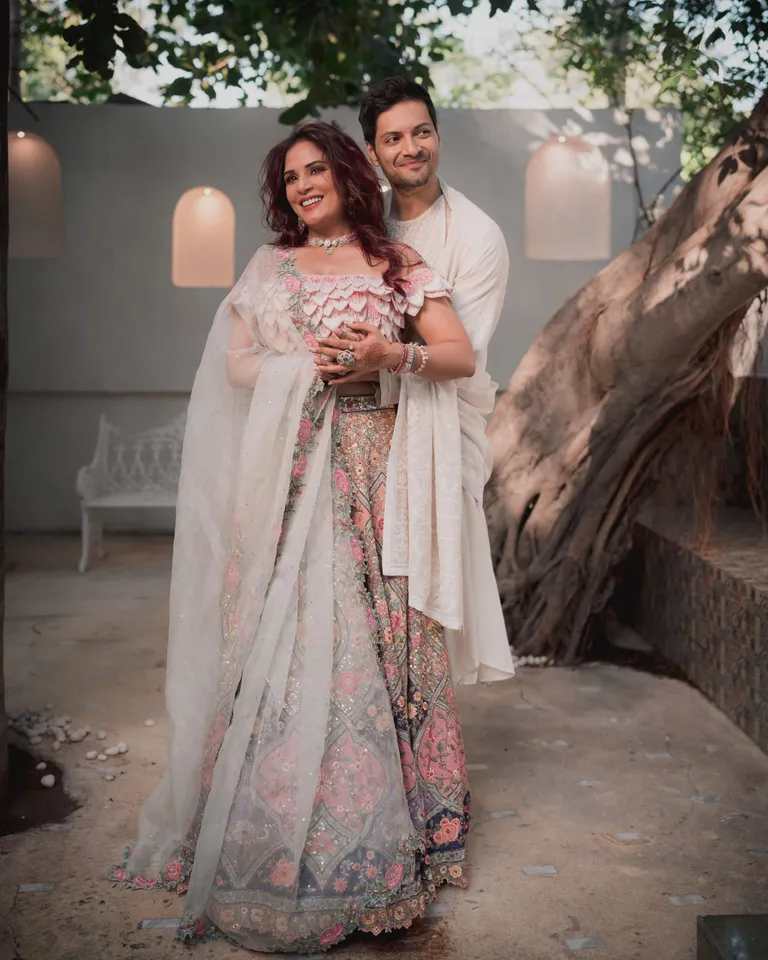 Celebrated Bollywood power couple Richa Chadha and Ali Fazal have chosen a poignant moment to unveil the first glimpse of their wedding documentary, RiAlity. This special reveal coincides a few days post the one-year anniversary of the conclusion of their grand wedding celebrations that spanned across the cultural tapestry of Delhi, Lucknow, and Mumbai. The teaser trailer of the documentary is now out, with the actors sharing it on their social media.
Richa Chadha and Ali Fazal, known for their individuality, creativity, and penchant for pushing boundaries, have etched their names as one of the most powerful and creative couples in the Hindi film industry. Their unique quirks, distinctive voices, and fearless approach to life and artistry have endeared them to audiences worldwide.
In an industry often characterized by glamour and glitz, Richa and Ali stand out as voices of authenticity and originality. Their decision to create RiAlity stems from a desire to share an unfiltered, candid account of their wedding journey. The documentary is directed by Rahul Singh Datta, with a unique perspective of his own view of how the wedding and days leading to it were, where the couple were never once sat down and interviewed to give their take during the documentary. The documentary looks it from the perspective of everyone else involved like an outside in perspective and how they viewed Richa and Ali's love story evolved to the their D Day. All the emotions were captured raw in real time This documentary is not just a celebration of love, but a raw, introspective exploration of the emotional complexities that accompany the union of two working-class actors who have risen to Bollywood stardom. A lot of fictionalised weddings seen in the past have been choreographed well enough to set a dreamy goal . Which while it is special , it's
also a day that is layered with a barrage of emotions and planning every step of the way.
"Weddings are often portrayed as fairytales, but the reality is a mix of emotions – joy, anxiety, excitement, and everything in between. Our documentary, RiAlity, is a heartfelt attempt to capture the genuine essence of our wedding experience. Our wedding was a tapestry woven with threads of every emotion imaginable. RiAlity is our attempt to unravel the complexities of that experience. It's a mirror reflecting the reality behind the glitz, a candid portrayal of two individuals from humble beginnings", said Richa Chadha
Ali Fazal added, "We are laying bare our emotions, the struggles, and the triumphs that came with planning this union. RiAlity is a testament to the fact that love is not always perfect, but it is always enough . Love is profound, it is messy, and yet worth movinng worlds for. RiAlity captures some of the essence of our journey, not just as actors but as two regular people in love. We wanted to give you all a glimpse of the effect of this not just through us but through the gaze of the people around us. This document is our way of saying 'This is us - flaws, dreams, and all. And there is a bit of you in us and a bit of us in all youse' ".
RiAlity goes beyond the superficial, offering an intimate look into the couple's lives, exploring the challenges they faced, the dreams they pursued, and the aspirations that led to their grand celebration. All captured within the small time frame leading upto this coming together.
The first sneak peek into RiAlity promises an emotionally charged, authentic narrative that will resonate with viewers on a deeply personal level. Richa Chadha and Ali Fazal invite the world to join them on this heartfelt journey.
Click here to watch the trailer of RiAliTY:
Check-out their wedding pictures here: