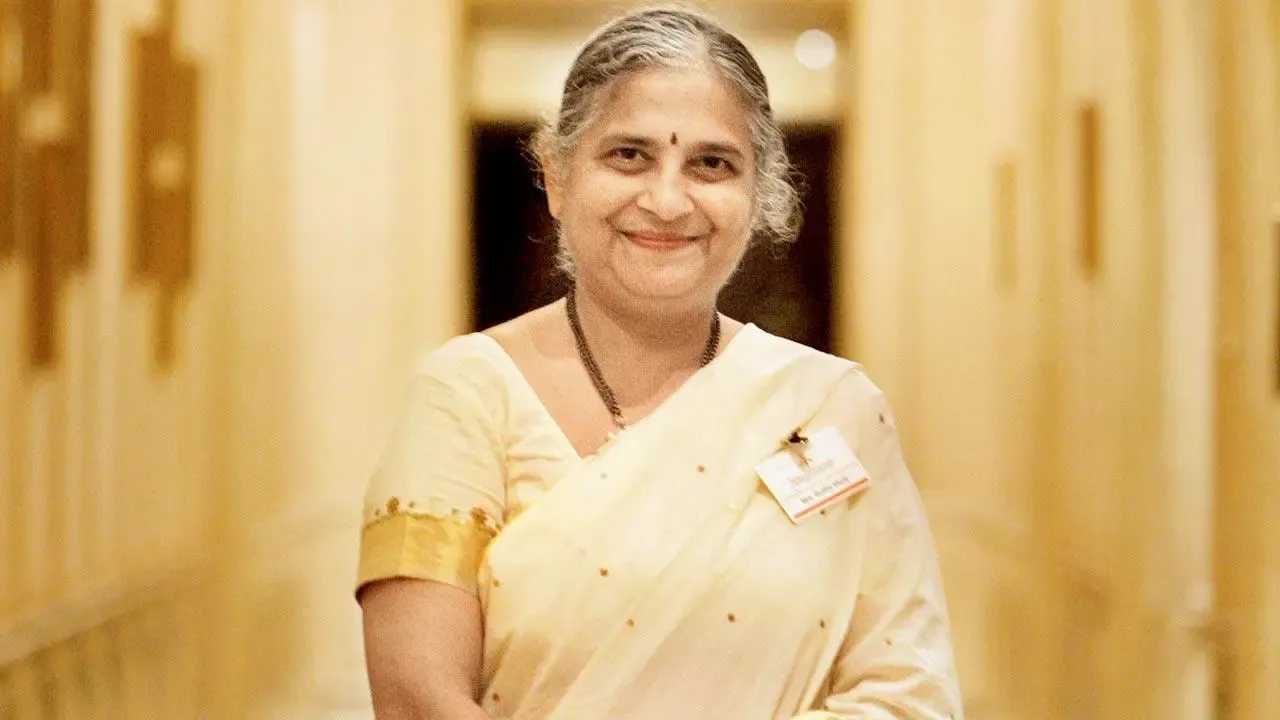 Indian educator and philanthropist Sudha Murthy recently got in candid talk with Kapil Sharma in his show where she  shared many things about herself. Recently in a food talk show she opened up about her food choices and preference. In the talk show she reveled about her eating habbit while she is travelling, her revelation has raised many people's eyebrows and it is catching people's attention on social media.
She reveled that she is a pure vegetarian so when she is travelling outside she is bit aware about using same spoon for veg and non-veg food. She also added that she herself takes care of her food when she is travelling and said
"i am adventurous in work but not with food. I feel scared. I am pure vegetarian. I don't eat egg or garlic. Outside they use same spoon for veg and non-veg food and that's a bit of upseting. When i go outside, I only look for veg restaurants or i always carry a bag full of eating material. I carry 25-30 chapatis. I prepare ready to eat poha and sooji, so that i can only add warm water and eat it. I have a cooking bag and a small cooker. My nani used to travel like that to 60-70 years back. I travel to any country, I carry my food.
People have mix response to her revelation
After her interview clip surfaced on internet it has grabbed people's attention and didn't go well with many people and have triggered many people they have criticized her behaviour while, there are many who have come in her support. Actress Devoleena Bhattacharjee came in her support and wrote, I love Sudha Murthy Ji & immense respect for her. The least i can expect from those twitter bullies not to spread their toxicity everywhere just because they cursed to live one. Hypocrites. 
Other twitter user said, Someone tell Sudha Murthy not to touch her son-in-law, daughter and their kids., Another user wrote, Suddha Murthy Spoon affair has taught me that vegetarians don't wash their utensils and cutlery. They keep using the same things so if you eat sambar from their house expect it to taste like paneer butter masala from last night if you their spoon. Some other wrote, Wonder if Sudha Murthy carries her own bedding to hotels. Because i can promise you people have f***** on the bed she sleeps on.
Someone wrote, If you are a vegetarian in Boston, you are enlightened. If you are in Banglore, you are a castesist. The attacks on Sudha Murthy ji reminds me of this.
There are many more mix opinions about it some are against her while some are supporting. This topic is trending in social media and people are divided into parts and constant debates are going on in it. Here are some of the responses from social media
Why so much of outrage on this video?

Did Sudha Murthy criticised non vegetarian??

She is pure vegetarian and that's her choice where and what she wants to eat.

pic.twitter.com/nWKAWn7mGK

— Trupti Garg  (@garg_trupti) July 27, 2023
Someone tell Sudha Murthy not to touch her son-in-law, daughter and their kids. pic.twitter.com/rIdqOnIeL5

— Grouchy Maxx (@softgrowl) July 25, 2023
Why 'woke-liberals' are after Sudha Murty?
Mother of a Brahmin friend of mine didn't allow me to enter her kitchen coz I was a 'meat-eater'.
M outside the realm of the despicable Caste system but I faced untouchability.
This is what ideas of purity/superiority do to our society

— Arfa Khanum Sherwani (@khanumarfa) July 27, 2023
Sudha Murthy and her Son in Law @RishiSunak … you keep seperate cutlery for your mom in Law ? And your children are not allowed to touch their grandma ? pic.twitter.com/2Kqu9ryWEK

— Tanya Ghosh (@TanyaGhosh2312) July 25, 2023
I love Sudha Murty ji & have immense respect for her. ❤️

The least i can expect from those twitter bullies not to spread their toxicity everywhere just because they are cursed to live one. Hypocrites. https://t.co/gywYHbgTB7

— Devoleena Bhattacharjee (@Devoleena_23) July 27, 2023