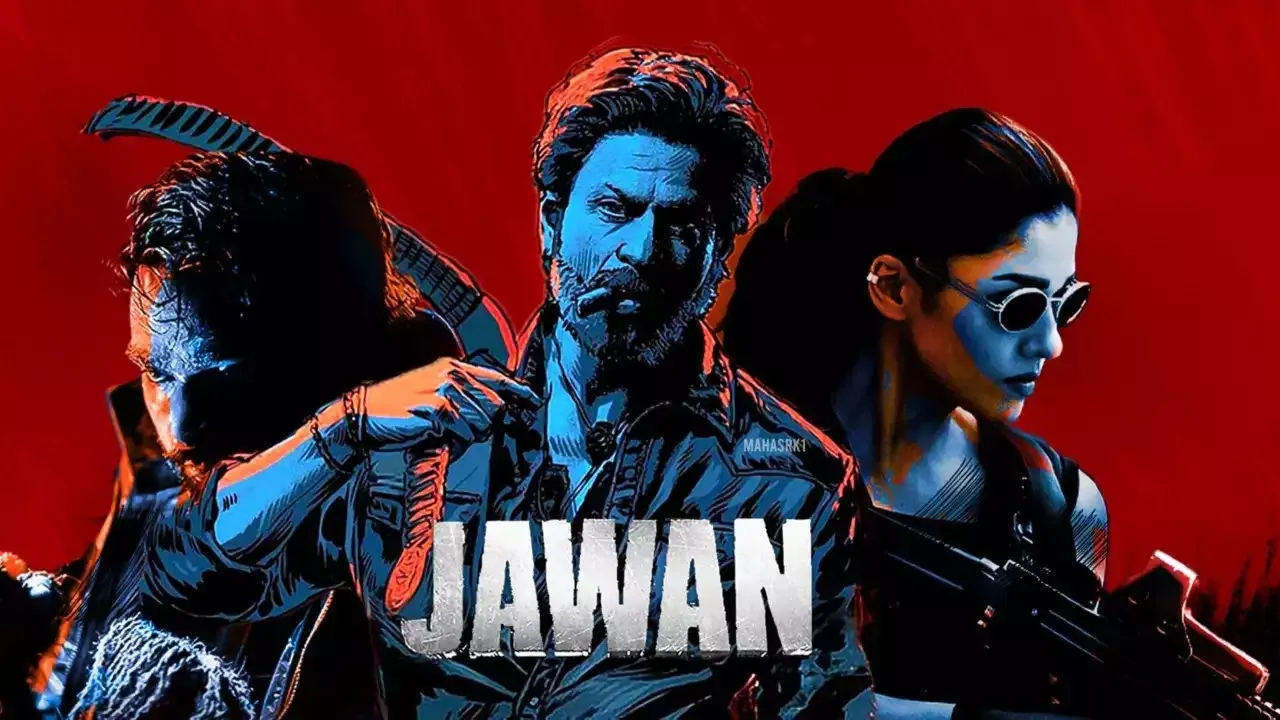 Superstar Shah Rukh Khan's most-awaited movie Jawan has hit the big screen on September 7, Atlee directored action-thrilled movie has received a massive response from audience and it is set to break records in box-office. Ever since, the movie's prevue came out it has been the in the spotlight. There has not been one day when SRK and his movie Jawan has not trended on social media. Fans excitement for the movie has been on another level, which was visible by the numbers of tickets booked in advanced. Jawan is SRK's first pan-india movie alongside him, there are fantastic star-cast including, Nayanthara, Vijay Sethupati, Sanya Malhotra, Ridhi Dogra, Sunil Grover and Deepika Padukone is mking an special appearance in the movie. 
"What a powerful movie", Fans have taken over social media to showcase their love SRK's Jawan:
Jawan has been welcomed with a warm arms by audience and they have already declared Jawan as the "Movie of The Year". Fans were eagerly waiting for SRK's action-packed thriller movie from a month. The movie has live upto people's expectations and fans have taken over social media platform to praise SRK and the entire team for bringing such a brillant movie onscreen. They have took to X aka twitter for showering their love, one user wrote, "of all the things to do in Trinidad, spent the evening watching this SRK masteclass!! What a powerful movie! @iamsrk you are magical and simply stunning#Jawan". Another fan wrote, "Asansol's SRK fans turned up the heat as they celebrate #JawanFirstdayFirstShow! Movie banners waving high, cake cutting, and Zinda Banda dance-they know how to make it a blockbuster festival". Another user wrote, "SRK entry sequence asala nunchi povatle..aa VFX,SFX/BGM, Rich visuals, aa freaking quality, top class camera work, SRK screen presence.. mad stuff bro@Atlee_dir #Jawan" Another fan took to X and wrote, "Banda Ho Toh Zinda Ho.. Aur SRKians ho th #Solpur walon jaise energetic ho". 
Check out Fans reaction here:
Watched #Jawan with family today. Can't describe how it felt. Goosebumps throughout . Character of Vikram Rathore will be remembered forever.

This guy is giving his best for all of us. The vision of @Atlee_dir. Thank you for presenting Shah Rukh Khan this way. Won't be… pic.twitter.com/EzvIRfxLKl

— ANSHUMAN🚩 (@AvengerReturns) September 7, 2023
Banda Ho Toh Zinda Ho ❤️‍🔥 Aur SRKians ho toh #Solapur walon jaise energetic ho ⚡ @iamsrk @RedChilliesEnt @Atlee_dir #Jawan #JawanInCinemas #JawanReviews #ShahRukhKhan #SRK #JawanFirstDayFirstShow pic.twitter.com/GXAZWRrdol

— Shah Rukh Khan Universe Fan Club (@SRKUniverse) September 8, 2023
SRK entry sequence asala mind nunchi povatle.. aa VFX ,SFX/BGM ,Rich visuals ,aa freaking quality ,top class camera work , SRK screen presence ..mad stuff bro @Atlee_dir 🥵🔥 #Jawan pic.twitter.com/j8nogIs9eS

— Ajith Kumar (@Ajith_Kumar666) September 8, 2023
🔥 #Asansol's SRK FANs turned up the heat as they celebrated #JawanFirstDayFirstShow! 🎉🍰 Movie banners waving high, cake cutting, and Zinda Banda dance - they know how to make it a blockbuster festival! 🎥💃@iamsrk @RedChilliesEnt @Atlee_dir #Jawan #JawanInCinemas… pic.twitter.com/ftiX1sU7uH

— Shah Rukh Khan Universe Fan Club (@SRKUniverse) September 8, 2023
Of all the things to do in Trinidad, spent the evening watching this SRK Masterclass!! What a powerful movie! @iamsrk you are magical and simply stunning! #Jawan pic.twitter.com/MrgrrgbC43

— Shreyanka Patil (@shreyanka_patil) September 8, 2023
#Jawan has made everyone crazy 😈 Just look at these scenes 😍🔥 #JawanBoxOffice pic.twitter.com/wYMLenDLrp

— Bollywood update (@bollywoodneews) September 8, 2023
I have watched #Jawan yesterday and my goodness! I don't think I have ever seen a movie like this before! The action, the plot, the way the protagonist is portrayed by #ShahRuhKhan, I've watched the movie 12 hrs ago and I'm still in awe of it. WOW!

— The Canadian Lad (@thecanadianbrat) September 8, 2023
only one actor has the capability to turn single screen/PVRs/INOXs into Shaadi Wala Ghar and that's #ShahRukhKhan𓃵 🫵🏼♥️

Banda poora hi Zinda ho jata hai aisi energy dekh ke toh🥹@Atlee_dir - bawal macha diya ekdum, thanks for making @iamsrk do #Jawan pic.twitter.com/HHvixisaXL

— Anjali🥤 (@iamanjali16) September 8, 2023