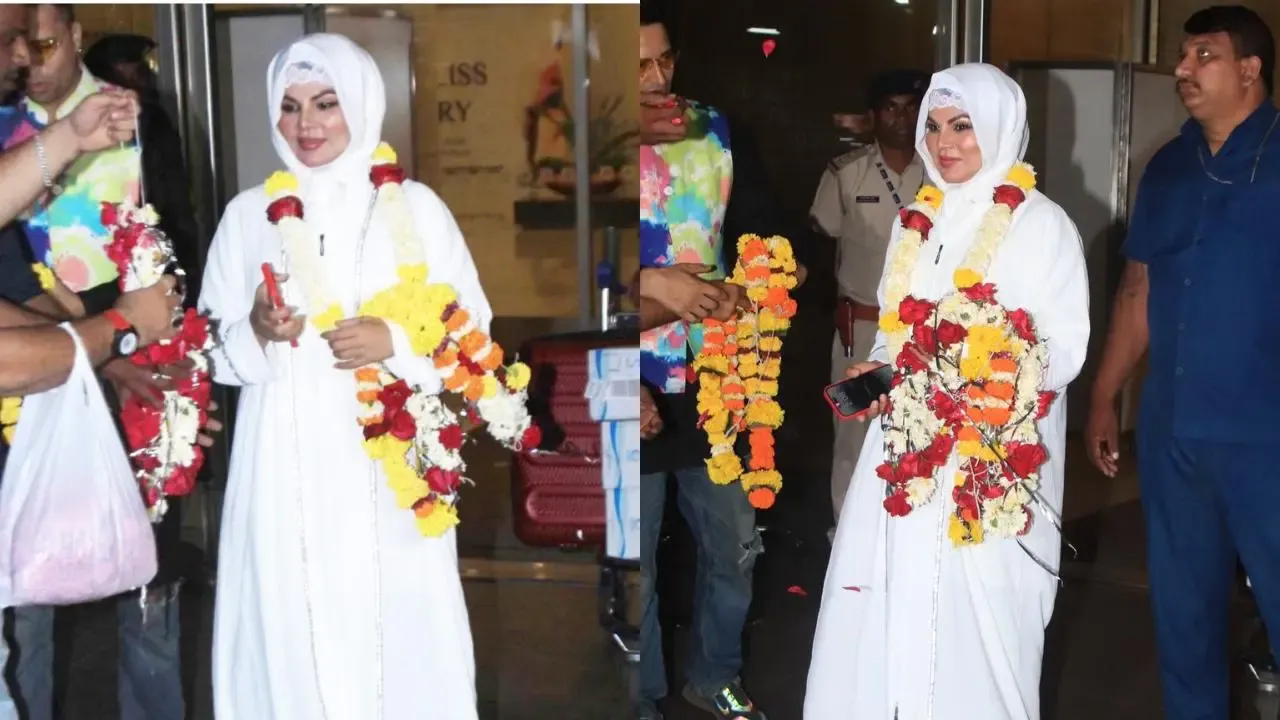 Social media sensation Rakhi Sawant has been making headlines over her controversy with her ex-husband Adil Khan. She has been trending on social media platforms because of this entire drama now her former best friend Rajshree and Sherlyn Chopra have aslo joinned hands with Adil Khan. Amidst, all of these drama Rakhi Sawant went on a holy pilgrimage in Mecca, Madina where she was doing her Umrah. There were many pictures and videos of Rakhi Sawant that went viral on social media platforms from her Umrah. Many fans met her in holy place Mecca where she shared her pain with them and one video of Rakhi's crying while praying to god has spread like wild fire on internet. The controversy queen is back in Mumbai and she was seen in a new avatar.
She refused male fans to place the garlands on her:
Rakhi sawant was spotted by the papparazzi  in Mumbai airport after she performed her first Umrah. She was seen wearing a white abaya. Rakhi Sawant was warmly welcomed by fans in the airport with garlands and rose petals. Many fans were spotted with garlands who were placing it on Rakhi. While, Rakhi refused her male fans to place garlands on her wheras, she allowed her female fans to place it. Later on, while interacting to media she requested her fans to call her by her real name that is Fatima which she changed after marrying Adil and accepting Muslim religion. When she was asked about the controversies that have happended behind her after she left for Umrah, she said she is unaware about any drama and controversies that have happened because she was in holy place and was doing her Umrah in peace.
Before leaving for Umrah she had accused her ex-husband Adil Khan and former friends Rajshree and Sherlyn of hacking her Instagram account and torturing her emotionally and mentally. 
Check out Rakhi's new avatar: