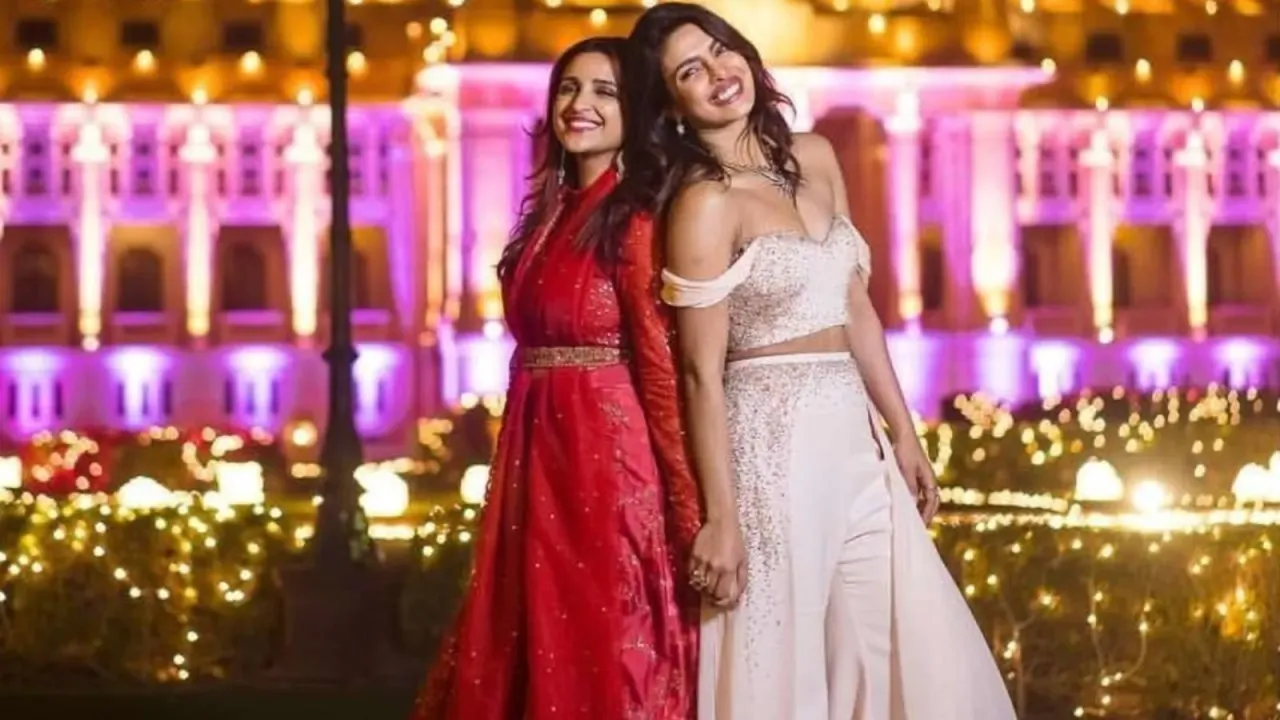 Bollywood's most awaited wedding is set to happen On September 24. Actress Parineeti Chopra and Aam Aadmi Party leader Raghav Chadha are getting married in Udaipur. On Friday, Parineeti and Raghav along with their family arrived in Udaipur for their wedding. Actress, Priyanka Chopra was expected to join the rest of the family for wedding on Saturday along with her daughter Malti. As per the report, Priyanka Chopra might skip sister Parineeti Chopra's wedding with Raghav Chadha. 
Priyanka Chopra might skip sister Parineeti's wedding:
Parineeti and Raghav's wedding functions have started with their pre-wedding rituals  in The Leela Palace with Parineeti coodha ceremony. Along with Parineeti and Rghav's family member many other guest have arrived for the wedding. Priyanka Chopra's mother Madhu Chopra, actress Bhagyashree and BK Shivani G were also joined the ocassion of Raghav and Parineeti's wedding in Udaipur. Meanwhile, fans were eagerly waiting for Priyanka Chopra to attend the wedding. It was reported that Priyanka would attend Parineeti's wedding with her daughter Malti, and she was suppose to arrive the destination today. But, now reports suggests that Priyanka chopra might skip her sister Parineeti's wedding with Raghav due to her prior work commitment. Amid the rumours, Priyanka Chopra hinted that she won't be attend her cousin-actor Parineeti's wedding. 
On Saturday, Taking to her Instagram stories, she shared an old picture of Parineeti Chopra where she was seen smilling and happy enjoying her beverage as she was seen soaking up the sun. She was wearing a multi-colour skirts and a black crop-top with a big hat. 
Priyanka shared a sweet note along with the picture, She wrote, "I hope you are as happy and content as this on your big day little one.. always wishing you so much love (with a red heart emoji). #newbeginings @parineetichopra @ragavchadha88.
Earlier, on May, Priyanka had attended Parineeti and Raghav's engagement ceremony in Delhi.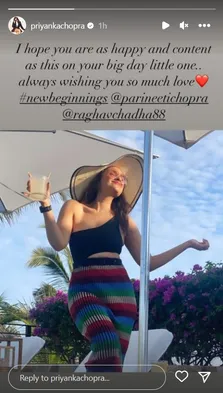 Priyanka's Instagram stories for Parineeti.