Superstar Shah Rukh Khan's most anticpated movie Jawan is all set to release on thetares on September 7. On Thursday Jawan makers relased the most awaited trailer of Shah Rukh Khan's film. Before the trailer was launch, movies prevue and songs were released and fans loved it and it received positive responds and fans were eagerly waiting for SRK's Jawan trailer. Jawan is SRK's first Pan India movie. 
The movie is directed by Atlee and the film has a fantastic starcast that includes Shah Rukh Khan, Nayanthara, Vijay Sethupati, Sanya Malhorta, Sunil Grover and Ridhi Dogra. Deepika Padukone is making a special apppearance in the movie. The trailer has received good response from  audience. The action packed trailer has increased people excitement and SRK's powerful performance has catched people's attention.
Fans are gushing over Shah Rukh Khan's never-seen-before looks:
Shah Rukh Khan's most anticipated movie is all set to hit the theatre in 7 days and a week before the makers of Jawan have finally dropped the most awaited trailer. Shah Rukh Khan will be seen  in never-seen-before avatar that has made fans go gaga over him. The action packed trailer looks super promising. The trailer looks thrilling and has full suspense. Each characters in the trailer has stand out and SRK is seen in bunch of different characters. He is seen playing multiple roles and his each character have different flavors and elements in it.  From his cop avatar to bald he looks promising and dapper.
SRK's Bald Look:
This is for the first time when superstar Shah Rukh Khan will be seen in a bald look. This particular look of SRK has taken internet by storm. He is looking dapper in his bald look and by the trailer it looks like this paricualr character is grey who works with an elite group of six female recruits who has hijacked the train in Mumbai. SRK's bald character looks witty and is sarcastic. During a scene when he was asked what he wants by the authorities, he sarcastically replies, "Alia Bhatt". SRK has completely nailed his bald look and his look is giving a very villainous and spooky vibes. This look has caught people's attention and he is done complete justice to the character.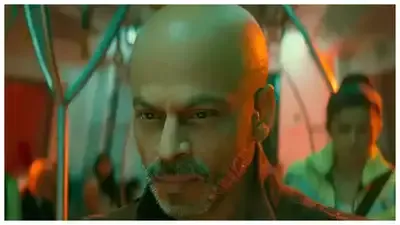 SRK's Police-ofiicer Look:
Shah Rukh Khan will also be seen portraying the role of a policeman in the movie. He is seen wearing the police uniform and walking in full pride and swag whereas, people are seen cheering and applauding for him. SRK has completly nailed the clean shaved cops look.  His entry in the police uniform gives chills he has  that aura in  him that just a few seconds of glimse has grabbed people's attention and they can't take their eyes off him.
Srk in his romantic element
The king of romace Shah Rukh Khan will be seen romancing in the movie.  While it is a full action-packed movie but SRK will spread his magic of romance onscreen with her co-star Nayanthara. His romatic sides are seen in the movie trailer where he seen impresssing Nayanthara. When it comes to romance he has that charm and elegance in him that he looks good with any actress and their chemistry is visible onscreen. Among all his intense looks and roles, his romantic side stands out and looks amazing.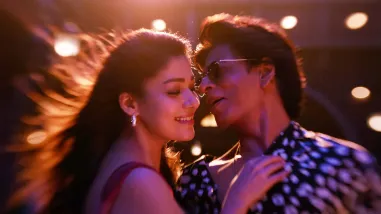 SRK's moustache look:
Shah Rukh Khan's new moustache look has been revealed from the trailer of Jawan and fans are going gaga over this look. He will also be seen portraying the role of an army officer, he is seen wearing  army uniform. King Khan has gracefully pulled the role of an army officer and that moustache is adding more grace to the look. He looks very confident and the  moustache is adding that attitude in his look. He is also seen interacting with Deepika Padukone in that very look.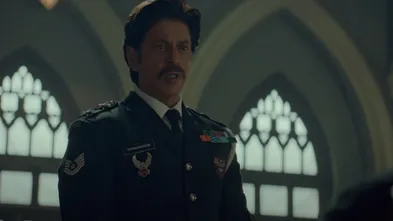 As per the report and by the glimse of trailer, it looks like  Shah Rukh Khan has played multipe roles in the movie and each role has different importance in the movie and SRK has delivered an outstanding performance and his each look has come across well and fans are loving it.