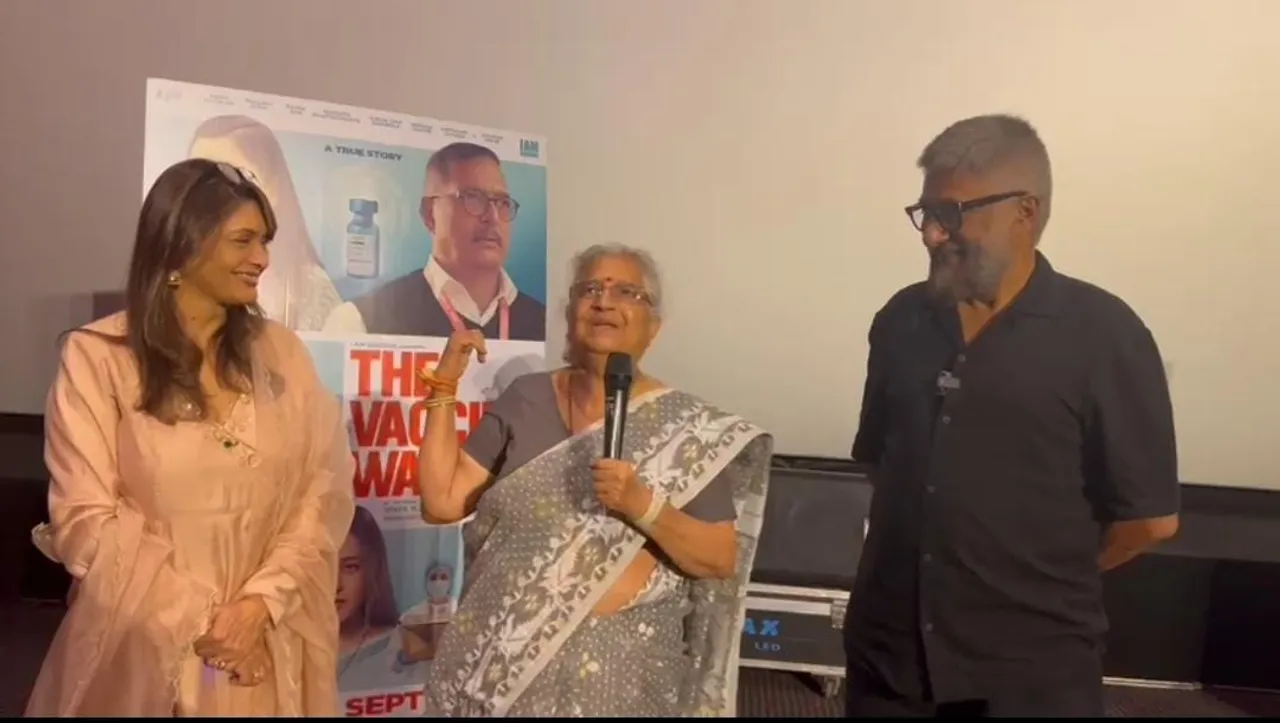 Acclaimed filmmaker Vivek Ranjan Agnihotri along with Pallavi Joshi have officially begun the promotions for their much-anticipated film, 'The Vaccine War,' in India. The film, which explores India's remarkable journey in the fight against the pandemic, has already garnered significant attention. At a recent promotional event, the duo received high praise from renowned author and philanthropist Sudha Murthy.
Taking to social media, the filmmaker writes "Thank you @SmtSudhaMurty ji for your inspiring words at the screening of #TheVaccineWar #ATrueStory."
Checkout the post here: 
Thank you @SmtSudhaMurty ji for your inspiring words at the screening of #TheVaccineWar #ATrueStory. pic.twitter.com/xw5Jpa8iLL

— Vivek Ranjan Agnihotri (@vivekagnihotri) September 18, 2023
Sudha Murthy, an iconic figure known for her social work and inspirational writings, took the stage at the event to express her admiration for 'The Vaccine War.' She emphasized the film's relevance and its potential to inspire millions. In a heartfelt moment, Murthy stated, "Behind every successful woman is an understanding man." This statement was directed towards the makers of the film, highlighting the power of unity and collaboration.
Furthermore, Sudha Murthy, visibly moved by the film's content and message, shared her optimism. She passionately exclaimed, "India can do it!" Her emotional response echoed the film's core message of resilience and determination in the face of adversity.
As 'The Vaccine War' gears up for its release, the film has not only become a testament to India's indomitable spirit but also a beacon of hope and unity in the ongoing global battle against the pandemic. With the film's promotions now underway, anticipation is mounting, and audiences across the nation are eagerly awaiting its release.
'The Vaccine War' will feature Anupam Kher, Nana Patekar, Sapthami Gowda, and Pallavi Joshi as lead characters. Produced by Pallavi Joshi and I Am Buddha, the film will be released in Hindi, Tamil, and Telugu on 28th September 2023.