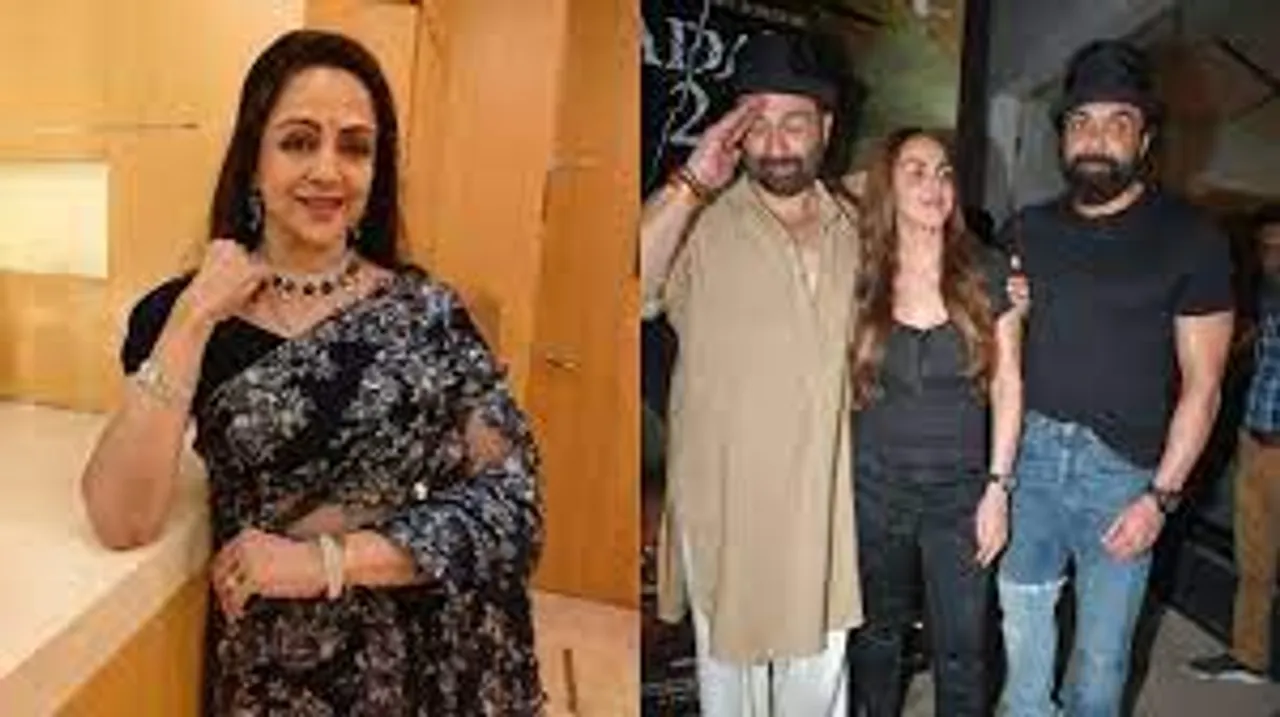 Recently, Esha Deol hosted a special screening of Sunny Deol's blockbuster movie Gadar 2 starring Ameesha Patel opposite Sunny Deol. As per the report, this was the first time that superstar Dharmendra's son  Sunny Deol and Bobby Deol were publically seen with their stepsisters Esha Deol and Ahana Deol. from Heema Malini. The Deol sibblings reunion took the internet by storm and this news created buzz on social media and netizens had a positive reaction to it. Earlier, it was reported that both the familes had fued with each other when Hema Malini and her daughters Esha Deol and Ahana Deol did not attended Sunny Deol's son Karan Deol's wedding with Disha Archary.
Hema Malini reacted to their reunion and talked about their Family dynamics:
This news has grabbed people's attention and Hema Malini recently, watched stepson Sunny Deol's movie Gadar 2 and took to her social media handle to appreciate Suuny Deol's work and congratulated him for his success. Recently, in her interview with News18 Showsa, she opened about her family dynamics with each other and reacted to the reunion of her daughters Esha Deol, Ahana Deol with their stepbrothers Sunny Deol and Bobby Deol.
She said, "I am feeling very happy. I do not feel it is something new because it is very normal. Many times they keep coming home and all but we do not publish it anywhere, we are not the type to take pictures and immediately put it up on Instagram. We are not that kind of a family" and she further said, "We are very much together, always together. Any problem we are always together with each other. So, the press got it and it is nice, they are happy about it, and I am also happy".
Sunny Deol's Gadar 2 has become massive blockbuster and the movie has made Rs 418.90 crore at the box office after two weeks and is still going strong.