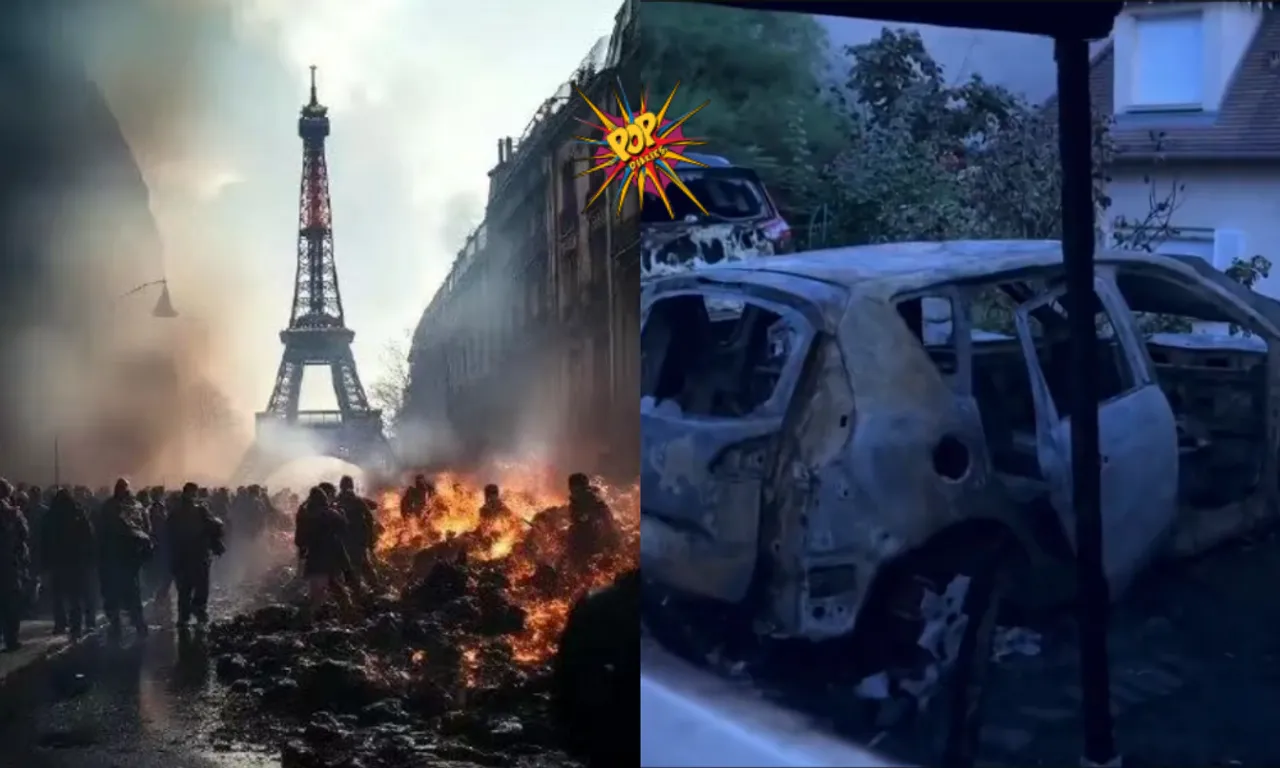 A 17-year-old boy Nahel was shot dead by a police officer on a Tuesday morning during a traffic stop in the Paris suburb of Nanterre, France. The incident has revived longstanding grievances about policing and racial profiling in France's low-income and multi-ethnic suburbs. This incident had caught on camera that triggered the people of the country which led to bursting in riots.
ALSO READ: EVERYTHING YOU TO KNOW ABOUT #FranceRiots: 17-year-old's Encounter Tiggered People In France Who Has Taken Over The Cities On Blaze For The Fourth Night In A Row!
The four consecutive nights of France witnessing ablaze all over the nation has left netizens in shock with such a major incidence, due to which French officials launched a crackdown by appointing over 45,000 police officers across the country and almost 1300 people were arrested who set the buildings ablaze and looted stores.
·       Meanwhile, Finance Minister Bruno Le Maire said that over 700 shops, supermarkets, restaurants, and bank branches were "ransacked, looted and sometimes even burnt to the ground since Tuesday".
Can you imagine having your shop looted and your car torched. Then being expected to continue to pay taxes to house more refugees & pay for the ever growing welfare state! This is modern day multicultural Europe. Diversity is our strength. #FranceHasFallen #FranceRiots pic.twitter.com/LoPYlzvj4j

— 🇬🇧 National Housing Party U.K. 🏴󠁧󠁢󠁥󠁮󠁧󠁿 (@NHPUKOfficial) July 3, 2023
·       And now it has been said, on Sunday, according to the French interior ministry, more than 719 people were arrested, the news agency AFP reported.
      On Sunday morning, rioters had rammed a car into the mayor's house, injuring his wife and one of his children and Mayor Vincent Jeanbrun tweeted saying, "My wife and one of my children were injured. It was an attempted murder of unspeakable cowardice." And Créteil court's public prosecutor Stéphane said on the car-ramming incident that "Given the extreme seriousness of these events, the public prosecutor's office has decided to classify them as an assassination attempt."
French protesters attack the home of the mayor and his family

The mayor of the French city of L'Ail-le-Rose said his house was attacked, his wife and child were injured. In fact, the protesters began to hunt for government officials.

" The attackers rammed my house with a car,… pic.twitter.com/lQoZfRrffC

— Spriter Team (@SpriterTeam) July 2, 2023
🔴 #Emeutes : « Relais mairie entièrement détruit, rez-de-chaussée de l'hôtel de ville dévasté, marché partiellement cramé… »

Le récit surréaliste des dernières nuits de violences à L'Haÿ-les-Roses…

Le problème est que ce n'est pas fini.https://t.co/xugtQXUmdI

— Vincent Jeanbrun (@VincentJeanbrun) July 1, 2023
·       A 17-year-old Nahel who was shot dead by a police officer, his grandmother who is only identified as Nadia requested protestors to stop the violence in a telephonic conversation with French news broadcaster BFM TV, "Don't break windows, buses ... schools. We want to calm things down," she said. She further said that she was angry at the officer who killed her grandson but not at the police in general and expressed faith in the justice system as France faces its worst social upheaval in years.
Clash in between police and Riots.
TV will never show these footages
What will be the future of France??? #france #emeutes #RIPTwitter #FranceRiots #FranceHasFallen #FranceProtest #franceViolence #Paris #ElonMusk #elon pic.twitter.com/S8eqDhL7Zj

— Mushtaq (@Mushtaq07559495) July 2, 2023
·       Adding more about what happened on Sunday? France's Interior Ministry said in a statement that the restrictions are "intended to prevent the misuse of social networks and online platforms to coordinate illegal actions and incite violence" and added that the mobile and landline services will continue to operate.
·        Also, President Macron has postponed his state visit to Germany that was due to begin on Sunday. As per a statement, he approached the German presidency and asked for a postponement of the 'planned visit'. While reacting to France's situation the German Chancellor Scholz said he's concerned about the situation in the country but he's confident in Macron's ability to bring things back to normalcy. 
And Nahel was buried on Saturday, it is said that hundreds of people were gathered at the funeral in Nanterre's grand mosque and some mourners were heard saying "God is Greatest" in Arabic as they spanned the boulevard in prayer.
ALSO WATCH VIRAL VIDEO: THIS Philippines Wedding Is Inspired By Taylor Swift's Song 'Daylight' And Its Simply Mesmerizing!
ALSO READ: Rocky Aur Rani Kii Prem Kahani Trailer Review: A Classic Karan Johar Movie We've All Been Waiting For Is Here!
ALSO READ: To Know The Truth If Im Yoon-ah and Lee Jun-ho Are Really Dating Each Other Or Not?
ALSO Checkout The Netizens Review On 'THE IDOL' And How They're Highly-Disappointed With Such a Show