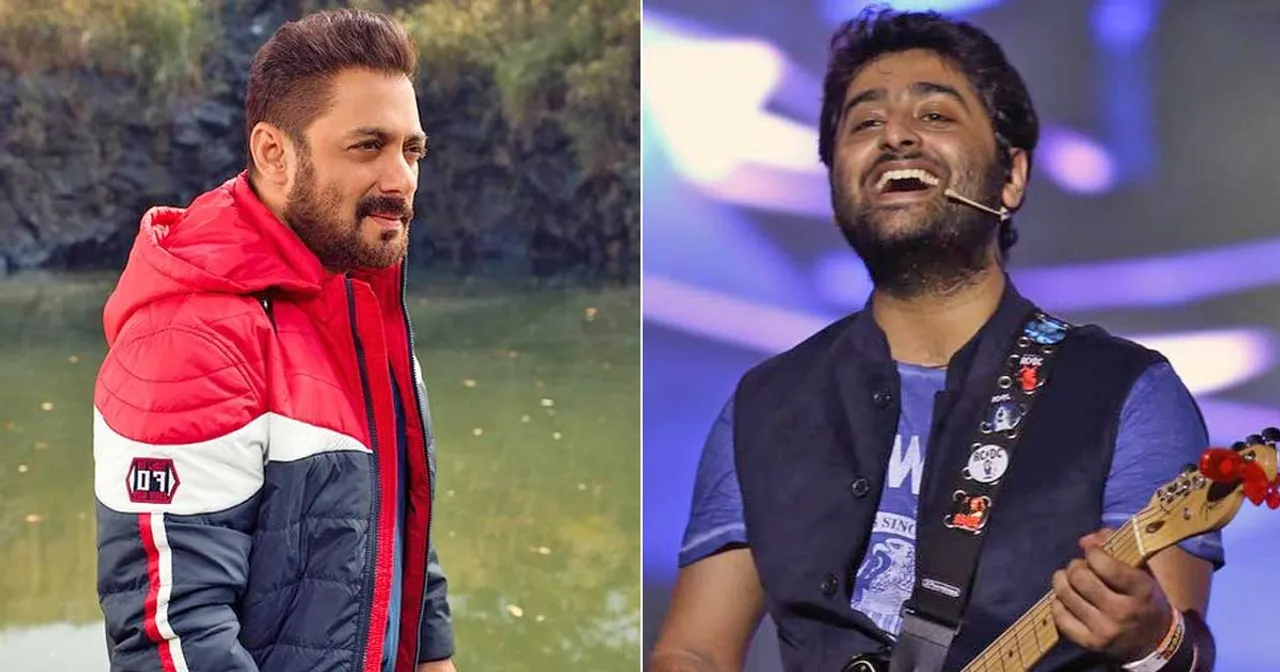 Salman Khan and Arijit Singh's recent meet-up has grabbed people's attention and is making headline. On Wednesday, Singer Arijit Singh was spotted leaving superstar Salman Khan's Galaxy apartment in Mumbai. The recent meet-up has sparked the rumours that the two of them have reconciled with each other after their several long years feud which took place in year 2014. Many videos and pictures of Arijit leaving Salman Khan's apartment has surfaced online, soon after which Arijit's past apology letter to Salman Khan has gone viral on social media. 
Check-out the video of Arijit Singh leaving SK's apartment here:
Arijit singh Spotted at #SalmanKhan's house Today. What's happening?? #Tiger3 #Tiger3Trailerpic.twitter.com/tLPKUnEN2p

— MASS (@Freak4Salman) October 4, 2023
Arijit's apology letter to Salman Khan:
In past, after his feud with Salman Khan, singer  Arijit Singh had publically apologised to Salman Khan through his apology letter on Facebook and had requested him to not remove his song from his movie Sultan. He in his letter had also mentioned that he never intended to disrespect or mock the actor and he also had stated that he had tried to reach out to Salman Khan via calls, emails and messages but did not received any response. Later, Salman Khan had removed Arijit's songs from his movie Bajrangi Bhaijan, Sultan and Kick. 
Arijit Singh had wrote a long apology letter stating, "Dear Mr Salman Khan...This is the last way I thought I would speak to you. I have been trying to text you call you and do everything possible to tell you that you are mistaken about the fact that I insulted you. I never did. That night in the show It was the wrong time and wrong aura. Nevertheless you felt insulted. And I understood and I felt extremely sorry about it as me and my family have been your fan since long. I tried to explain so many times but you never got it. I apologized but you never got it. How many times I sent you apology texts you also know."
"At Nita Ji's place I only came back to apologize to you but you dint get it. No problem I apologize here In front of everyone but please it is a request. Please do not remove the song that I sang for you in Sultan. You want anyone else to sing this song, absolutely fine but keep a version at least. I have sung enough songs sir. But I want to retire with at least one song of you keeping in my library. Please do not take away this feeling. I don't know why am I doing this I know the consequences. People are going to write their heart and mind and everything. I also know you won't be bothered Mr Salman Khan.
Still I think I need to take it out. After all I have to live with this fact that you made sure that I don't sing for you even though so many of us requested. But I will be a fan bhaijaan..Jagg ghumeya thare jaisa na koi..
Advertisement
Regards
Yours truly
Arijit Singh
Let there be light."
Salman Khan and Arijit Singh's 2014 feud:
The feud between Salman Khan and Arijit Singh started during an award function in 2014. Where, Salman Khan was hosting the award show and when Arijit came on the stage to receive his award he looked very sleppy and grumpy, to which Salman had asked, "Tu hai winner(are u the winner)?". To which Arijit had replied "Aap logon ne sula diya(You all put me to sleep)".  After which their feud started and went on to professional level as well. 
Their recent reconcilation-reunion has sparked the rumours that the singer might being doing his next project with Salman Khan. It is specualted that Arijit might do songs for Salman Khan much-awaited upcoming movie Tiger-3.