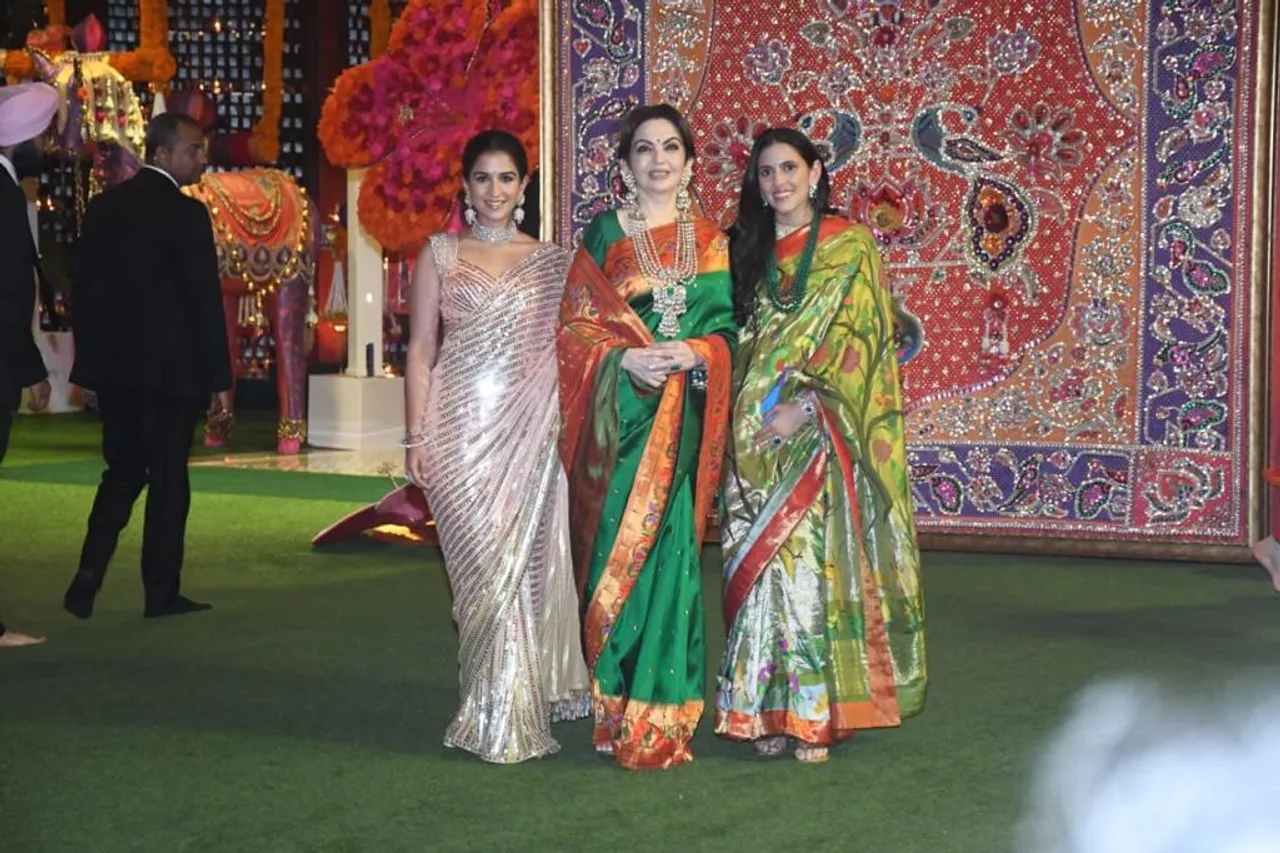 The festive season has began in Indian with Ganesh Chaturthi, In every corner of our country Lord Ganesha's devtoees are celebrating this holy festival. The 10 days celebration of Ganesh Chaturthi  has began from September 19 to September 28. On Tuesday, Billionarie and Industrialist Mukesh Ambani and his wife Anita Ambani hosted a lavish bash for celebrating the auspicious occasion of Ganesh Chaturthi for their friends and family at their residence, Antillia. It was a star studded event, many prominent figures from politics, sports and Bollywood industry graced the Ambani event.  From Shah Rukh Khan, Salman Khan, Alia Bhatt, Ranveer Singh, Deepika Padukone to Hardik Pandya and many others attended the lavish bash of Ambani's. 
Details of celebirities who attended Ambani's Ganesh Chaturthi Bash:
On Tuesday, Ambani's welcomed Lord Ganesha idol  at their Antillia residence with open hearts and arms. Here is the detail list of Bollywood celebrities and other prominent figures who have attended the lavish Ganesh Chaturthi celebration hosted by the Ambani Family. 
Anita Ambani with Sholka Meht and Radhika Merchant
Anita Ambani and her daughter in laws Shloka Mehta and Radhika Merchant  welcomed guest for Ganpati Darshan and they together posed for the papparazi. Nita Ambani looked gorgeous in green-silk saree and wore it with heavy jhumka and neckpiece. On the other hand, Sholka Mehta opted for floral mint green colour silk saree that had red border. Wheras, Radhika wore golden sequinned saree with a matching blouse and she wore a diamond set of necklace and earings.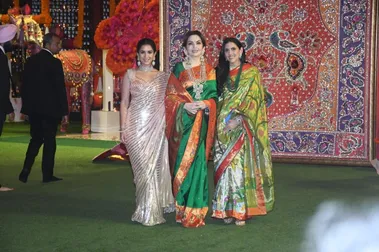 Shah Rukh Khan with his Family
Shah Rukh Khan who is in cloud nine post massive success of his movie Jawan also attended Ambani's Ganesh Chaturthi celebration with his family. Shah Rukh Khan looked dapper in his simple brown kurta and black pant look, he was accompanied by his wife Gauri Khan who wore a shinny silver salwar suit, his daughter Suhana Khan who wore a white Indian attire and his son AbRam also joined them. Gauri Khan's mother Savita Chibber also came with them to graced the occassion.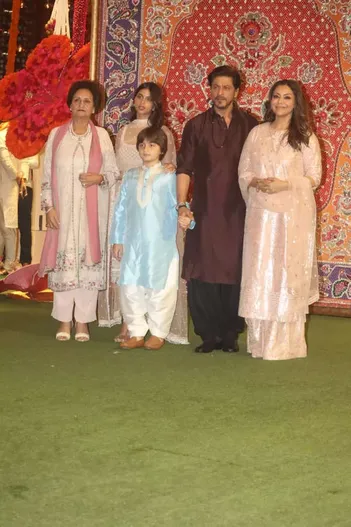 Salman Khan
Superstar Salman Khan came with Alizeh, both of them graced the the occasion of Ambani, Salman Khan wore a simple blue Kurta with white salwar pant and he was looking handsome in his buzz cut hairstyle.Whereas, Alizeh looked colourful in her sequinned sharara set. 
Alia Bhatt and Ayaan Mukherjee
The Brahmastra duo Alia Bhatt and director Ayaan Mukherjee posed together for the papparazi, Alia looked stunning in her flame-coloured red sare. She wore a simple red saree that had mirror work in its border with a sequined mirror-work bralette blouse. She opted for a simple earnings and black bindi, Whereas, Ayaan Mukherjee who was hesitating at clicking pictures wore a red chikankari matrial kurta and white pants.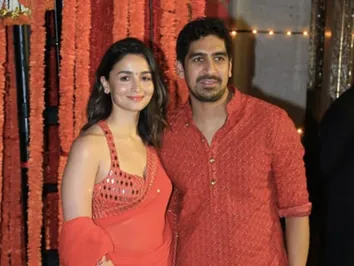 Ranveer Singh and Deepika Padukone:
Bollywood couple Ranveer Singh and Deepika Padukone graced the occassion of Ganesh Chaturthi at Ambani's with their presense. The couple looked super dazzling and vibrant in their traditional outfit. Ranveer looked handsome in his deep green kurta set with which he carried a red coloured dupatta.. Whereas, Deepika looked stunning in her vibrant pink salwar-kameez combination. 
Karan Johar and Vicky Kaushal:
Vicky Kaushal attended the event with his brother Sunny Kaushal and Katrina's sister Isabella Kaif. He was later, joined by Karan Johar, both of them were wearing a matching coloured outfit. Karan Johar wore a ivory sherwani which had gold border ensemble, whereas, Vicky opted for white Kurta set that had a sequined silver stripes in it. He even carried a matching colour dupatta
Sidharth Malhotra and Kiara Advani:
Sidharth Malhotra attended the event with his beautiful wife Kiara Advani both of them looked stunning and gorgeous in their traditional outfit. They came holding each others hand, Kiara looked beautiful in her mint-yellow saree which had a silver shimmery border and she wore a silver sequined blouse. Wheras, Sidharth wore a blue kurta set, that silver sequined border.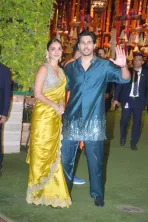 Shahid Kapoor photobombed by Pandya brothers:
Shahid Kapoor also attended the event, while Shahid was posig for paparazzi the pandya brothers and their gang photobombed him. It was a very funny incident that caught captured in cameras, while Shahid walked few steps further to remove the shawl and give the cameraman good angles, Hardik Pandya, Kruna and his wife Pankhuri and Ishaan unknowingly photobomned Shahid. All of them were looking lovely in their traditional outfits.