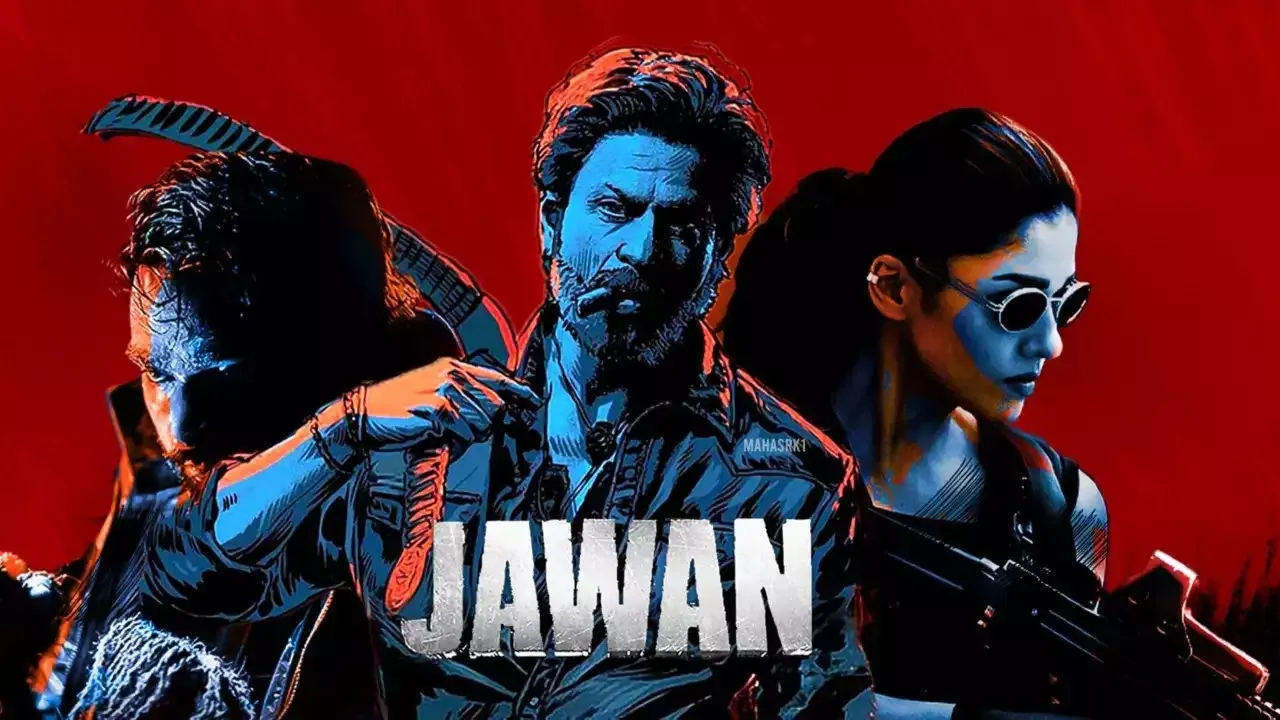 Superstar SRK starer most-awaited movie Jawan has released in theatres today, September 7. The action-thriller movie has received amazing and posittive response from the audience. The buzz created by SRK's movie has been on another level, ever since the movie trailer was launched, not a single day has gone by without a buzz about SRK's Jawan on social media. From setting a benchmark to breaking records in pre-booking tickets to trending on social media.  Fans have showered their immense love on the  movie and the movie is predicted to be a massive blockbuster.
"A journey of various emotion worth remebering" 
Ahead of its release Jawan's maker, penned an emotional note on social media, expressing their gratitude towards  fans who have showed their immense support and love towards SRK's movie Jawan. The note shared reads, "A journey of various emotions worth remembering. It all started from the year 2019. Discussion, meetings and what not. With a slow and steady process, we got our star cast consisting of Shah Rukh Khan, Nayanthara, Vijay Sethupati, Deepika Padujone, Sunil Grover, Priyamani, Sanya Malhotra and many others. With technicians like G.K.Vishnu, Ruben and music composition by one and only Anirudh, we were all set".
Further in the note, they shared about the challenges they faced while making the action-packed movie, "We faced a lot of challenges while shooting and we tried our level best to show you our film on 2nd June, 2023 as scheduled. Yes, there was a postponement which disappointed many but our priority was to give you a project with a good mix of quality and quantity and your support gave us more energy during the film shoooting and post-production. 
The note shared by makers also promises a lot of suprises for the audience.
Check out the note shared by the makers: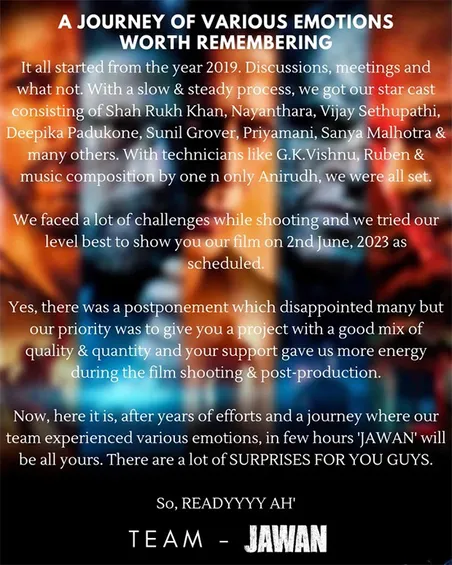 Jawan's star-cast shared their experience working with SRK and about Jawan: 
Jawan is directored by Atlee  and it is SRK's first pan-Indian movie. The movie has a fantastic star-cast including Shah Rukh Khan, Nayanthara, Vijay Sethupati, Sanya Malhotra, Ridhi Dogra, Sunil Grover and many others. SRK's co-stars have shared about their experience working with him on such a big movie and have expressed their gratitude and exticement for it.
Shah Rukh Khan recently in his #AskSRK, shared that " Jawan is a story of common man doing uncommon things for the common good of everybody and further he shared about his working  experience with Nayanthara, he said, "Nayathar is very sweet. Speaks all languages so well.. fantastic experience.. Hope you will like her in fim" and for Vijay, he said, "Tremendous.. and a bit of madness".
Recently, Ridhi Dogra talked about her experience and excitement for the film, she stated, "I am absolutely thrilled and super-super excited to be a part of probably one of the biggest films of the decade. The kind of love and euphoria that is there already before the film is released is just adding to what I saw on set. And then there are  these stalwarts, there's Shah Rukh Khan, Vijay Sethupati, Nayanthara, Atlee, and so many great co-stars. So it's just been fabulous to experience. To witness the supremnacy of Vijay Sethupati, the stardom of Shah Rukh Khan, and the ease and humanity theat he carries. So I just have lot of memories that will go for many entire life".
Vijay also did a Q&A session, where he decribe his experience of working with SRK, Vijay, said, "Mostly my on-screen experience with SRK has been good. Whenever I sit with him, I like it because I like the way he gives interviews and his spontaneity. So I like him better on a personal level, like how his thought process, his brain is working".