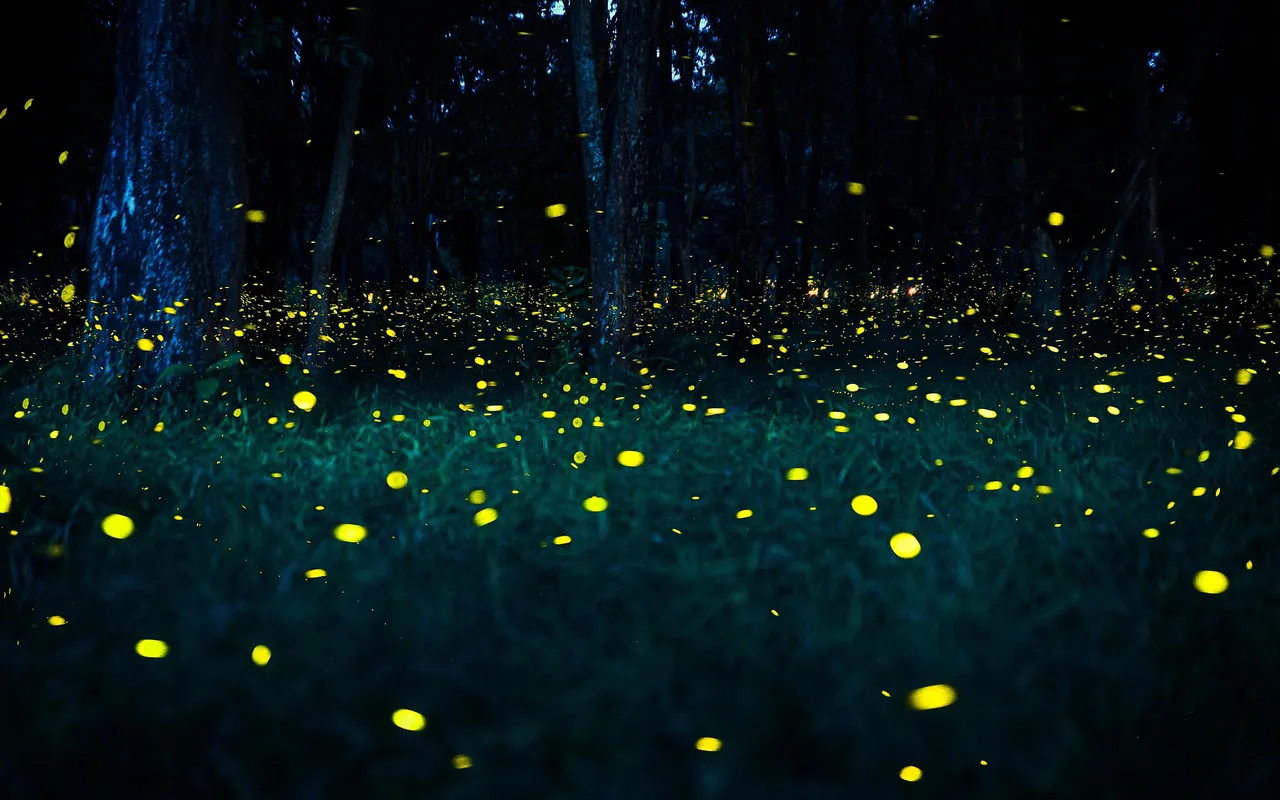 India is a beautiful country with a lot to offer to travel enthusiasts and nature lovers. It offers it all, from serene beaches to wonderful mountains and much more. You can feel cold or warm at any time of year by visiting places that suit your preferences.
Another feature of India's beauty that can not be overlooked are places that beautifully glow in the dark, which can mesmerize any eye. That's right, you read that correctly. Mother Nature has blessed us with such stunning places that you can witness in India. Why travel internationally when you can encounter these fantastic experiences in India? From magical beaches to majestic forests, check out the places that glow in the dark in India.
1. Betalbatim Beach
Goa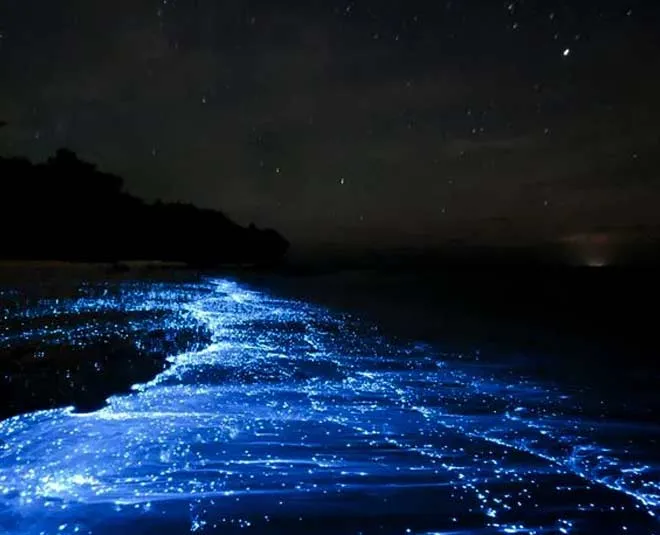 One of the most happening places in India, Goa is known for wonderful beaches, dazzling nightlife and delicious seafood cuisines. However, Goa offers another, lesser-known attraction that adds to the state's abundant natural beauty: a glow-in-the-dark beach.
The Betalbatim beach, located in South Goa witnesses gorgeous blue bioluminescence in its waters which glows like magic. This beach glows in the dark due to bioluminescence in its waters. There are also pristine white sands on the beach. Here you can sit and relax while watching a lovely sunset or do dolphin spotting. If you are visiting Goa, you must add this place to your itinerary!
2. Purushwadi Forest
Maharashtra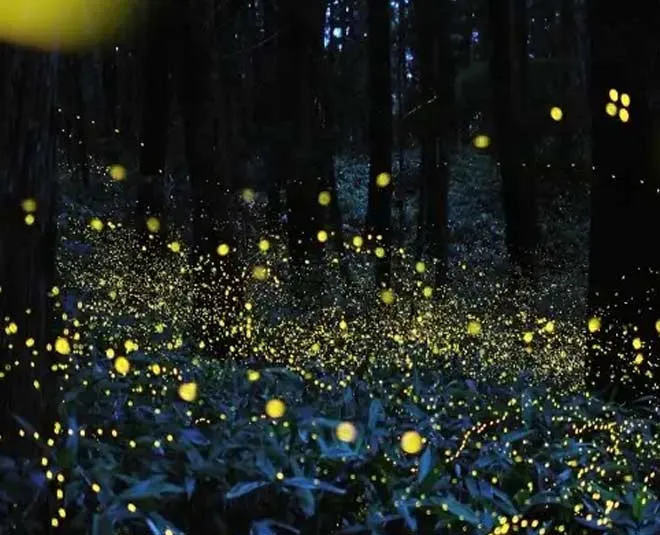 Every summer, millions of fireflies and thousands of tourists flock to the tribal town of Purushwadi in Maharashtra. Fireflies produce bioluminescence at twilight during their breeding season to attract mates. Thousands of fireflies can be seen in trees, dazzling you with blinking patterns as they strive to seduce their mates. The place looks nothing less than a dream, come true with a moonless night, a beautiful forest, and thousands of fireflies that lit up the forest. You can see the fascinating scene of dotted trees with these fireflies if you visit this place in May and June.
3. Juhu Beach
 Mumbai
 With its brilliant blue waves crashing on its shores, Mumbai's Juhu beach is another sight that glows in the dark. Phytoplankton, a type of marine microorganism, is responsible for the glowing seas that create a bright blue light. This glowy effect, however, does not happen very often, but you can try your luck. Who knows, you might strike it rich and witness a spectacular spectacle.
 4. Bangaram Island
 Lakshadweep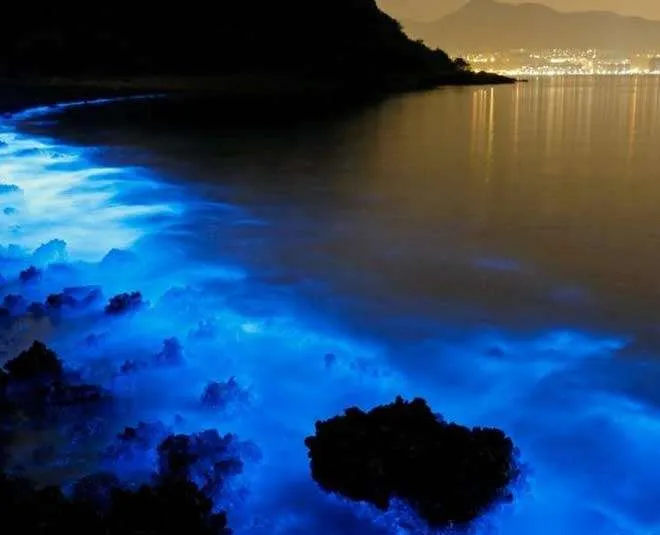 Bangaram Island is a little tear-shaped island surrounded by calm blue waters and covered in palm trees. The island is a part of the Lakshadweep islands. The most striking feature of this island is the bluish-white glow that the waters begin to emit as night falls. The phytoplankton, algae, and other aquatic animals such as jellyfish in the waters give the waves washing up the shore an iridescent bluish light. And it's quite a sight to witness!
5. Ahupe Village
 Maharashtra
 A small forest in a tribal village, Ahupe Village, is a sight to behold after the sunset. Ahupe is a charming village near the Bhimashankar Wildlife Sanctuary where the woodlands come alive at night. A fungus called Mycena causes the condition when it is exposed to too much moisture. The fungus grows on the forest's damp decomposing barks, leaves, and roots, making everything glow. When this bacterium is located near a large amount of wetness, it has a special ability to light up. Visit this village during the monsoon to get this breathtaking view.
6. Mhadei Wildlife Sanctuary
Goa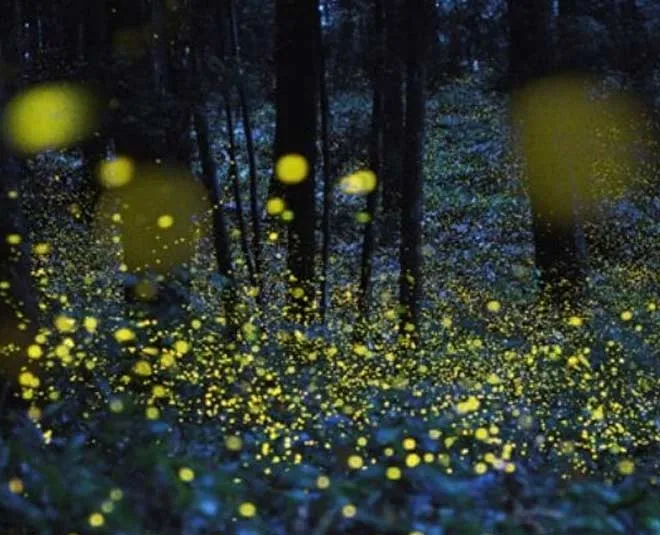 This sanctuary is a protected area of the Western Ghats stretching into Goa that is a biodiversity hotspot. during the wet monsoon months, just like Bhimashankar, this forest also becomes home to the glow-in-the-dark Mycena mushrooms leaving a greenish glow in the blanket of darkness. Visit this place during monsoon and witness a dreamy green landscape covered with glowing mushrooms.
 7. Mattu Beach
 Karnataka
The Mattu beach in Karnataka is another beach that sparkles brilliantly at night. A microbe called Noctiluca scintillans is responsible for the glow. The microbe is also called sea sparkle. The light is emitted when the marine species are disturbed. It's almost magical how these places glow so gorgeously in the night. Countless travellers from all around the world visit these wonderful sights to witness such magical experiences.