The Zoya Factor starring Sonam Kapoor Ahuja and Dulquer Salmaan is a tale about luck, love & superstitions. Based on a novel by the same name, the movie offered several things on a platter. Read on…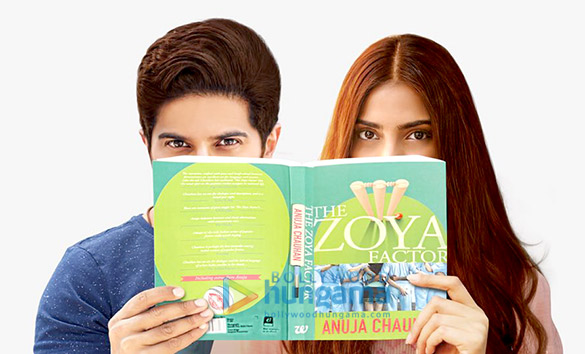 Movie : The Zoya Factor
Director : Abhishek Sharma
Cast : Sonam Kapoor Ahuja, Dulquer Salmaan, Angad Bedi, Sanjay Kapoor, Sikander Kher
Rating : 3/5
Plot : A girl next door, Zoya Singh Solanki (Sonam K Ahuja) meets her crush Nikhil Koda (Dulquer Salmaan) who is apparently the captain of the Indian cricket team during her work-commitments and a love story starts brewing! They even start liking each other but as fate would have it, complications start unfolding between the two when the other team members get to know that Zoya was born on the day India won it's 1st World Cup. They start treating her as their lucky charm and even sign her for a 2 year contract which commits her to have breakfast with the players on the day of every match. And, it even works! Her luck makes India win dramatically and the players are head over heels on Zoya but not Nikhil. A firm disbeliever of all these luck theories and superstitions, Koda tries his best to keep Zoya away from the team as he feels that the players won't give their best at the matches and start mistrusting their talent but will depend on Zoya's luck factor.

The film takes turns and goes through dramatic twists as we see a change in Zoya's behavior pattern and she starts taking pride in what she has done to the fate of the Indian cricket team. Similarly. Nikhil also goes through a lot and finds it difficult to balance his love life and professional life. What happens next is a sweet tale of luck meets reality!
What We Liked : As the movie ended, I became a legit fan of the lead actor, Dulquer Salmaan who brings a very enigmatic & endearing on-screen presence as he holds through the film from the start to the end. His baritone and his rigged looks are bound to make all the girl s go gaga over his demeanor and I witnessed the same as every female colleague of mine was clicking pictures and kept giggling whenever he came on screen. Not to forget, his pleasant screen-presence matches his acting chops and that is why he shines throughout the film. Coming to Sonam, she is okayish in the 1st half and reaches the peak of her performance in the 2nd half where she makes us believe that the character she plays is actually her in many ways. Definitely, a character she would like to keep in her kitty and a performance to remember. Talking about other characters, it was a sweet surprise to see Sikander play something which he has never played before. A protective brother who is a perfect confidante and an entertaining character. Also, Angad Bedi was pitch-perfect in his role of a cricketer who has a few grey shades but nevertheless, he was perfectly cast just like Sanjay Kapoor who plays father to Zoya and is a cricket fanatic.
What We Didn't : We expected a lot from the film's music as it was given by the iconic Shankar Ehsaan Loy who fell flat for this one surprisingly. The supporting cast who played the rest of the players of the Indian cricket team could have added so much to the whole film's flavor but failed miserably. A banter among the 11 players of a team could have been an incredible plus point but the writers of the film ignored it and they not look like a team for one moment. Also, the direction seemed lousy and very high on drama.