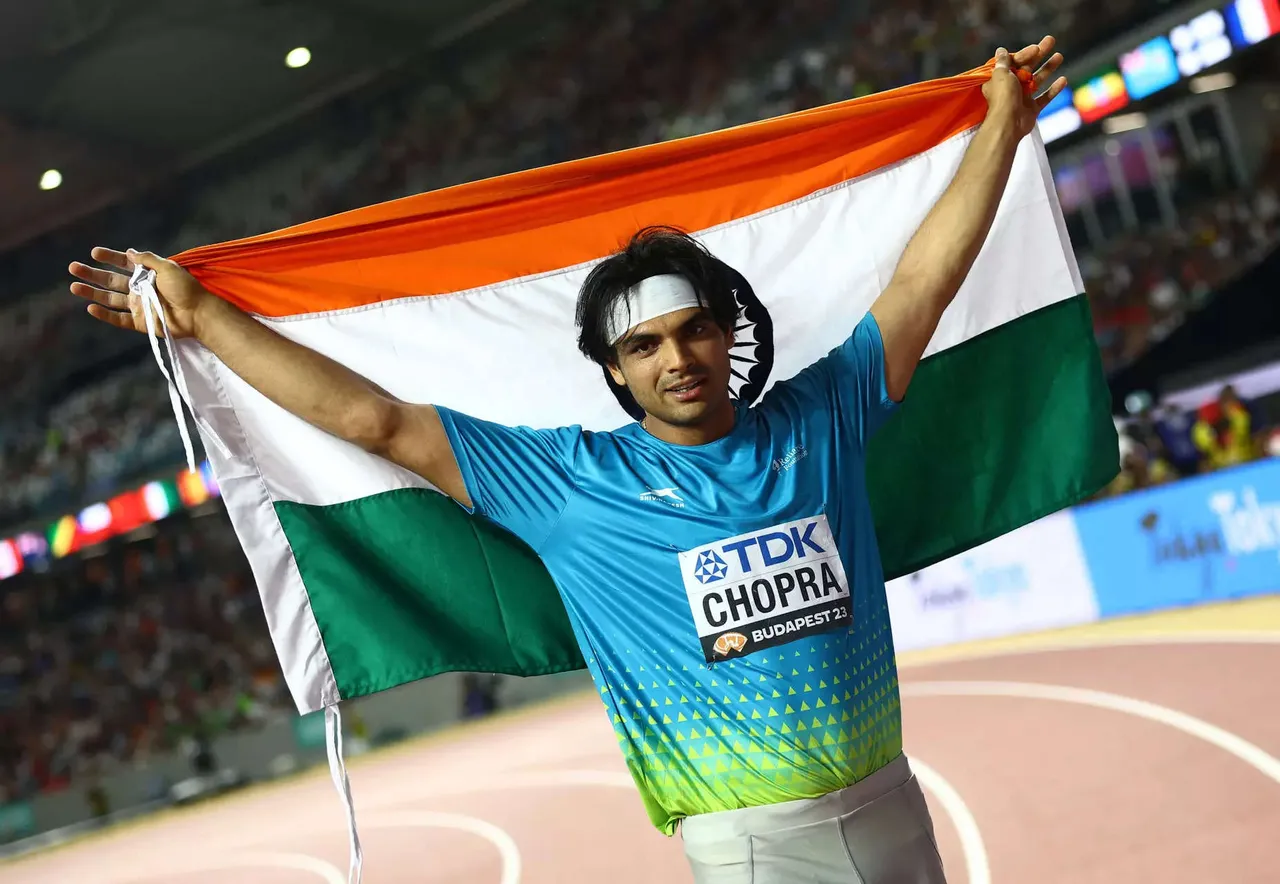 On Sunday, August 27 Golden Boy of India  Neeraj Chopra achieved a historic win as he fetched his name in the history as he became the first Indian to win gold medal at the World Athelitics Championships during the men's javelin throw final held in Budapest, Hungary. He played exceptionally well in the event and Neeraj's second throw recorded a stealler bencmark of 88.17 meters that made him win the golden medal. In his first attempt Neeraj covered 79 meters, that was'nt his best and he came back stronger and made a historic throw at his second attempt that helped him create a history for his country.
Check out Neeraj's winning throw:
Pakistan's Arshad Nadeem clinched a sliver medal with the throw of 87.82 meters and The Czech Republic's Jakob Vadlejch grabbed the bronze medal with the throw of 86.67 meter at the World Athelics Champions. 
Apart from Neeraj, two Indian javelin throwers Kishore Jena and DP Manu gave an outstanding performances in the event and both of them were qualified for the top 8 poistions. They secured fifth and sixth posiions where, Jena recorded a throw of 84.77 meters that marked his personl best throw and Manu 84.77 meters. 
Neeraj Chopra the glory of India
He currently is the biggest glory and name in the Indian Sports. He currently holds no1 world ranking in the Javelin throw and back in 2020 he won gold medal in the Olympic in Tokyo. He had secured silver medal at the worlds in Eugene last year. Anuj Boby george was the only Indian to win a medal at worlds. In 2003 in Paris, she won bronze medal in the women's long jump. 
India's glory Neeraj chopra became the only third athlete in the history of sports to simultaneously win the Olymics and the World Champions title  apart from Jan  Zelzeny of Czeh Republic and Andreas Throkildsen of Norway. 
Netizens Reactions to the historic win:
Neeraj Chopra's historic win has made him the hero of our country and people on social media platfroms are praising him for his historic win and achievements. Prime Minister Narendra Modi also took his X handle (Formely called twitter) and congratulated him for his win.
The talented @Neeraj_chopra1 exemplifies excellence. His dedication, precision and passion make him not just a champion in athletics but a symbol of unparalleled excellence in the entire sports world. Congrats to him for winning the Gold at the World Athletics Championships. pic.twitter.com/KsOsGmScER

— Narendra Modi (@narendramodi) August 28, 2023
He does it again 🇮🇳 #NeerajChopra pic.twitter.com/fCgnsf9B95

— RVCJ Media (@RVCJ_FB) August 27, 2023
The moment Neeraj Chopra created history and became the first Indian to win Gold at World Athletics Championships.

Neeraj is India's pride...!! 🇮🇳 pic.twitter.com/OI9p97iCKa

— Mufaddal Vohra (@mufaddal_vohra) August 27, 2023
#NeerajChopra you beauty 🇮🇳❤️ pic.twitter.com/GyiTJDkVeb

— Shibhhuu (@shibhhuu) August 27, 2023
Neeraj Chopra- I want to thank the people of India for staying up late. This medal is for all of India. I'm Olympic champion now I'm world champion. Keep working hard in different fields. We have to make a name in the world. pic.twitter.com/JsymGj3Kwd

— jonathan selvaraj (@jon_selvaraj) August 27, 2023