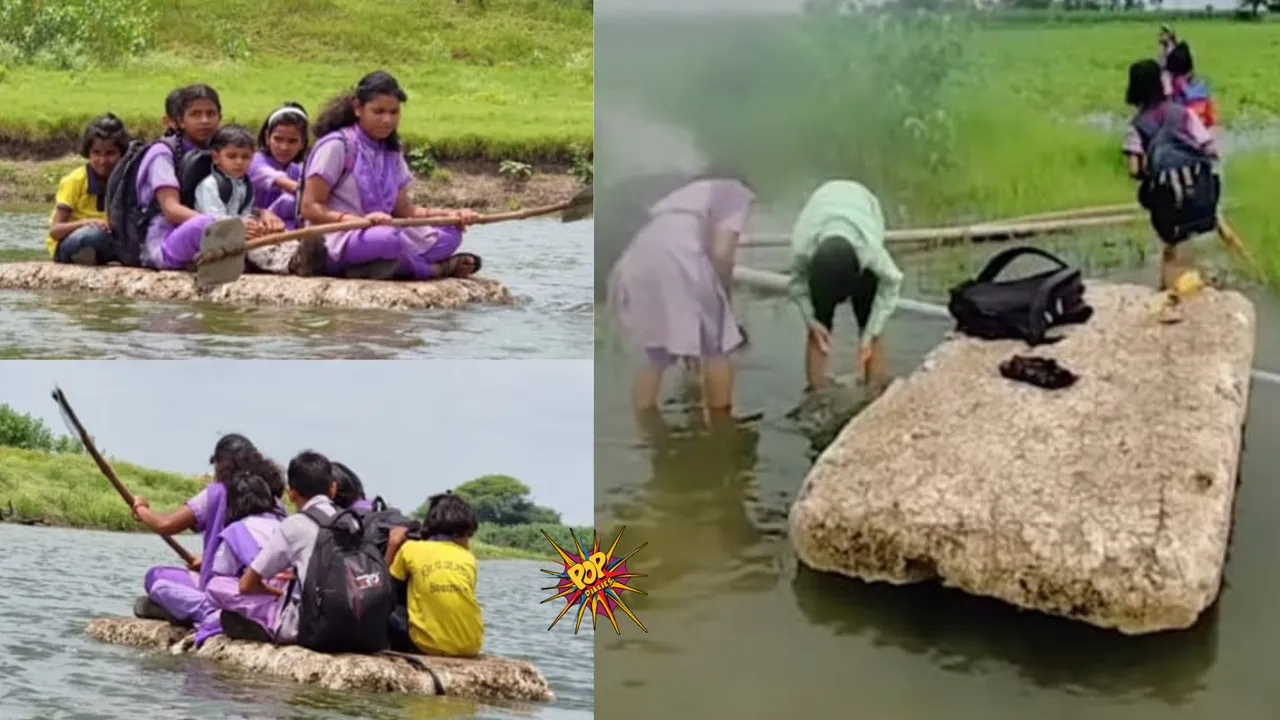 Talking about a village in Maharashtra is located 40 km away from Chhatrapati Sambhajinagar (previously named Aurangabad) district is barely 5 km from the Aurangabad-Pune Highway, the village named Bhiw Dhanora is surrounded by the Jayakwadi dam backwaters and Shivna river on three sides. While the land on the remaining side has the Lahuki River. 
This one of the largest dams is been crossed by little school kids, Prajakta Kale is barely 11 and along with her 15 other classmates they row thermacol rafts to reach school daily. In, while crossing it they have to face several venomous water snakes. Prajakta told TOI, "We carry bamboo sticks or makeshift oars to fend off water snakes that climb onto the thermacol sheet as we navigate our way."
This Maharashtra's largest bridge doesn't have a bridge so villagers are left with no option then facing such dreadful adventure daily. If not like this, then kids have to walk 25km long through the muddy land of the village to go to school. 
Parents of Prajakta Demands For Bridge
Parents of the kid think demanding bridge amidst India's successful landing of Chandrayaan-3 will be a glory. Prajakta's father Vishnu Kale said, "I do not want my children to remain illiterate like me. So, my daughter and son use the thermocol sheets to get to school. It becomes daunting due to the presence of venomous snakes in the water." 
Also, the Headmaster of the school confirmed students' dangerous reach to school, Rajendra Khemnar said, "I began working here a few months ago but have heard from teachers that for years, irrespective of the weather, children have been regularly attending school."
Adding on, it is not just the current situation. The same issue has remained for 47 years! Yet, no solution has been found. 
While the local Gangapur tehsildar Satish Soni has visited the area and "prepared a report". He said, "At the time of the construction of the Jayakwadi dam, the entire village was rehabilitated. Seven to eight families wanted to reside in their farms. As a result, their children are compelled to daily navigate through the backwaters."
Some villagers have contested this tehsildar's statement, saying the plots were allotted to them under a rehabilitation scheme but there were no official records. The problem has been discussed in the Maharashtra assembly, too.
MLC Satish Chavan had raised this issue. In his reply, Deputy CM Devendra Fadnavis said the village "gets divided during monsoon due to the increased water levels".
#AnandMahindra
Sir may I request you to consider 2 solar boats from CSR funds for the Village students of Bhiw Dhanora vill Aurangabad to reach school safely .https://t.co/LwAVyzsSqB

— Arvind Varma (@arvind_varma65) August 27, 2023
ALSO READ:
Ensemble List Of 16 Indian Cricketers Who Acted In Movies Too!
DEETS INSIDE: Karan Johar Says He Saw 'The Trailer of the Century", Fans Guess Its Shah Rukh Khan's 'Jawan' & It's Like Never Before!
Ayushmann Khurrana In 'Dream Girl' To Riteish Deshmukh In 'Apna Sapna Money Money': Bollywood Male Actors Who Nailed Full-fledged Women Look With Utter Excellence!
#AskSRK: Shah Rukh Khan On Wife Gauri Khan, 'Mujhse meri nahi sambhalti…', Reacting On Salman Khan's Bald Look To Watching Sunny Deol's Gadar 2