As I observed many just know Prabhas for his excellent performance in Baahubali and Saaho. All have just known him as just Baahubali from last 5 years, as Saaho released last year now he is known for that film. But do anyone know about his previous films? How he came up movie after movie? How he faced many ups and downs in his career?, to which later he is known as Pan-Indian Star Prabhas.
I'll take you into the detail from Prabhas' debut film till before Bahubali was released.
Prabhas full name is Uppalapati Venkata Suryanarayana Prabhas Raju. He is a nephew of Telugu industry's veteran actor Uppalapati Krishnam Raju. Superstar made his debut in the year 2002 through Eeswar movie then came Raghavendra (2003).
But these two films did not have him much recognition until Varsham (2004) got released, alongside Trisha. It had a average grossing at the box office but the film prove what Prabhas is! Later through Varsham there was no one in the Telugu states who don't know Prabhas and Trisha. The songs, some beautiful moments frome the film still rule our hearts can never forget. If you haven't seen it yet, being a fan of him then you should because it is a first film of Prabhas' came into recognition. Hindi viewers? Baaghi is remade through Varsham only, before that it got also remade in Tamil and Odia.
Varsham won many huge awards including it's crew members and of course cast.
• Adavi Ramudu (2004)
This film immediately got released after Varsham, but mostly received negative reviews from the critics and also the audience. It was a catastrophe at the box-office too.
• Chakram (2005)
This film too didn't made much hype around the audience.
• Chatrapathi (2005)
Then when Chatrapathi came out, it made a huge craze around the audience. Prabhas' energy, acting Dialogue delivery stole hearts. Chatrapathi even ran for 100 days long in 54 theatres around the state.
• Pournami (2006)
It had a lot of pre-released hype because of its lead cast Prabhas and Trisha, who were earlier got hit together through Varsham film. It's music got a lot of appreciation from critics.
• Yogi (2007)
Prabhas and Nayanthara was paired for the first time through this film, which got average succes at box-office. Yogi was loosely based with Prabhas' hit film Chatrapathi, in terms of mother and son relationship. As in Yogi mother is protagonist finding for his son and in Chatrapathi protagonistis finding for his mother. Somewhere it feel similar while watching these both the films, but definitely they've shown a good relationship of mom & son through which everyone one will get touched.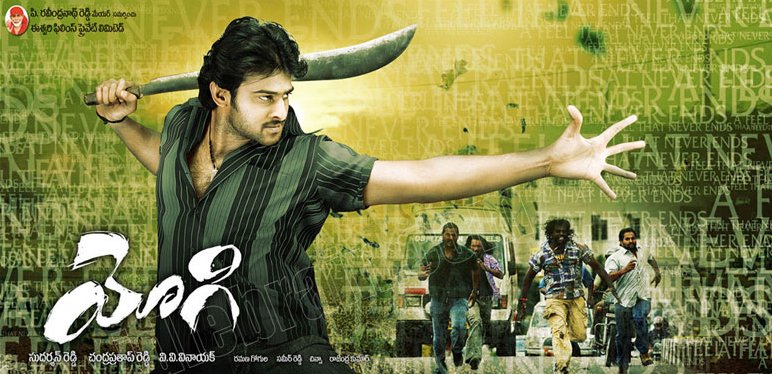 • Then Munna (2007), Bujjigadu (2008) are good to watch.
• Billa (2009)
It was remade through a Tamil film, which was already based on a Hindi Amitabh Bachchan's Don (1978). After several casting choices Prabhas' was finalized for the title role, which made a different image for him.
• Darling (2010)
Darling is a really fun and a family drama film, one should definitely watch for Prabhas, Kajal Agarwal, comic timings and a wholesome family entertainment. It received all positive reviews from the audience and critics, also praised Prabhas' performance. Through which Prabhas also became a 'Darling' for everyone, that's how he got a tag of 'Darling Prabhas'.
• Mr. Perfect (2011)
After Darling then Mr Perfect, which became favorite films of the actor. Which generally received positive reviews only, it also won newly incorporated Nagi Reddy Memorial Award for "Best Telugu Family" entertainer of the year 2011. Which is such a big thing, also further dubbed in three languages i.e. Tamil, Malayalam a and Hindi.
• Rebel (2012)
From here we started calling the actor as 'Rebelstar Prabhas'. It was a commercial failure at box-office buy one cannot miss watching the film when it is up on the television. A MUST WATCH for those who love mass films, and for Prabhas' refreshing terrific action sequences and innocence of the character, for stylish and for rich visuals. Film differently put out the actor, as he did regular family films pre-rebel. Definitely a shocking hype for his fans!
• Mirchi (2013)
Thereafter Mirchi came out, which took a huge turn in Prabhas' life his performance was appreciated way more than before. Which later received six Nandi Awards including for Prabhas as 'Best Actor'.
Let me tell you Nandi Awards belongs to Andhra Pradesh state government, which is awarded for excellence in Telugu Cinema, Theatre and Television.
So Mirchi received its SIX NANDI AWARDS for Best Playback Singer, Best Feature Film, Best First Feature Film of Director, Best Villian, Best Art Director. That is such a huge thing a game changer for the whole team, later Mirchi also became one of the highest grossing Telugu Film of 2013.
After Mirchi movie you all what Baahubali made a drastic change and from above details we can makeout how Prabhas' has faced huge ups & downs through his film industry days, and now he is known as a Pan-Indian Star! Which is such a big thing! Now almost everyone is known about the actor and who follow one of the huge fanbase. This was just to keep you known about how this Pan-Indian Star has faced a lot throughout his career who later became to be known as Superstar.
Here's wishing our global star A Very Happy Birthday!
from- PopDiaries