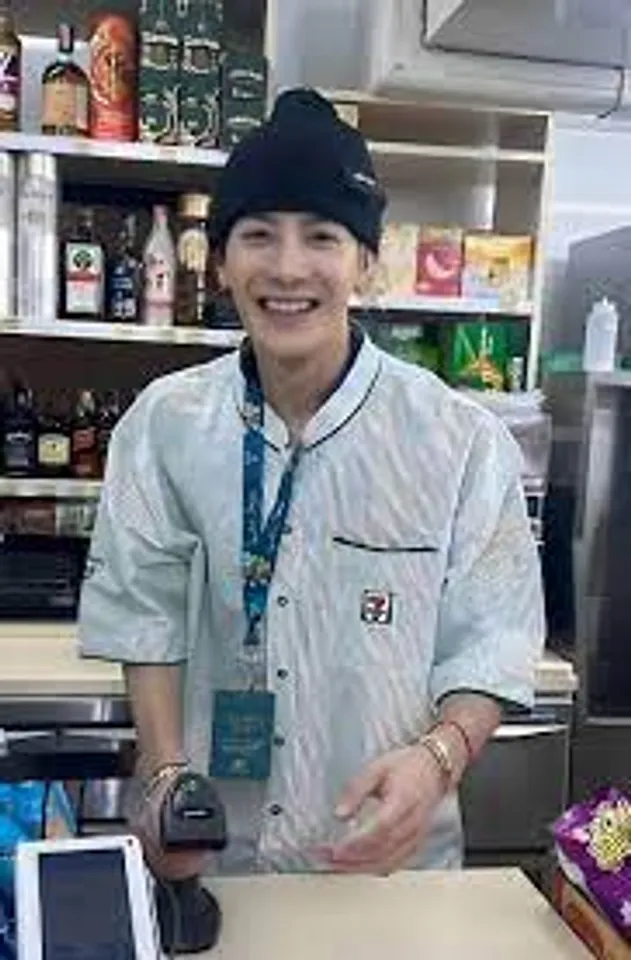 These days, it seems like GOT7's Jackson Wang is everywhere. From appearing at Coachella 2023 to his Magic Man world tour dates to his attendance at a special Mac cosmetics event in China, his ability to make his schedule work doesn't always make sense to fans.
However, his most recent sighting has perplexed fans the most - working at a 7-Eleven convenience store.
 Wang left JYP Entertainment on 19 January 2021, along with other Got7 members after their exclusive contracts expired. Since then, Team Wang currently operates his international activities.
At the April 2023 Coachella festival, Wang performed; American singer Ciara then appeared as a guest, together performing XG's song "Left, Right", and a medley of Ciara's songs: "Lose Control", "Level Up", "Goodies" and "1, 2, Step". The set also included a short snippet of Wang and Ciara's song "Slow", which was released as a single on the same day.
GOT7's Jackson Wang has been getting a lot of hype for his single release 'Drive You Home'. Jackson played a huge part in the creative process of the song (like he usually does) and is proud to let everyone know.
He says he always tries to be creative and learn more each time.  He also said, " Every time I try to make my next song or my next project, I always try to beat my previous self."
He's gone way beyond music: Got7's Jackson Wang is working non-stop to make a name for himself outside the K-pop industry. As well as being an ambassador for many brands including Cartier, the Hong Kong-born artist established his own agency in his hometown called Team Wang in 2017, where he released his first solo single Papillon. He went on to create seven more singles and his first full-length album "Mirrors".
On July 18, he made headlines with the global launch of his luxury streetwear and lifestyle clothing brand Team Wang Design, with Jackson as the brand's founder, creative director, and designer.
As it turns out, the official 7/11 Thailand Twitter account tweeted about Jackson's new employment, establishing that it was likely a special event for a future promotion with the company as one of its brand ambassadors! 
His promotions has always been creative and unique just the type of person he is.
His love for music pushed him to found his very own label 'Team Wang'. Jackson Wang originally rose to fame by debuting under JYP Entertainment as a part of boy band GOT7. The group's popularity and Jackson's own talents soon made him a favourite both within and outside South Korea.
The hitmaker's discography is nothing but pure gold; his second studio album, MAGIC MAN, is defined by an all-pervasive alt-rock spirit. Each song's focus is on giving in to temptation and letting go. As a soloist, Jackson Wang displays every part of his dynamic artistic imagination. The song Blow made a major move on every music chart. His music videos gave us a full-fledged visual treat filled with sick beats and jaw-dropping fashion; it's not every day you see an idol strutting in a regency-style corset and blowing smoke, it also made it to our favourite K-pop music videos of 2022.
When he is not making tunes, he is busy doing fashion. The GOT7 member has a long love affair with luxury houses. When he was the brand ambassador of Fendi, he released a song titled FENDI MAN and fans even starting calling him so. Today, Jackson Wang is the CEO of Team Wang, a high fashion label, which has a strong market in Bangkok, Singapore, and Chengdu worldwide. He is the latest addition to the Louis Vuitton global family joining his Idol friend J-hope. And his Paris Fashion Week debut was one of the most tweeted looks of the season. He is also the face of other luxury brands like Armani Beauty, Cartier, among others.