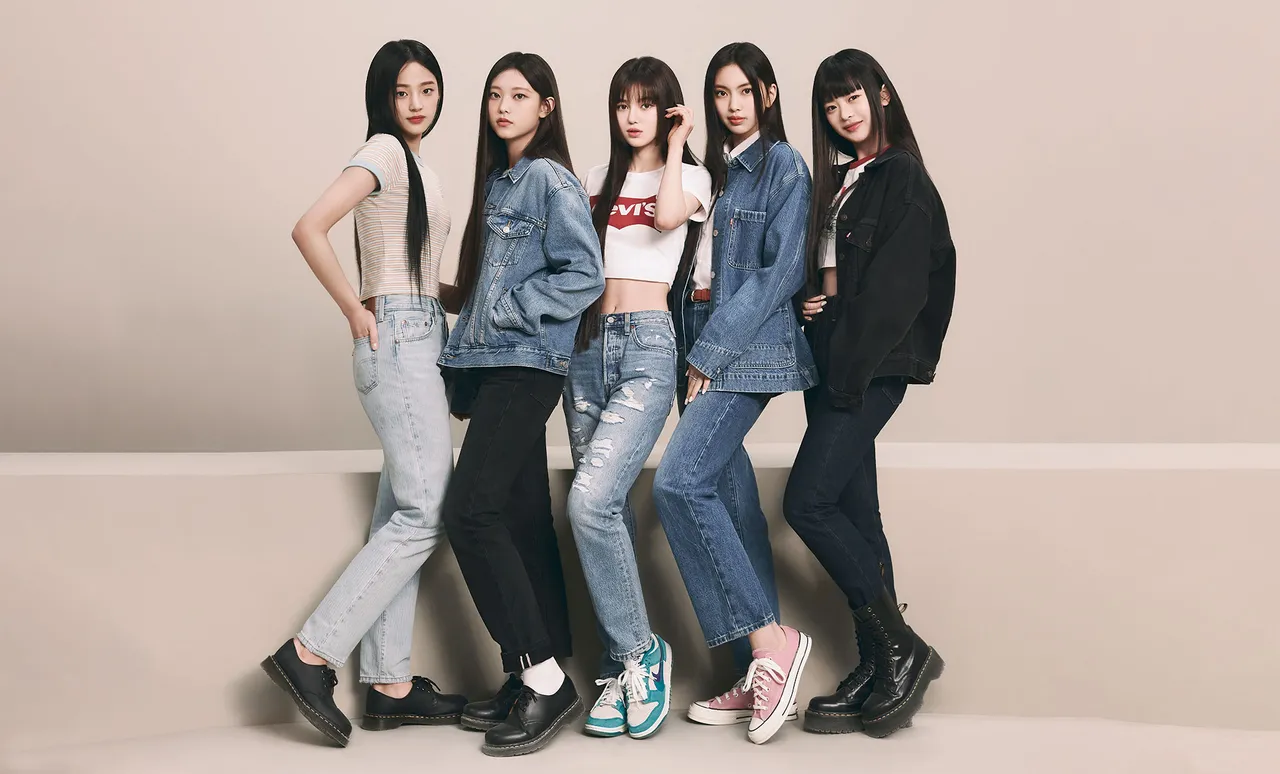 NewJeans is rapidly becoming K-pop's newest darling. Arriving under the auspices of Hybe Corp. subsidiary  ADOR, NewJeans — comprised of members Minji, Hanni, Danielle, Haerin, and Hyein — dropped their first, self-titled EP in August with no warning. As the group has taken off, so has its stream counts.
On Feb. 8, NewJeans celebrated its milestone: that "OMG" had surpassed 100 million streams on Spotify, just four days after "Hype Boy," one of several singles from the "NewJeans" album, surpassed 200 million streams. NewJeans holded the top four spots on Apple Music's Top 100: South Korea chart, buoyed by viral moments on TikTok and other platforms.
The girls' sudden arrival is atypical in K-pop where groups usually employ a lengthy roll-out ahead of their first release, but it swiftly made them forerunners of the competitive K-pop scene in 2023, after wrapping 2022 by landing on many high-profile media outlets' year-end lists.
They, like other Hybe acts, are signed with Universal Music Group's Geffen Records in the U.S. Their surprise roll-out paired with pristinely produced, extremely danceable pop and R&B tunes, full of retro synths and a penchant for '90s club music, immediately changed up the face of South Korea's pop idol scene. Bold graphics and throwback styling, plus nods to '90s and early 2000s technology, are recurring themes across NewJeans albums, performances and tie-in materials.
ADOR, headed by prominent K-pop creative Min Hee Jin, previously was known for her work with SM Entertainment, helping that company's artistic direction reach creative heights. NewJeans is the first act produced by ADOR and by Min since she parted ways with SM Entertainment in 2018.
Hybe Corp., best known as the home of BTS, recently became the largest shareholder in SM Entertainment, after purchasing 14.8% of the company's stock previously owned by founder Lee Soo-man, who stepped down from his namesake in 2021.
With a name that plays with the ideas of both bringing "new genes" to the music industry — all of the members were teenagers at the time of their first album's release, with the youngest, Hyein, only 14-years-old — and aiming to be as timeless a musical act as jeans are to fashion, NewJeans followed up their first album's five tracks with the lush "Ditto" at the end of the year, and then "OMG" at the start of January. On the U.S. chart, both songs entered the Billboard Hot 100, though they lag in relation to the charts in Korea, where NewJeans is tops — reminiscent of other massive girl groups to break out like Blackpink and Twice.
The proliferation of K-pop girl groups has been spread across the region's big players with NewJeans seen as a leader of a new wave, alongside groups like IVE and Le Sserafim, the latter under fellow Hybe subsidiary, Source Music.
New Jeans create history by becoming fastest K-Pop girl group to debut 3 songs in Billboard Hot 100.
Earlier this year, NewJeans became the fastest K-pop group in history to have more than one song on the Hot 100 (Billboard's weekly ranking of the most popular songs in the United States) when they released "OMG" and "Ditto". Both were successful in starting. Only six months of his career are on the charts.
 To add to that feat, NewJeans has now become the fastest K-pop group to enter the Hot 100 with three different songs, achieving the feat in less than a year since their debut. On July 18, Billboard revealed that NewJeans achieved their highest-ever ranking on the Hot 100 with "Super Shy", which debuted at number 66 on the week's chart. ("Ditto" and "OMG" peaked at No. 82 and No. 74, respectively, in February.) "Super Shy" also achieved NewJean's highest ranking ever on Billboard's Global 200, a global exclusive. US Chart and World Digital Song Sales Chart, peaking at number 2 on all three charts. Additionally, "Super Shy" became the group's first song to enter the main Digital Song Sales chart, where it debuted at number 45.
Meanwhile, Newjeans' second new pre-release single "New Jeans" debuted at No. 5 on the World Digital Song Sales chart and No. 19 on Global Exclusive. US charts, and No. 32 on the Global 200. Ultimately, NewJeans re-entered the Billboard Artist 100 at number 47, a new peak for the group.
Well its not only their songs that make them the sensational global stars but also their reach in the fashion world.
How NewJeans Became Overnight Fashion Favourite-
In March, NewJeans' members Minji, Hanni, Danielle, Haerin and Hyein, all still in their teens, have inked a global ambassadorship with Levi's, appeared in a photo shoot for American Vogue and were appointed ambassadors for Seoul Fashion Week. And that's just as a group. Individually, Hanni represents Gucci and Armani Beauty, Hyein works with Louis Vuitton, Danielle was tapped by Burberry and YSL Beauty, while Minji is an ambassador for Chanel in three divisions: fashion, beauty and watches and jewelry.
Although their meteoric rise is similar to Blackpink's, and both acts are multi-member girl groups (NewJeans has five members to Blackpink's four), that's mostly where the similarities end. When it comes to aesthetic and musical appeal, NewJeans has been charting its own path with a girl-next-door-look and sweet pop tunes since debuting last July.
 Instead of high-octane makeup and outfits, the girls are styled as innocent and mostly natural. In the music videos for both "Ditto" and "Cookie," they wear schoolgirl uniforms, meanwhile in "OMG", they dance with backpacks in the shape of stuffed toy animals.
The sets in each of their music videos are relatively simple, too — for example, a sports field, or a studio with a bench as the only prop. It's a contrast to the swaggery dance moves and highly-saturated, CGI-effects-filled music videos that have been dominant among K-pop girl groups. That choice could be due to how young the group's members are. The oldest, Minji, is only 18, while Hyein is just 14. The cutesy stylings also extend to their dedicated fan app "Phoning" and YouTube channel, where they release the kind of content that could double as a children's TV show. In various 30-minute clips, they play shop, throw a pajama party and visit a farm, for example.
Seoul Fashion Week appointed the group ambassadors for 2023, succeeding actor Lee Jung Jae of "Squid Game" fame. The organizers pointed to "their daily fashion and stage outfits (which) show this naturalness and bouncy charm in a bright and friendly way," and coordinated for the group to promote local designers Ulkin, Ajobyajo and Blr Bluer during the event.
Netizens couldn't hide their excitement as the music video for New Jeans' new song "Cool With You" was released, especially after ADOR announced cameos from two global stars!
As said by NewJeans' agency, the two videos are exceptionally unique given the style of the K-pop girl group. New Jeans have always impressed the audience with their distinct approach to promoting albums and songs. The song Cool With You also stays true to its concept of delivering something new again. Giving off a similar energy that New Jeans gave off in Ditto, the girls are seen witnessing Jung Ho Yeon go through an emotional stage in Cool With You.
 Side B, which was named Cool With You and Get Up, the official music videos continued with the Side A videos, and Tony Leung made a cameo that gave a twist to Jung Ho Yeon's story. Netizens say this was one of the craziest moves made by the group, as they featured Jung Ho Yeon and Tony Leung on the same screen.
'ETA' is the title track of NewJeans' sophomore mini-album 'Get Up', which is out now. The record also features the previously released songs 'Super Shy', 'Cool With You', 'New Jeans' and 'Get Up', as well as closing track 'ASAP'. It is said that they shot the whole video of ETA MV with iphone.
The K-pop girl group also recently became the fastest K-pop act to hit 1billion streams on Spotify, reaching the milestone in 219 days and with only seven released songs. They broke previous records held by Jungkook of BTS (409 days) and Lisa of BLACKPINK (411 days).
Well its just the start of the journey and milestones. They are said to be the next big thing of K-pop.