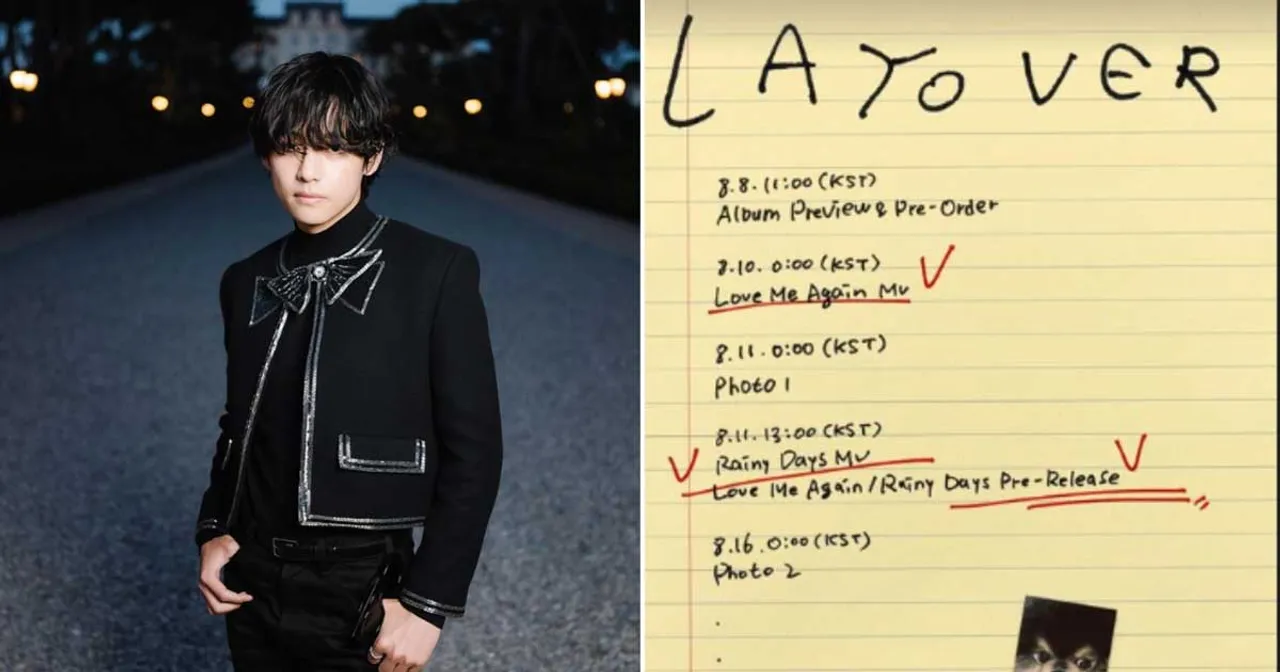 On Wednesday Morning, BTS member V aka Kim Taehyung gave his fans biggest suprise by unveiling the schedule for his songs from his debut solo album Layover. He took to his social media plafrom to share the information, V took to his Instagram stories to announce his release dates of  his songs. His album was schedule to be released on september 8 but he suprised his fans by pre-releasing his "Love me again" and "Rainy Day"
Layover consist of total six tracks, five tracks and a bonus track
1.Love me again
Love again is a light and capitavating R7B track. and the release date of this song is on Thursady (August 10) at 12 am KST (Wednesday, August 9 at 8.30 pm IST). 
2. Rainy Days 
Rainy days V's voice meld beautifully with the sound of rain and everyday noises, and the muic video will be released Friday (August 11) at 1 pm KST (9 am IST)
3.Blue
It is a homage to old school R&B with a modern twist
4. Slow Dancing
The track focuses on this album, a 70 romantic soul track that excudes a laid back and free-spirited feeling.
5. For Us
It's a pop R&B track that leaves a lasting impression of the netire album.
6. Slow Dancing
It is a paino arrangements of the focus tract "Slow Dancing" which offers a different allure from the orginal as a bbonus track The music video will be released on September 8 at 1 pm KST (9.30 AM IST).
Fans have gone crazy after the release of his latest music video
Ever since V has shared the pre-release date fans have gone crazy over social media he has been trending all over social media. BTS V took the Internet by a storm as he drops 'Love Me Again' MV prior to solo debut Layover Album!
Within 50 minutes of its music video release V's 'Love Me Again' has crossed 2.9 million views and it has got 1.1 million likes. People are loving his new song. One fan wrote, "wow Thank You for the amazing love V". Another wrote, " This song is so beautiful Taehyung's voice is just magnificent". Another one wrote "This is wow.. there are no words to express my delight. we are proud of you as always you are Taehyung on top, at an unattainable height!! Bravo". 
Fans reactions are here!
Dear Kim Taehyung @BTS_twt,
THANK YOUUU!!! 😭😭😭 HIS VOICE IN LOVE ME AGAIN OMG

KEEP STREAMING FOR LOVE ME AGAIN MY GOODNESS ILL CONTINUE TOMORROW OMG IT'S SO GOOD! MAGNIVICENT V!!

📽 https://t.co/vlEK08uEJ3

— YB JUNG HOSEOK⁷ (@InnaSyafina) August 9, 2023
Love Me Again by V has surpassed 1M likes on YouTube in just 36 minutes becomes the Fastest Solo Music video by a Korean Soloist to achieve this. pic.twitter.com/t984DVXZj3

— V Charts⚡️ʟᴀʏᴏ(ꪜ)ᴇʀ (@BTSVChartData) August 9, 2023
I wish you would love me again
No I don't want nobody else
I wish you would love me again
Again.. pic.twitter.com/xVmK8zYB13

— caшуля🐿️🇺🇦 ʟᴀʏᴏ(ꪜ)ᴇʀ 💜 (@iwiwspecial) August 9, 2023
Kim Taehyung is glowing in everyway possible.
Love Me Again MV out now https://t.co/c8e2c7CNyE https://t.co/yQqikwbWf1

— ʟᴀʏᴏ(ꪜ)ᴇʀ on 8️⃣September (@Cypher__V) August 9, 2023