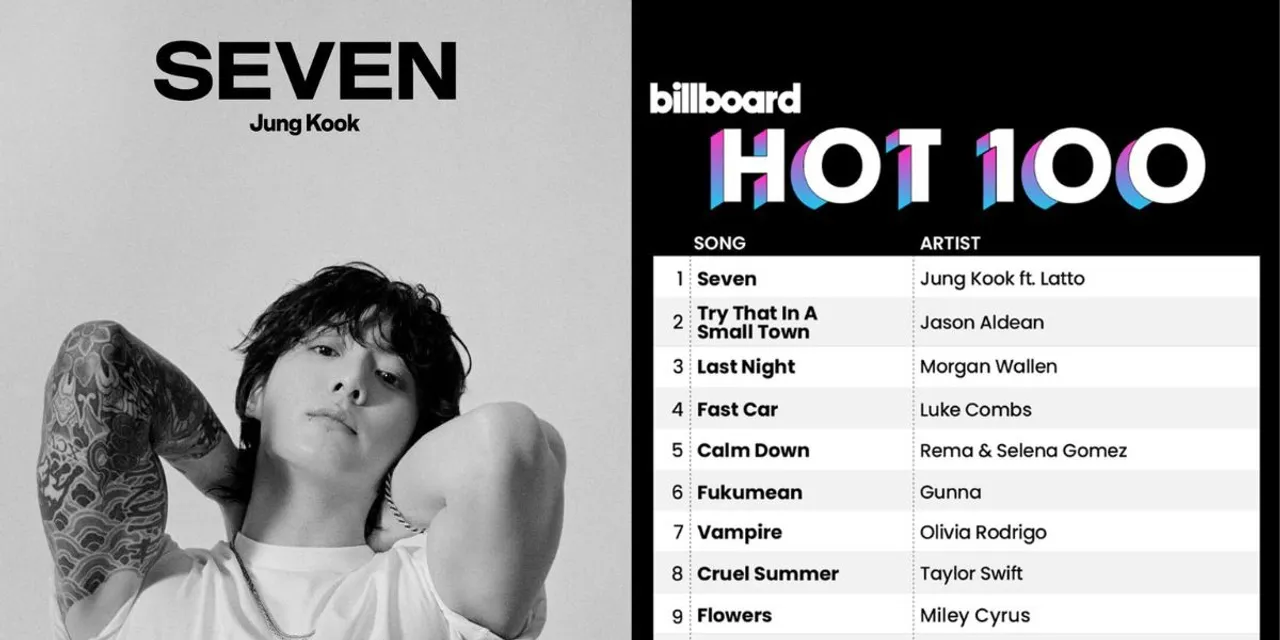 Jungkook's "Seven," featuring Latto, bounds in at No.1 on the Billboard Hot 100 songs chart. Jung Kook becomes the second member of BTS with a Hot 100 leader, after Jimin's "Like Crazy" launched at No.1 in April.
BTS's Jungkook is reaching new heights with his solo debut track "Seven"!
On July 24, Billboard revealed the top 10 of their latest Hot 100 chart, its weekly ranking of the most popular songs in the United States. For the Hot 100 chart dated July 29, "Seven" by BTS's Jungkook debuted at No. 1, making it his first time to do so as a solo artist.
 Through this impressive record, Jungkook joins Jimin as the only other Korean artist to earn a solo No. 1 following Jimin's "Like Crazy." In addition to Jimin, BTS is the only other Korean artist to top the Billboard Hot 100. Previously, Jungkook hit No. 22 on the chart after featuring on Charlie Puth's "Left and Right," and Jungkook's "7 Fates: CHAKHO" OST track "Stay Alive" (produced by Suga) also charted at No. 95. In its first week of release from July 14 to 20, "Seven" sold a combined total of over 153,000 song downloads and CD singles, in addition to garnering 21.9 million streams and 6.4 million radio airplay audience impressions.
After 'Seven' topped the Billboard chart, Jungkook posted 'Let's go higher' on Weverse.
In behind the scene video of 'Seven', Jungkook was seen praising Han So Hee's performance and also teased his appearance on Suga's show 'Suchwita'. He also mentioned that Suga looks awkward while acting but added that he was joking and he would say to him on his show Suchwita.
He praised Han Soo Hee's acting and said that he was easily able to act because of her. 
Outside of the Hot 100, "Seven" debuted at No.1 on Billboard's Global 200 chart and The Global Excl. U.S chart. A huge congratulations to our'Golden Makane' on thi incredible new achievement!