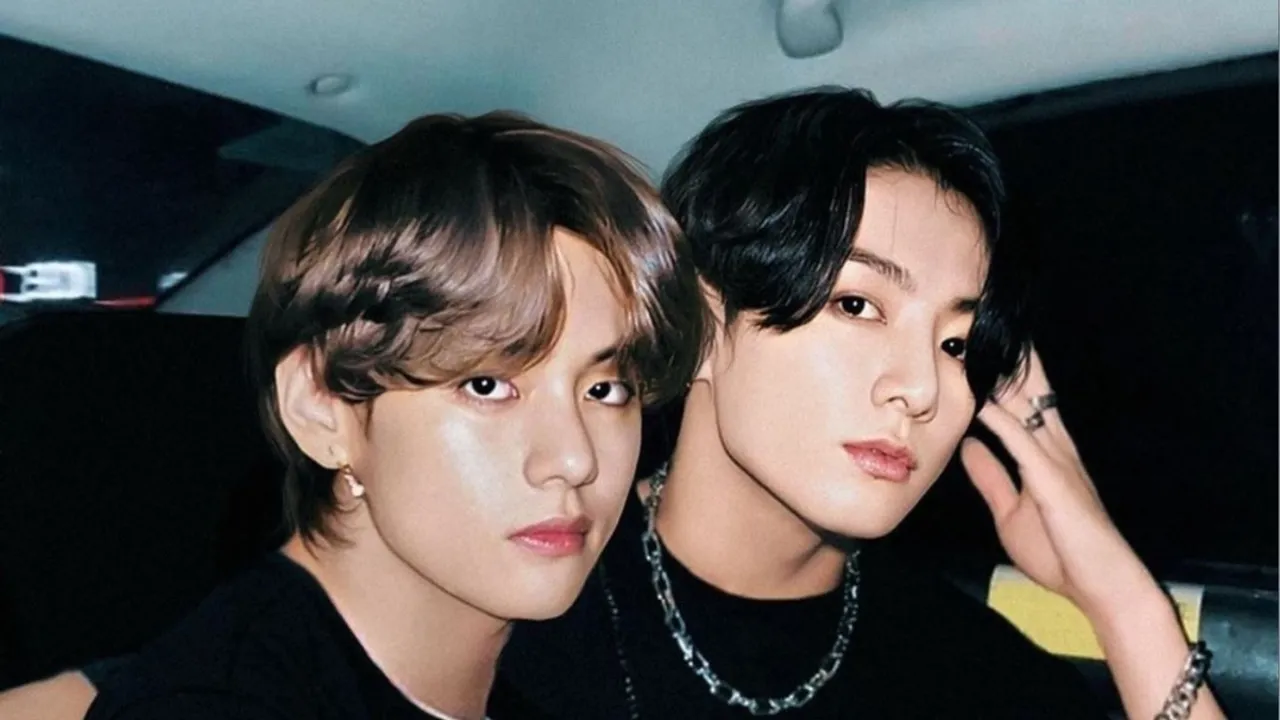 On Wednesday Morning, BTS member V gave biggest suprise to its fans by unveiling the schedule for his songs from solo album Layover. Earlier, His debut solo album was offically  set to release on September 8 but he pre-release his song 'Love Me Again' on August 9. Ever since, his music video is released fans are over the moon and they have gone crazy. His solo debut song 'Love Me Again' surpassed 1 million views within seven minutes of its released. This record breaking achievemnt has created a tie between him and his bandmate Jungkook's solo song 'seven'.
BTS member V & Jungkook broke the record as both of their track become fastest to reach 1 million views 
BTS is one of the most popular K-pop  group of the world and they keep breaking many records and achieving big milestones. Presently, BTS is at a break from the group activities from 2022. Ever since then the members of the band have been busy releasing their own solo songs and albums and performing solo concerts. They have been breaking several records individually as well. Recently, on July 14, 2023, Jungkook released his single 'Seven' that took the internet by storm and BTS army went carzy and they loved his song. His music video Seven set a record by achieving 1 million views in YouTube in just seven mintues and he became the fastest solo K-pop male artist to achieve this big milestone. V's latest music video 'Love Me Again' also gained mass attraction and has achieved this milestone record and within seven mintues his song also achieved 1 million views on YouTube. This accomplisment is now shared by both Jungkook and V. V has  aso made a history by becoming the fastest male artist to reach 2 million v iews in YouTube. 
His music video is currently trending on 3 for music and the current view of his song is 13 million and has 2.8 millon likes. BTS Army is showering their love on social media platforms for V and Jungkook's achievement. 
Love Me Again by Taehyung ties with Seven by Jungkook for the fastest Kpop Soloist MV to reach 1 million views on YouTube (7 minutes) 🔥 pic.twitter.com/VplBJ8SAvZ

— ˙ᵕ˙ (@taebokkiii) August 9, 2023
.#V's "Love Me Again" now ties with #Jungkook's "Seven" as the fastest music video by a K-Pop soloist to reach 1 million views on YouTube in just 7 minutes. pic.twitter.com/6XNnkcZRp3

— chart data (@chartdata_twt) August 9, 2023
K-POP KINGS 👑🙇🏻‍♀️ pic.twitter.com/z8s8hnmiXE

— ⟭⟬ ARMYTAE 💜 ʟᴀʏᴏ(ꪜ)ᴇʀ 🅐🅡🅜🅨⁷⟬⟭ (@Army_Tae_7) August 9, 2023