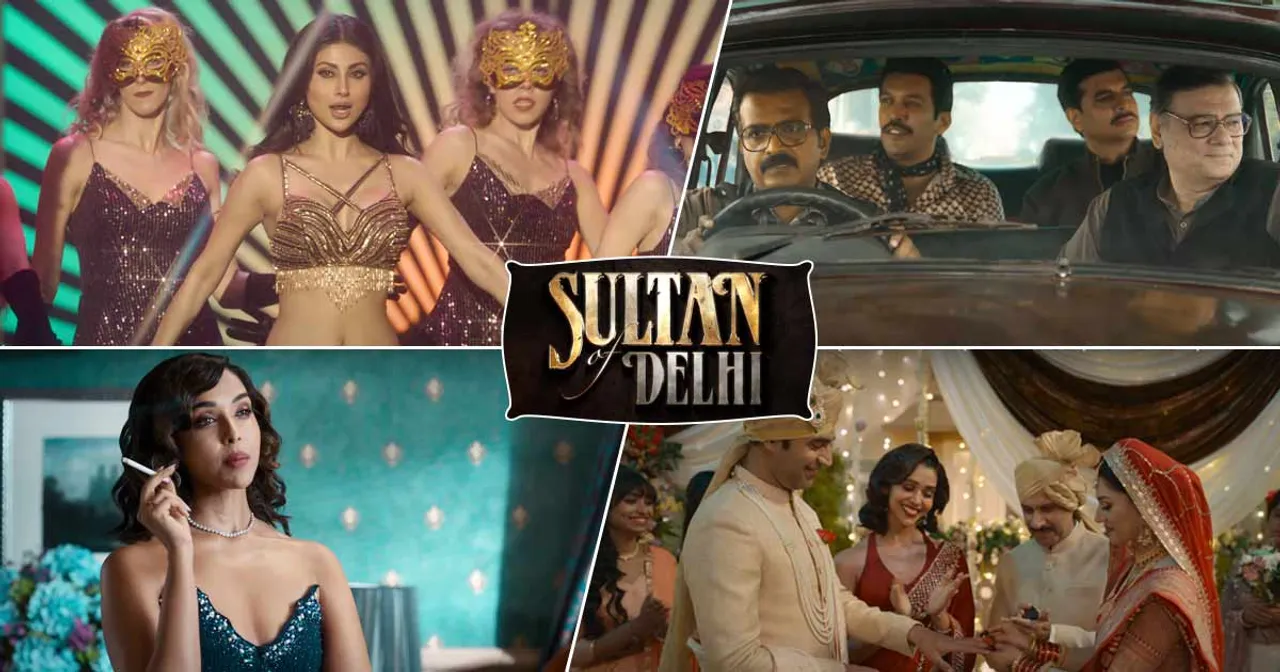 Produced by Reliance Entertainment, Directed by Milan Luthria, the series will stream 13th October onwards only on Disney+ Hotstar.
Agar Delhi ka Sultan banna hai toh, jung bina goli chalaye jeetni hogi! Disney+ Hotstar today launched the trailer of their upcoming drama, Hotstar Specials' 'Sultan of Delhi'. Based on the book, Sultan of Delhi: Ascension by Arnab Ray, the series is Produced by Reliance Entertainment and Directed by ace director, Milan Luthria,  Co-Directed and Co-written by Suparn Verma . Set to release on 13th October, 2023 on Disney+ Hotstar, Sultan Of Delhi is set to take you on a journey where life is at stake and power is all you need to change the game in your favour!
The series stars Tahir Raj Bhasin, Anjumm Shharma, veteran actor Vinay Pathak and Nishant Dahiya in pivotal roles, alongside the supremely talented ladies Anupriya Goenka, Mouni Roy, Harleen Sethi and Mehreen Pirzada in key characters. 
Recreating the magic of the vintage era of the 60's, Sultan Of Delhi follows the story of Arjun Bhatia (Tahir Raj Bhasin), who works with Delhi's biggest illegal arms dealer, Jagan Seth (Vinay Pathak). In a high stakes battle for power, Arjun is tested time and again by those around him. Fuelled by ambition, and his calling to become the Sultan Of Delhi, Arjun must navigate a treacherous landscape to emerge victorious, where there is no stopping him and vengeance is unleashed.
Talking about the series, Director Milan Luthria said, "I never expected such a thunderous response to our teaser. Many people called me asking if it was my next film. My team and I have worked very hard on Sultan Of Delhi, as I didn't want to leave any stone unturned for my first outing on the web. The attempt has been to achieve a clutter breaker, a page turner of sorts. I hope the audience picks that up and enjoys it to the fullest."
Talking about his character and the show, Tahir Raj Bhasin said, "The journey of portraying Arjun Bhatia proved to be a very exciting multifaceted challenge. Arjun Bhatia serves as the central character of the series who evolves drastically as the narrative unfolds. Playing the graph of this transformation was both compelling and exhilarating. Arjun's character helped me push my boundaries as an actor in a very different way. It was a constant balance between a physically challenging part that needed stunt and weapons training and a nuanced emotional journey that was unique to his individual relationships with other characters in the script. A very special dynamic was the friendship I developed with Anjumm Shharma. Our chemistry in the series echoes the timeless camaraderie of iconic duos like Jai and Veeru, and I am eagerly anticipating the audience's response to it."
Talking about his character and the series, Anjumm Shharma said, "Collaborating with Disney+ Hotstar and Director Milan Luthria was an incredible experience at various levels. I used to often speak to Milan over the phone and rehearse the scenes with him before actually shooting it. Playing the role of Bangali was heart-warming and complex at the same time. Bangali is a friend that one definitely needs in today's day and age. While shooting, it was crucial to find a correct graph of friendship between Arjun and Bangali and this helped Tahir and me develop a friendly equation and mutual respect off-screen as well."
Talking about her role, Mouni Roy said, "Playing the character of Nayantara was a one of a kind experience. While she is bold and fearless on the outside, she is vulnerable and emotional on the inside. She has a side to her that was always looking out for love, care and acceptance. Making my web series debut with a show like Sultan Of Delhi and a Director like Milan Luthria was indeed an incredible experience and this streaming on Disney+ Hotstar is like an icing on the cake. I enjoyed being a part of the 60s era and I hope my fans and audiences enjoy this cool and subtle side of me."