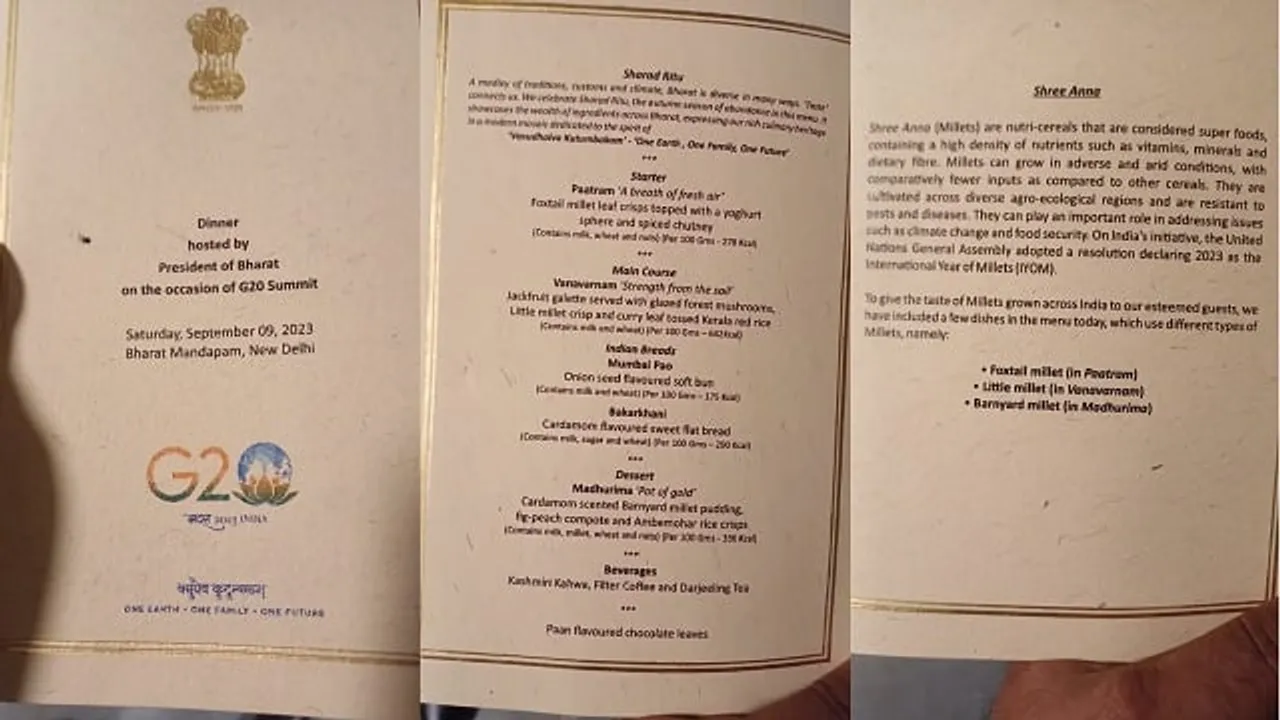 The official G20 gala dinner hosted by President Droupadi Murmu at the Bharat Mandapam in Delhi provided world leaders and delegates with a taste of India's rich culinary heritage. The evening was marked by a unique dining experience that featured a menu reflecting India's cultural diversity and a special emphasis on the nutritional and agricultural value of millets.
The menu sought to highlight how India, with its myriad traditions and climates, is bound together by the common thread of taste. It stated, "A medley of traditions, customs, and climate, Bharat is diverse in many ways. Taste connects us."
 The dinner commenced with a selection of tantalizing starters:
Starters:
Paatram: Foxtail millet leaf crisps adorned with a yoghurt sphere and spiced chutney.
 The main course continued the celebration of Indian cuisine:
 Main Course:
 Vanavarnam: Jackfruit galette served with glazed forest mushrooms, accompanied by Little millet crisp and curry leaf-tossed Kerala red rice.
 Indian Breads:
1. Mumbai Pao: Soft bun flavored with onion seeds.
2. Bakarkhani: Sweet flatbread infused with cardamom.
 For dessert, a delightful treat awaited the guests:
Dessert:
1. Madhurima 'Pot of Gold': A cardamom-scented Barnyard millet pudding, served with fig-peach compote and Ambemohar rice crisps.
 To complement the delectable meal, an array of beverages was served, including:
 Beverages:
1. Kashmiri Kahwa
2.Filter Coffee
3.Darjeeling Tea
 A unique touch to the evening's dining experience was the inclusion of paan-flavored chocolate, adding a delightful and traditional Indian twist to the conclusion of the G20 Summit gala dinner.
 This culinary journey showcased the essence of India's diverse culinary traditions and underlined the importance of millets, not only as a nutritional staple but as a symbol of unity amid cultural diversity. The G20 leaders and delegates relished the flavors of India, highlighting the nation's rich cultural heritage on the global stage.