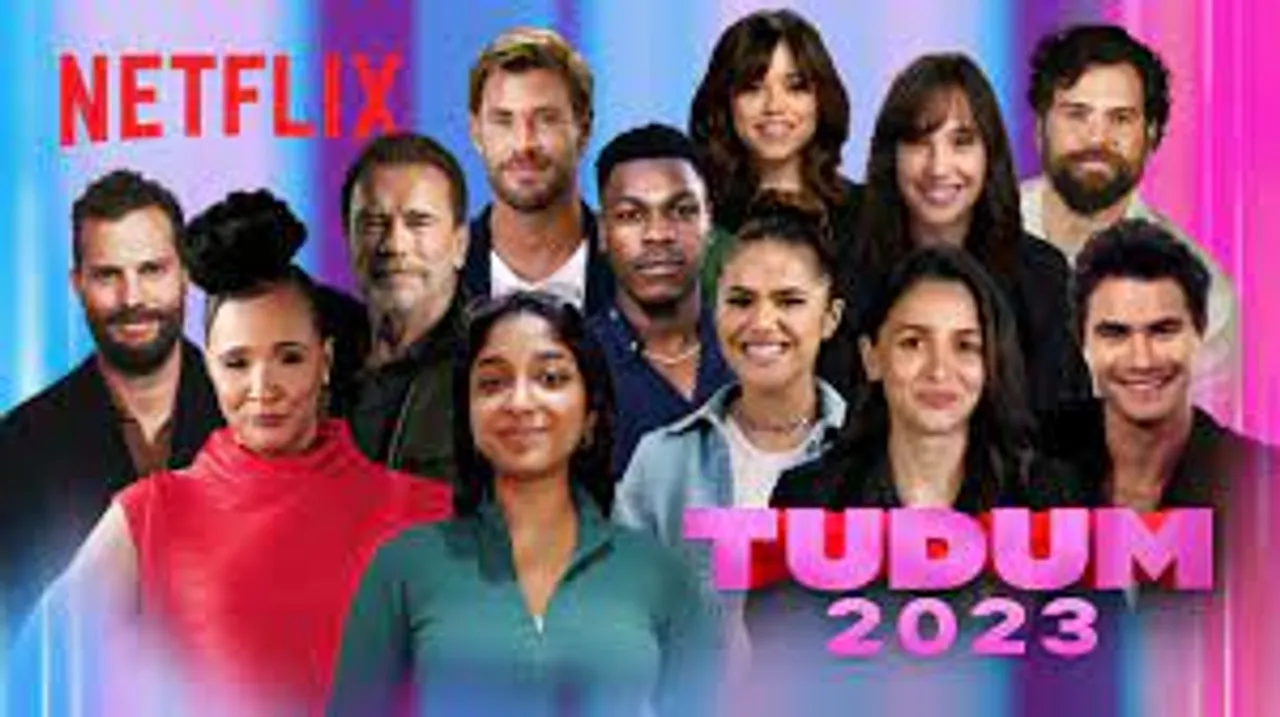 Netflix stars hit the stage from Ibirapuera Park in São Paulo, Brazil on Saturday (17th May) for Tudum: A Global Fan Event. Hosts Chase Stokes (Outer Banks) Maitreyi Ramakrishnan (Never Have I Ever), and Maisa (Back to 15) were joined by 10,000 fans in person and many more globally on YouTube.com/Netflix as we shared breaking news, exclusive first looks, trailers and clips, in addition to appearances from the creators and stars behind your favorite Netflix series, films and games. 
The global fan event TUDUM celebrated Netflix titles and their creators with fans across the globe. The one-of-a-kind event saw a stellar performance by the Archies cast. To add on the charm, Tudum dropped the trailer of the much-awaited film Heart of Stone starring Alia Bhatt, Gal Gadot, Jamie Dornan, and Chris Hemsworth announced Extraction 3.
Catch up below on the biggest news from Tudum: A Global Fan Event:
The Archies: You've seen them in comics, in books, and in Riverdale — but this time around, they're traveling to 1960s India — and we have your first look.
Heart of Stone: Gal Gadot, Jamie Dornan & Alia Bhatt wowed fans with the exclusive debut of the trailer for their action-packed new film.
Extraction 3: Hot off the heels of Extraction 2, Chris Hemsworth announced that a new chapter in this heart-pounding journey is in the works.
Emily in Paris: Lily Collins revealed that Season 4 will take fans — and Emily — on a Roman holiday!
Squid Game: The Challenge: This year, the game you love becomes reality. Here's your first sneak peek at how the brand-new competition series is coming to life.
Squid Game: Speaking of everyone's favorite game, we announced that stars Lee Jung-jae, Lee Byung-Hun, Wi Ha-jun, and Gong Yoo will all be returning for Season 2. Plus: Meet the four new actors joining the cast.
Bridgerton: Alert the Ton! Your first look at Penelope and Colin in Season 3 has arrived. 
3 Body Problem: A thrilling new mystery unlike anything you've seen before. From Game of Thrones creators David Benioff and D.B. Weiss, and Alexander Woo, see the first footage from the upcoming series.
BERLIN: His plan: to steal €44 million — in one afternoon. Watch the first teaser from the new series from the world of Money Heist.
One Piece: The wait is over! See the first look at the live-action adaptation of the best-selling manga of all time.
Rebel Moon: Zack Snyder released an exclusive look behind the scenes of his epic new movie.
YOU: Penn Badgley shared a super-early tease about what fans can expect in the fifth and final season.
Elite: Season 7 will be an epic journey for the students of Las Encinas, and singer-songwriter Anitta is along for the ride!
Love is Blind: Gear up for more romance with this early look at Season 5.
Too Hot to Handle 2: Following the success of Too Hot to Handle: Love is a Game, get ready to return to paradise for the new sequel mobile game featuring fan-favorite Chloe Veitch.
Cobra Kai: Fighting positions! The cast is getting pumped for its sixth and final season.
Back to 15: What's next for Anita after so much time-traveling? Watch the trailer for Season 2.
Heartstopper: Say "hi" to the opening scene from Season 2! Plus, get a first look at all of the episode titles.
All the Light We Cannot See: Meet Marie-Laure and Werner in this exclusive sneak peek at Shawn Levy's upcoming adaptation of the bestseller about two teens, thrust against the backdrop of WWII, who share a secret connection that will become a beacon of hope in the darkest of times.
Lupin: Lupin is back ... in danger. Watch an exclusive clip from Part 3.
D.P. and Sweet Home: Check out first looks at the new seasons of these two hit K-dramas, and sneak a peek at some of the hottest new shows and films coming from Korea.
The Witcher: Henry Cavill, Anya Chalotra, Freya Allan, and Joey Batey debuted a brand new clip from Season 3.
Through My Window: Ares and Raquel's love story will continue in Through My Window: Looking at You, a third film coming in 2024!
The Queen's Gambit Chess: Checkmate and check out the latest trailer for the upcoming mobile game based on the hit limited series.
Outer Banks: New looks. New season. Same Pogues. Chase Stokes shared a sneak peek live from the Tudum stage of the cast back in action and gearing up for Season 4.
Avatar: The Last Airbender: See the costumes and new teaser for the upcoming live-action adaptation of the hit animated series.
FUBAR: He'll be back! Arnold Schwarzenegger revealed that the series has been renewed for Season 2.
Stranger Things: A friendship between two action icons spanning more than 30 years! Arnold introduced his Terminator 2: Judgment Day co-star Linda Hamilton, who announced via video that she's joining the cast of Stranger Things 5.
About Tudum: A Global Fan Event:
Tudum: A Global Fan Event is the biggest Netflix event celebrating Netflix's brand-defining films, series, talent and creators directly with fans around the globe. "Tudum" is a reference to the sonic brand sound heard when the 'N' first appears just before a show or film is about to start on Netflix.