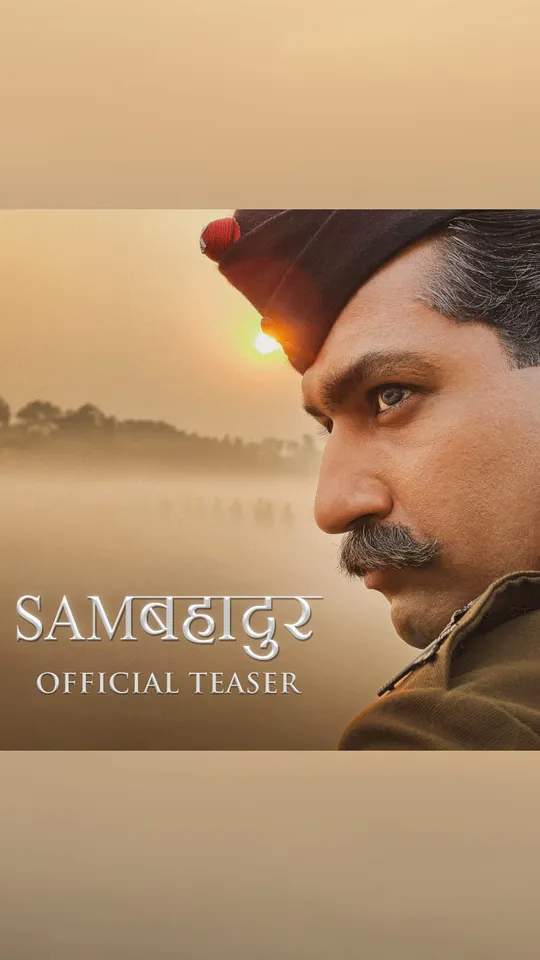 Watch the teaser here:
RSVP Movies has finally unveiled the much awaited Teaser of Sam Bahadur , based on the life of India's First Fieldmarshall and military might, Sam Manekshaw, and it is nothing short of amazing.
Vicky Kaushal, known for his iconic roles in films like 'Uri' and 'Raazi', will next be seen in Sam Bahadur, which has already stirred anticipation among audiences. The film delves into the life and times of the military legend, presenting a powerful narrative that honors his heroics and leadership. With this film, he reaffirms his place as one of India's most versatile and talented actors.
The film also stars Fatima Sana Sheikh as Indira Gandhi and Sanya Malhotra as Sam Manekshaw's wife Siloo. 
The very talented director Meghna Gulzar, known for her remarkable storytelling and direction in films like Raazi and Talvar, collaborates with Vicky Kaushal once again for Sam Bahadur. Meghna Gulzar's  directorial finesse, combined with her ability to bring out the best from her cast, ensures that the film will be an unforgettable experience for the audience.
Sam Bahadur is a significant addition to RSVP's impressive portfolio of thought-provoking and visually stunning films. They're known for their commitment to quality story-telling and their dedication to bring unique as well as engaging narratives to the big screen, ensuring a prominent place in the Indian film industry.
Vicky Kaushal who's playing the lead role in the film said, "Playing the role of Field Marshal Sam Manekshaw is an immense responsibility and a huge honour. We've poured our hearts into bringing to life one of India's great heroes on screen. I'm humbled to be a part of this project that is so inspiring. The teaser is just a short glimpse of the legend and the story will surely touch the hearts of the audiences."
Meghna Gulzar, says, "I feel blessed that I was chosen to tell this story and work with this incredible cast. 
Sam Manekshaw is an ideal, a hero. And has lived his life fearlessly and righteously. I hope that our effort to present his momentous life and his admirable qualities will resonate with the audiences. He is a role model everyone should know more about."
Producer Ronnie Screwvala adds, "It's not often that one gets to make a movie on an Icon and a true patriot. And it's not often that one partners with the perfect Director to bring this story to life and Meghna does that and much more. But it IS often that one gets to work with Vicky and just about every time we do come together - it's for a special reason and on this one his performance is going to leave the audience awestruck. From all of us - A 21 gun salute to Sam Bahadur."
The teaser of Sam Bahadur offers a glimpse into the extraordinary tale of the legendary military leader. The teaser has already captured the hearts of audiences worldwide and has sparked enthusiasm. It's a testament to the film's potential to shed light on the life of a national hero.
Sam Bahadur is all set to release worldwide on 1st December, 2023, on the silver screens.