Coolie No. 1 (2020) is a family movie filled with all entertainment presenting you with different character. Film has nothing big to give you but it will surely tickle you throughout.
Story-line:
Jeffery Rozario (Paresh Rawal) who wants her daughter Sarah (Sara Ali Khan) to get married to a rich man just like him. When Pandit Jai Kishen (Javed Jaffrey) brings a match to her and Rozario says, 'inka rishta toh pehle se hi gareebo se juda hua Hai' and slams pandit for it. Then where Jai Kishen decides to bring a match who will bring down his pride, soon after he meets Raju Coolie (Varun Dhawan) who is already fell in love with Sarah after looking at her photograph. So Pandit ji decides to bring the couple together and also Deepak (Sahil Vaid) friend of Raju helps him throughout this lie factor.
It is all fun till the end of knowing how Raju will convince Rozario for his daughter's hand for lifetime?
Review:
There's no way connection of 1995 film Coolie No 1 starring Govinda and it has already been clarified, once Sara said, "It a totally different film. It has no link with the older film. There will be more flavours in it." So firstly stop comparing them in replacement of Govinda and Karishma Kapoor. Varun and Sara will amuse you in their style of presentation.
Director David Dhawan has perfectly managed of his 'funny film director' tag, he has given you that one movie to have fun in this difficult time of pandemic. Dialogues by Farhad Samji did a very good job, dialogues are the highlights of the movie. Cinematography by Ravi K. Chandran and Editing by Ritesh Soni is nothing new to represent but has done a good job as most of the film's part is shot in front of green screen. And team set up needs a huge respect of creating a perfect set in every location of film is so satisfying. Backgroung score by Salim-Sulaiman is a hype of the movie. Music by Tanishk Bagchi, Lijo George, DJ Chetas and Javed-Mohsin has done quite a nice job of recreating songs and presenting new songs.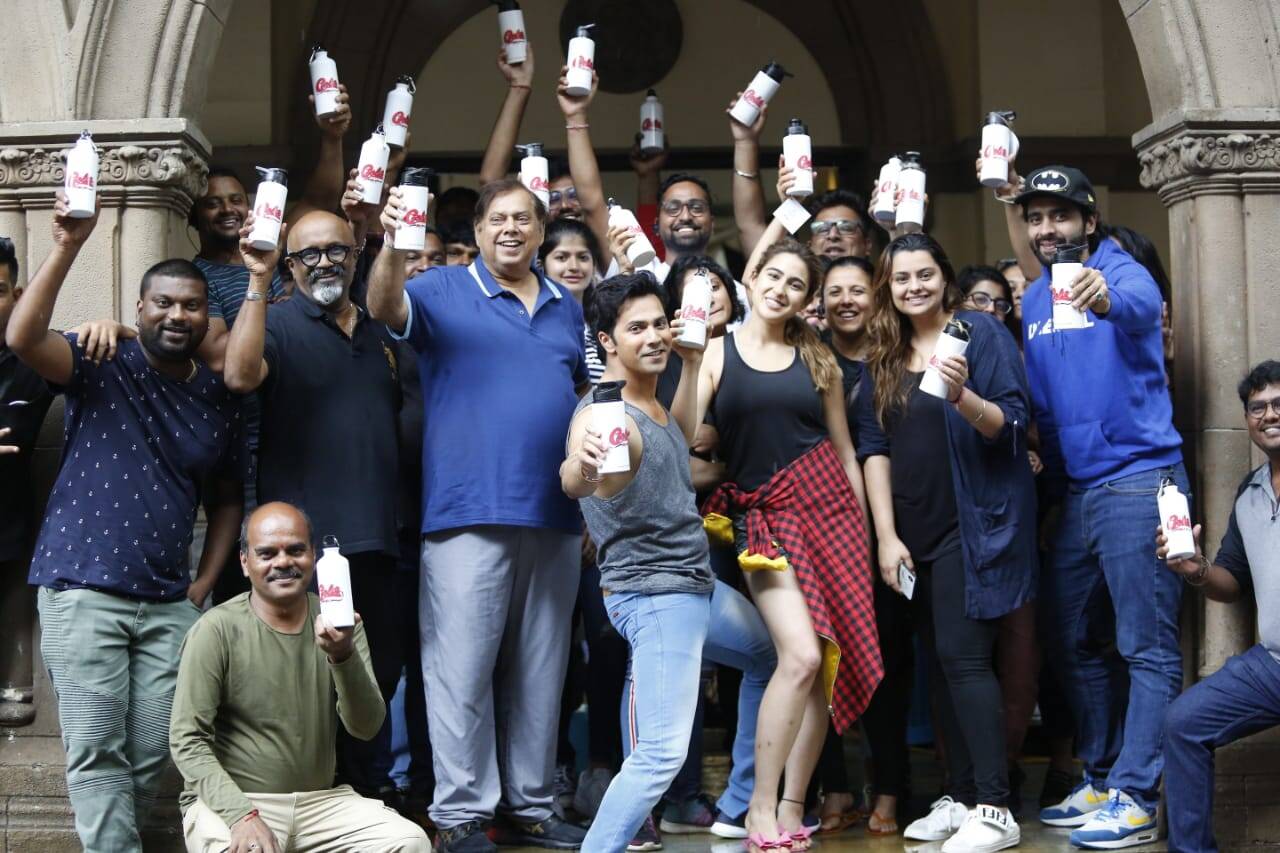 Varun Dhawan has totally shoulder the film to tickle you throughout with his mispronounced English words and enacting other characters of Bollywood. Fans of him will love him to see in different avatars with all fun. Somewhere he will make you remind of Main Tera Hero, as he was all enjoyment to watch. Sara Ali Khan was different from her other previous films,  who has done not so ok yet ok with her beauty presence.
Supporting actor Paresh Rawal is so different from last movie, he was just recently seen as a completely negative man in Soorarai Pottru and now being fully hilarious, what a versatile actor! Javed Jaffrey is all fun to create golmaal in the film. Sahil Vaid and Varun's duo has always been a best friends duo who has each other's back. Johnny Lever had not much screen space but will definitely make you laugh within few minutes. Shikha Talsania (as Sarah's sister Anju)who was so much fun to watch in Veere Di Wedding, now she barely got screen space to perform. Rajpal Yadav (as Rozario's brother-in-law Pinto), is a cute little amusement who had less screen space too.
Note – Watch the film just through an entertainment purpose and don't go into deeply finding logical stuffs. Just enjoy and laugh as this year as already got you into so much.
Check out Coolie No. 1 at Amazon Prime Video. If you are a fan of Masala Entertainment than this film is for you, until you will stop comparing it with the older version of the film.
Keep aside all the changing cinematic sensibilities, the comic caper will manages to tickle your funny bone. So just laugh and have an amusing time with your family for this Christmas, as laughter is the best medicine it is even best when it is with family. – Funny 3.5/5