Kartik Aaryan who stepped out to work after spending seven months of complete lockdown as he turned showstopper for Manish Malhotra's show for the opening night of Lakme Fashion Week. The show was extra special as Manish collaborated with Mijwan Welfare Society (NGO) for his show and hence the young actor decided to resume work for this special gala event. 
So on October 20th 2020 night the internet was buzzing talking non-stop about Kartik Aaryan's showstopper avatar, with the long-hair look added made him look regal and a true-blue Prince. The look which amazed everyone out there and fans where demanding for avatar to be seen in any of his film.
Infact when Kartik Aaryan also posted a picture of himself in that creation and captioned it by asking, 'iss look mein film shoot karni chahiye?' As soon as he posted this, his fans went berserk and agreed with him. They all wanted to see more of him in this royal avatar and we couldn't agree more.
Today we note down five most royal avatars of our B-town hunks that got us drooling…
Kartik Aaryan
Prince Charming got a whole new meaning with this showstopper look of Kartik Aaryan. His Princely charm in the picture and the swag he had in his photos, one couldn't take their eyes off those clicks. His long hair and that depth-full look in his eyes, we all were instantly mesmerized by it. Hats off to this true-blue Prince of hearts. Someone has to cast him in a historical film pronto.
Ranveer Singh
Ranveer Singh as Peshwa Bajirao was beyond amazing. His light eyes, his bald avatar and his exquisite attires transformed the otherwise eccentric Ranveer Singh into a King. Ranveer Singh's act in this film is what made him stand out and take him seriously as an actor. The way he performed the role in this period drama, it has one down the history. 
Shah Rukh Khan 
Shah Rukh Khan as King Ashoka was one of the best roles of King Khan. Here Shah Rukh Khan not just portrayed his romantic side, but also showed that he can play a brave King and emperor in a period drama. The royalness he got to the big screen was much required for this historical drama.
Shahid Kapoor
Shahid Kapoor in Padmaavat as a Rajput King was what spoke of valour and courage. The actor's portrayal of a selfless King was just the depth one expects in a Sanjay Leela Bhansali film. His undying love for his Queen, him following his principles and morals rightfully and him thinking about his subjects, was indeed phenomenally portrayed.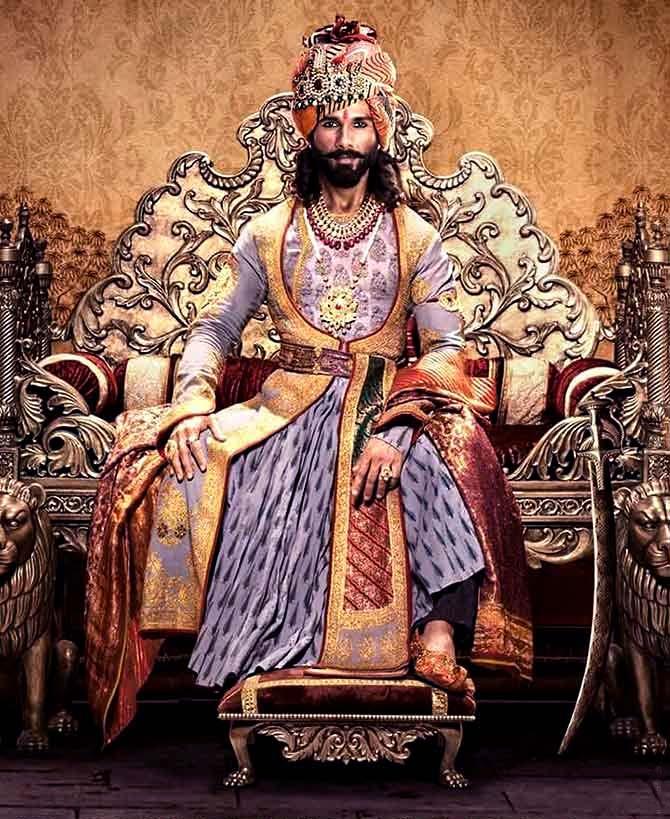 Hrithik Roshan
Hrithik Roshan in Jodhaa Akbar was what dream-guys are made of… The actor's portrayal of King Akbar was something we had never seen before. With his stoic silence and with those steely looks, he did portrayed the role to perfection. The actor won several awards for his role.