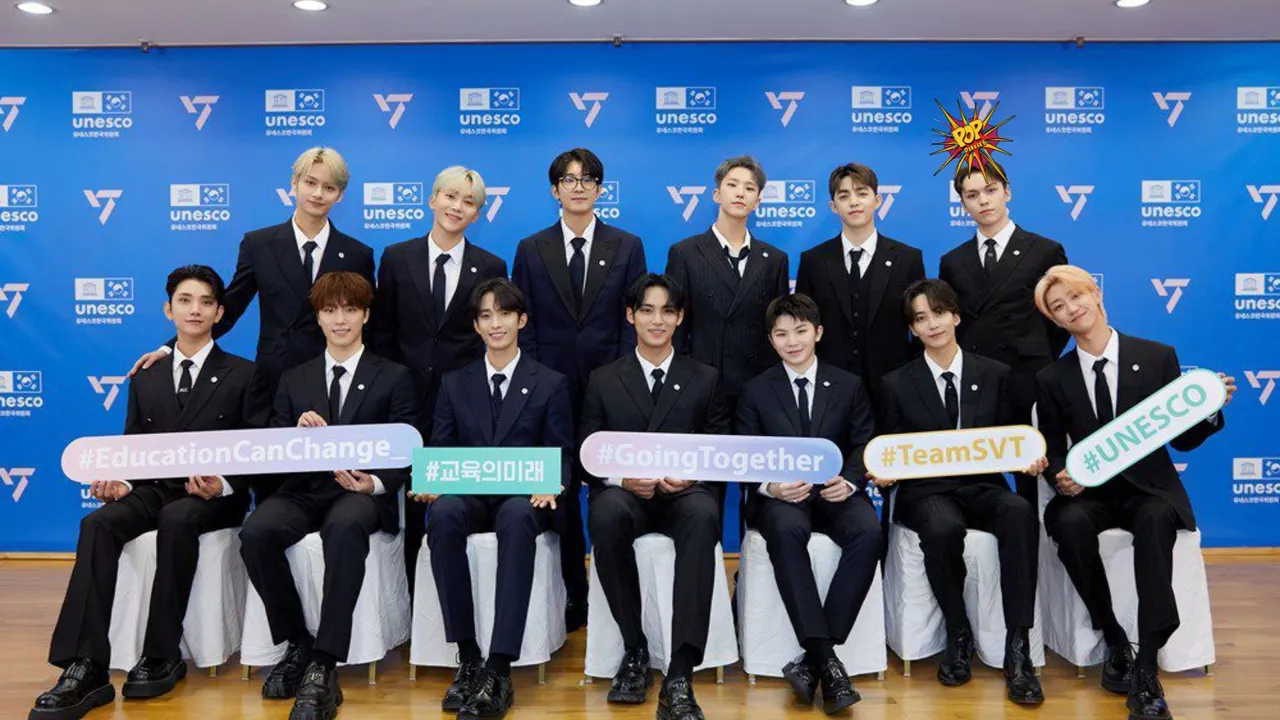 K-pop icon SEVENTEEN will attend the 13th edition of the UNESCO Youth Forum, set to take place on November 14-15 at UNESCO Headquarters in Paris, France.

At the UNESCO Headquarters' historic main hall on November 14, the iconic act will present a speech and a performance as a representative of youth through a special 60-minute session, calling attention to how education and solidarity among youth can bring a better future. This is the first time a musical artist has been invited for a dedicated session at the forum.UNESCO Youth Forum is a global forum that provides youth with the space to dialogue, along with the opportunity to share ideas and with the Member States of the United Nations Educational, Scientific and Cultural Organization (UNESCO) as a part of the UNESCO General Conference. The forum has been held every two years since 1999 as with the General Conference, and will be attended this year by representatives from the 194 Member States of UNESCO, as well as representatives from youth related institutions under the UN and governmental/non-governmental organizations around the world.
SPREADING THE IMPACT OF '#GoingTogether' GLOBALLY
Ahead of the forum, PLEDIS Entertainment, UNESCO and the Korean National Commission for UNESCO (KNCU) also announced that they signed a tripartite Memorandum of Understanding (MOU) signifying a global expansion of the existing partnership between PLEDIS Entertainment and KNCU.
Under PLEDIS Entertainment's previous partnership with KNCU, SEVENTEEN launched the '#GoingTogether' campaign in August last year as advocates of education and youth initiatives. Multiple projects were set in motion over the past year, including a donation campaign with SEVENTEEN's fans on International Day of Education last January, and donating a part of the proceeds from their world tour 'SEVENTEEN WORLD TOUR [BE THE SUN]' to provide educational aid for children in Malawi. Campaign booths were also set up at the act's fan meets, to raise awareness of the importance of making education more accessible to underprivileged children. 

HYBE said, "Educational aid from UNESCO helped the Republic of Korea recover from the aftermath of war 70 years ago. An artist from that same country, speaking to youth around the world at UNESCO about hope achieved through solidarity and education, will be both a moment of historical significance and a momentous milestone for SEVENTEEN as an icon in K-pop."

ON A CONTINUED MISSION TO DELIVER A MESSAGE OF HOPE
The announcement of the group's extended partnership with UNESCO arrives at the peak of excitement in K-pop, with SEVENTEEN's new mini album SEVENTEENTH HEAVEN just released on October 23.

SEVENTEEN has consistently highlighted the idea of hope throughout their career and has risen to popularity for their positive energy. This was most recently demonstrated with their previous album FML, which made history as the best-selling album ever in K-pop with its sales surpassing 6.2M copies within approximately two months of release. The 13-piece act also just broke the first-week sales record in K-pop once again just 4 days after the release of their latest album, with 4.62M copies sold. 

Their latest album SEVENTEENTH HEAVEN—a playful twist on the expression 'Seventh Heaven'—is a musical celebration of what the band and their fans have achieved together thus far. SEVENTEEN invites everyone to join in on shared moments of happiness through the album, continuing on with their mission to shed light on the value of hope and happiness achieved through camaraderie.
About SEVENTEEN
SEVENTEEN—comprised of S.COUPS, JEONGHAN, JOSHUA, JUN, HOSHI, WONWOO, WOOZI, THE 8, MINGYU, DK, SEUNGKWAN, VERNON and DINO—have rocketed to the forefront of the music scene fueled by a fiercely independent spirit and a nonpareil in-house creative ecosystem. The 13-piece act's innovative structure hinges on the interplay of three units: hip-hop, vocal, and performance. Living up to the title of "K-pop Stage-breakers," SEVENTEEN have unassumingly become one of the biggest groups ever due to their world-class synchronization, jaw-dropping performances, and tight teamwork. The performance powerhouse made their U.S. television debut on The Late Late Show with James Corden in 2021 and followed it with unforgettable performances on The Kelly Clarkson Show, The Ellen DeGeneres Show, Jimmy Kimmel Live! and MTV Fresh Out Live. The group closed out 2022 as the first K-pop artist to take home PUSH Performance of the Year at 2022 MTV Video Music Awards, and the first K-pop act to win Best New and Best Push at 2022 MTV European Music Awards. SEVENTEEN reached a career high with their 10th Mini Album FML released in April 2023. The group itself hit No. 1 on the Artist 100 while FML debuted at No. 2 on the Billboard 200 and No. 1 on the Top Album Sales and World Albums charts. The act also made history with FML as it became the best-selling K-pop album ever with over 6.2M albums sold as of July, 2023.

About UNESCO in Korea
Shortly after World War II, UNESCO (United Nations Educational Scientific and Cultural Organization) was established in 1945 with the aim of rebuilding a culture of peace from the devastation of war. It contributes to peace and security by promoting international cooperation in education, sciences, culture, communication and information.
As a specialized agency of the United Nations, UNESCO operates through National Commissions in each Member State. Presently, there are 199 National Commissions for UNESCO across the world. The Republic of Korea became a Member State of UNESCO in 1950 and established its National Commission in 1954.

The Republic of Korea was one of the beneficiaries of UNESCO's educational aid for underdeveloped countries. In the aftermath of the war, UNESCO printed national textbooks as a part of a countrywide reconstruction effort and expanded educational opportunities for youth. The 1956 school textbook is now on display at UNESCO Headquarters in Paris, France.