Ravi Kapoor aka Jeetendra Kapoor is one of the greatest actors from the Bollywood industry and who ruled many hearts at the time 80s, ever-charming personality and use to impress the audience most of the time with his unusual dancing style, which is still in many people's dancing steps. The man also earned the sobriquet of 'Jumping Jack' in Bollywood owing to his energetic dancing style.
Today, on the occasion of Jeetendra Ji's 79th birthday have a look into some interesting and unknown facts about one of the finest actors from Bollywood.
Many might didn't knew this that Ravi Kapoor is the real name of Jeetendra Kapoor, who was an heartthrob of many girls in the time of his era.
Jeetendra had met his wife, Shobha, when she was only 14.
The actor was rechristened as Jeetendra and launched as a leading man in director V Shantaram's Geet Gaya Patharon Ne (1964), where he starred opposite the director's daughter, Rajshree.
Jeetendra Ji has acted in over 200 movies as the lead, out of which over 120 were hits.
The hardworking star had seven or more movies released every year from 1977 to 1987. This included 12 film releases in 1981, 14 in 1982 and 11 in 1986.
The tee shirt and white shoes he picked up from a retail store for the Mast Baharon Ka Main Aashiq number in Farz, became his trademark.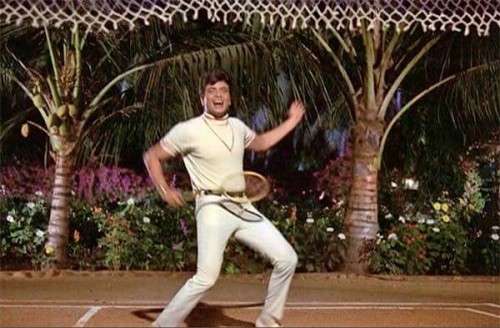 Jeetendra went to the same school and college as their close friend Rajesh Khanna, whom he helped during his early days in Bollywood. They starred together in films including Dharam Kanta (1982), Nishaan (1983), and Maqsad (1984).
His vigorous dancing in the films won him the epithet; "Jumping Jack of Bollywood" and mostly known as the 'First Dancing Star of Bollywood'.
His 1971 film Caravan became the highest-grossing overseas Bollywood film when it was released and its song Piya Tu Ab To Aaja is regarded as one of the greatest of all time.
Jeetendra was frequently paired with Jaya Prada or Sridevi for remakes of Telugu films. He also acted in many remakes in Hindi of Krishna's Telugu movies and had a very close association with him.
Besides these south Indian remakes, there was a subdued side of Jeetendra whenever he'd worked with the writer/lyricist Gulzar in films such as Parichay, Kinara, and Khushboo that had several beautifully penned songs such as "O Majhi Re", "Musafir Hoon Yaaron" and "Naam Gum Jaayega", composed by Rahul Dev Burman and sung by Kishore Kumar.
Besides his frequent pairings with Jaya Prada and Sridevi during the '80s, Jeetendra's popular co-stars were Mumtaz, Hema Malini, Moushumi Chatterjee, Reena Roy, Neetu Singh, Sulakshana Pandit, Rekha, and Bindiya Goswami.
Achievements:
Though he went on to be off-screen after 1990s but he has severed with many honours after he went on to live a normal life rather being an actor is what makes him a great artist. Checkout the honourable awards that he received:
In 1998 Jeetendra got a Guest of Honour Award at the 18th Ujala Cinema Express Awards, followed by in 2000 he got a Lifetime Achievement Award in film personalities, and in 2002, Lifetime Achievement Award at the Zee Gold Bollywood Movie Awards in New York.
Also, other lifetime achievement awards from the award like Filmfare (in 2003), Screen (in 2005), Sansui Television (in 2008), Zee Cine Award (in 2012), and got a Most Evergreen Romantic Hero at Lions Gold Awards in 2012.
Also, a "Legend of Indian Cinema" Award at Atlantic City (United States), in 2014.  
Though he is missed on-screen now, he never fails to appear on several reality shows and be sweet as he was always, also still attends invitations from friends and colleagues, and not only this he also happily obliges fans seeking an autograph or a selfie.
Here PopDiaries wishes, a very HAPPY BIRTHDAY to one of the evergreen stars!!!