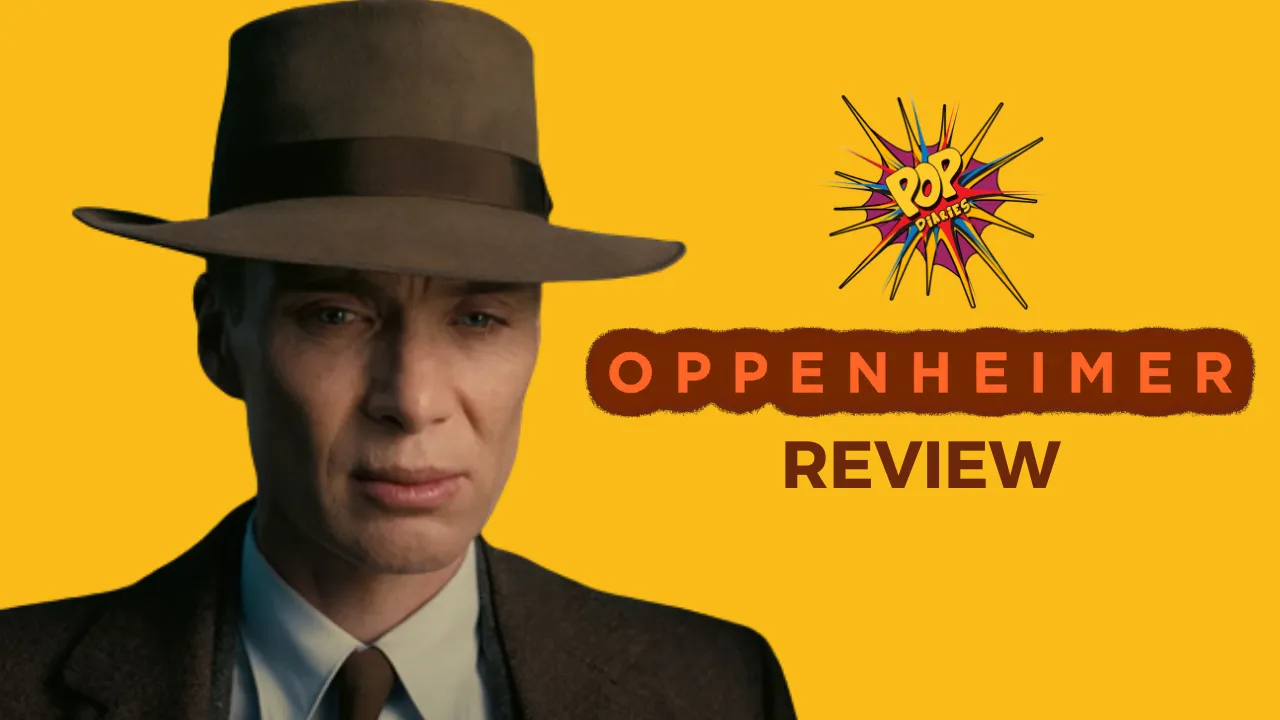 We all love Christopher Nolan movies for his art of direction, understanding of film making as he is an auteur; who has his striking ways of making films. Well, trust Oppenheimer to be no different but unlike his complex time theories and the plays with subconscious realities, this time Nolan makes it simple. 
Yes, it revolves around physics, math and theories behind the atomic energies because that's how the atom bomb was born but this movie is also an art that depicts itself beautifully from the filmmaker's eye. 
The movie is adapted from "American Prometheus: The Triumph and Tragedy of J. Robert Oppenheimer," and it shows the movie from two perspectives. No spoilers ahead but here's a breakdown on how I have perceived the movie coming from the space of art. 
Story and Screenplay: 
The story is about the father of the atomic bomb Robert J Oppenheimer and his tragic success story. Well, the story has two different timelines from two different point of views. The shifts and transitions are smooth. To make it evident and distinct, Nolan even makes use of black and white but this time not to depict the past but to showcase another point of view in a complete different time zone which is definitely not the past of Oppenheimer. 
Screenplay is the hero here because it beautifully shows two different perspectives, one that is of Oppenheimer and one that is not his. This is sheer work of genius, the way they have shown Oppenheimer from his POV is beautifully written and translated on the screen. His life, his thoughts and his story had elements of his deep disturbed mind and the reality he was living in, to synchronize both on paper might look easy but to mold it in the form of scenes and bring it to life is a work of challenge which is well achieved. A lot of metaphors have been used in the movie to connect the abstract and reality. From showing us the mind of Oppenheimer to what Oppenheimer feels about his own reality in words, we were living both of the world through Nolan. 
BGM and Music: 
I don't know the last time I watched a movie where 'silence' was used so beautifully as it was used in Oppenheimer. I would call this a personal analysis here but I deeply feel the BGM in Oppenheimer's time zone was from his POV, where the BGM depicts what he was feeling, how his mind perceived the sounds around and how he looked at the situation. What I liked here is that Nolan gave the music a perspective and purpose. In my eyes, this is underrated as often it is so ignored but here it played a vital role to connect. 
A special mention of the "silence" because he used his pauses to establish the tension, to build up what is coming. The scene of the first atomic bomb detonation is the highlight of the movie, it was GOOSEBUMPS! 
Ludwig Göransson, massive respect for the brilliance he delivered.
Direction/Camera work/ Cinematography: 
Oppenheimer is filmed in a combination of IMAX 65 mm and 65 mm large-format film photography including, for the first time ever, sections in IMAX black and white analogue photography. Nolan has a style to expose his characters and make the audience dwell deep into them through his shots. The shots juggle when a conversation is happening from close ups deep enough to make you connect, disconnect and reconnect to the character. 
Adding yet again a perspective to every shot is Nolan's expertise. What I really loved was the detailing in his camera work, he did not use waste shots as fillers which is often a case in the world of films, he actually made sense of every shot that he included. 
Performances:
Cillian Murphy as Robert J. Oppenheimer, not an ounce extra or less, he measured his reactions, actions and emotions in the right amount and delivered as if it was an easy peasy work of art. Maybe, sometimes we know the actor is not acting because he is that good with his empathetic self that he literally decides to live as the character for the audience to believe he is that. Cillian did exactly that. How good he is, well the words in my diction will fall short to describe it aptly. That one thing that won me over was that Cillian used his eyes really well to emote. His face had limited work because of his character but not his eyes and he knew exactly how to use it to his abilities. He was just fantastic, period. 
Robert Downey Jr as Lewis Strauss left me speechless, he was so good that for the first ten minutes, the mind had to sink in the fact that it is the same guy who gave us some iconic roles with little of the real Robert Downey Jr in every reel character but it's a different story here, as Strauss he was just Strauss. His POV was monochrome so that even made it better and he totally owned and nailed the character. This is going to be etched as one of his best performances for sure. 
Emily Blunt as Kitty Oppenheimer, she played his wife and one might think that she is second to Oppenheimer but that's not what Nolan thinks. It was fair because we saw the story from Oppenheimer's POV and in his perspective Kitty was his strength, so her vulnerabilities and her strength was well depicted and Emily as a performer shone. To make a mark in this science docudrama where you are not even a part of a project directly is difficult but trust the performer that she is, to do it effortlessly. 
The other star cast were equally amazing and everyone delivered what was expected of them. 
Extended cameo of Rami Malek as David Hill, the man needs no words, he is a delight to watch on screen for hours or even for just a minute. 
What we didn't like: 
The length could have been shortened a bit, the ending part seemed a bit stretched but the unfolding was done beautifully so no major complains, yet it could have been shorter. 
Final Verdict: 
4.5 Stars For Oppenheimer, after a long time, a creatively satisfying movie makes its way on the big screen. This movie is all about the person Oppenheimer was, his life, his tragedies and the biggest discovery in mankind, boon or curse? You decide. Watch this movie for your own reasons but do watch it cause it is worth the experience. 
Pro Tip: Please pay attention while watching the movie, if you miss a scene you miss a part and then that might just affect your experience.