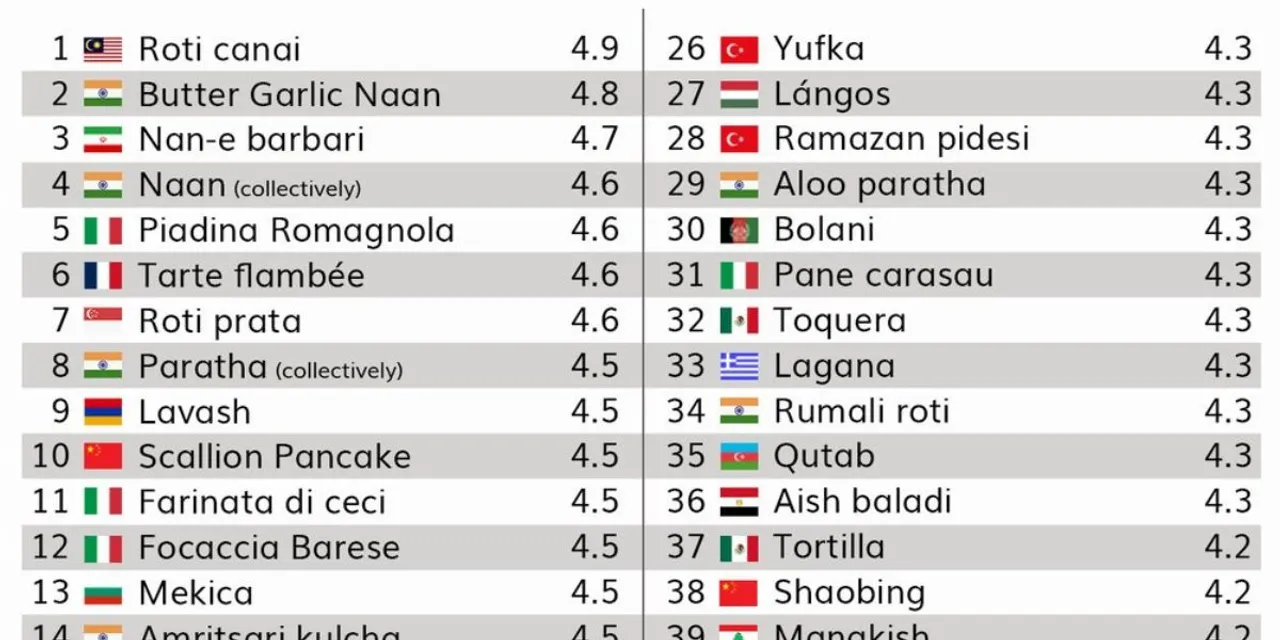 Flatbreads were amongst the earliest processesed foods, the thin and versatile breads  enjoyed worldwide, are an essential part of many cusines. Whether it's the chappati in India, the pita in the Middle East, or the tortilla in Mexico, they are cherished for their convenience and adaptability.
Flatbreads have been enjoyed across different cultures for centuries, with each region adding its own distinct flavours and techniques to this culinary creation.
Recently Taste Atlas released a list of the best flatbreads in the world and India's Butter Garlic Naan has been given second spot in it.
Roti canai from Malaysia, a traditional pan-fried Flatbread made with flour, water, eggs, and fat, has been ranked the best flatbread. "The dough for roti canai is repeatedly folded, so the final product has a layered texture, a soft interior, and a crispy outer layer. The most common fat used in roti canai is ghee, the traditional Indian certified butter. It is believed that the dish originated in India when the Indian labourers who migrated to Malaysia brought the recipe and the tradition of preparing the crispy pastry to the foreign country", Taste Atlas said. 
Occupying the second spot is India's famous butter garlic naan- one of the most popular versions of naan. Other Indian dishes which made it to the top 50 rankings include naan(4th), paratha(8th), Amritsari kulcha (14th), roti (16th), aloo paratha (29th), rumali roti(34th), aloo naan(46th), Kashmiri naan(47th).
From the exquisite layers of roti canai to the aromatic allure of butter garlic naan, flatbreads continue to captivate tastebuds around the world.