Diamond jewellery has always been associated with romance, fidelity, and elegance. They occupy a special place in the world of jewellery. The world of diamond rings is changing ever so constantly. With May almost closing, almost half of this year has passed, and we are already witnessing new trends appearing and older ones changing. 
Keeping up with recent trends is important if you love diamond rings. And even if you're not, it's still interesting to know what's trending in the diamond ring industry. This blog will take you through the best diamond ring trends for 2023. It will also look at a trendy collection of rings that is sure to wow you!
Trend #1: Unique Designs
Unique and unusual diamond rings are becoming popular in 2023. People aren't content with old, traditional styles for much longer. They want to seek out items that are representative of their uniqueness and personalities instead.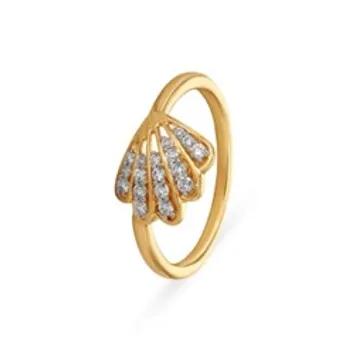 Numerous options exist, ranging from dramatic geometric diamond rings to asymmetrical structures. The seashell finger ring of 18kt yellow gold is a perfect example of this fashion. With its intricate design influenced by marine shells, it stands out from the crowd and adds a splash of playfulness to any ensemble. It is best for someone who treasures and wishes to preserve their beach-related memories.
Unique designs in diamond rings are the way to go if you want to make a statement with your diamond ring. Do not settle for something average when you can have a ring that genuinely reflects your style and personality.
Trend #2: Sustainable Jewellery
In 2023, sustainability has taken centre stage owing to global climate changes, and the world of jewellery is not aloof from these effects. Customers are becoming more aware of how their fashion choices impact society and the environment. As a result, they are looking for responsibly mined and produced jewellery.
In addition to making you feel good about your purchase, sustainable jewellery gives your diamond ring a special backstory. You may support moral and ethical practices that benefit people and the environment. So, if you want to be honest and fashionable, get a sustainable diamond ring!
Trend #3: Simple and Elegant
The maxim "less is more" will apply for diamond rings in 2023. Designs that are understated and sophisticated are becoming fashionable, reflecting a trend towards minimalism and classic style. With its understated and elegant style, this solitaire ring personifies this vogue. It features a single round diamond set on a prong. It can enhance any ensemble with its rose gold-toned finish. Simple designs such as this solitaire ring are the perfect gift for commemorating milestones in your life.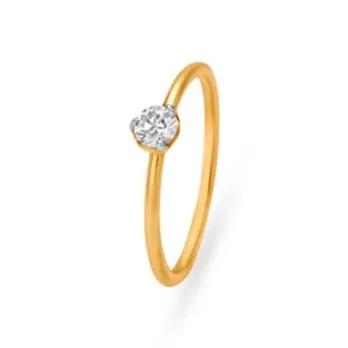 Diamond rings are perfect for every occasion because they go with any outfit and are simple and gorgeous. They are vital components for every collection of jewellery because they can be worn by themselves or paired with other pieces. If you want to seem stylish in 2023, go with a discrete yet beautiful diamond ring.
Diamond rings are an evergreen jewellery item. They will never go out of style and are a worthwhile investment. They can be bought for all the special people in your life as memorable gifts to commemorate milestones such as graduation, marriage and birthdays.
If you liked these trends in diamond rings for 2023, consider looking at Mia by Tanishq's jewellery collection. They are known for their trendy designs that match every style and personality. You can trust such brands for their high-end quality gemstones and diamonds.