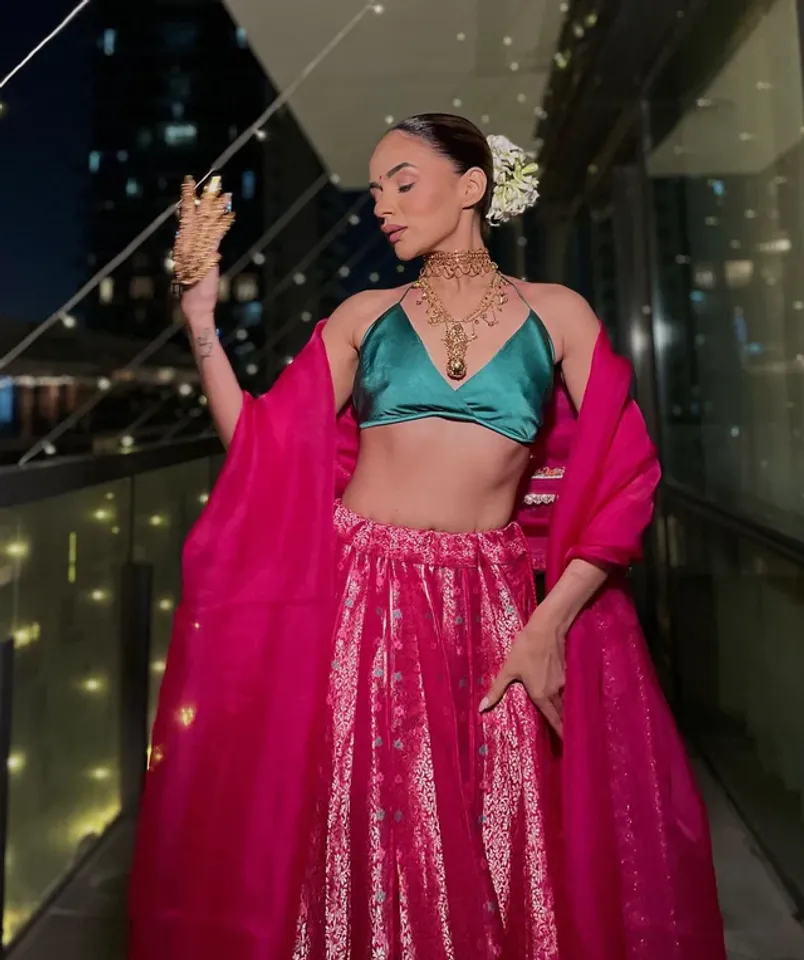 The Indian wedding scene is a kaleidoscope of colours, customs, and festivities, and the bridal gown embodies grace and grandeur at the centre of it all. Silk lehengas have evolved as a sophisticated and popular choice for modern brides among the many options. With their luxurious charm and cultural significance, silk lehengas have evolved into a timeless fashion statement, mixing heritage and contemporary appeal. 
The Charm of Silk Lehengas
With its silky and shiny quality, silk adds elegance to bridal apparel, making the bride feel like a queen on her special day. Silk's beautiful drape and flow improve the bride's form, emphasizing her beauty with each stride she takes. Furthermore, the richness of silk fabric represents celebration and joy, which perfectly complements the joyful atmosphere of Indian weddings. Silk lehengas, embellished with elaborate embroidery or traditional motifs, have a cultural significance that connects brides to their ancestry and brings to life the craftsmanship of Indian artisans. Silk lehengas' attractiveness transcends time, making them an enticing choice for the modern bride looking for a blend of heritage and sophistication on her wedding day.
Traditional Silk Lehenga Designs
Traditional silk lehengas celebrate India's vast cultural past, each region providing its design sensibilities. Each item conveys a narrative of skill and artistry, from the bright and intricately woven Banarasi silk lehengas of North India to the magnificent and opulent Kanchipuram silk lehengas of South India. These lehengas frequently have complex designs, time-honoured embroidery methods like zari and zardozi, and traditional colour schemes representing prosperity and happiness.
Contemporary and Fusion Lehenga Designs
The design of silk lehengas evolves in tandem with the fashion industry. Modern brides are looking for outfits that balance tradition and innovation. Modern aspects like clean cuts, creative draping styles, and popular colour combinations are used in contemporary silk lehengas. On the other hand, fusion lehengas incorporate elements from Western gowns or other global influences, fusing traditional craft with modern forms.
Regional Variations in Silk Lehengas
The regional variations of silk lehengas, each showing a unique and fascinating aesthetic, beautifully portray India's vast cultural terrain. Every region has its special charm, from the opulent Banarasi silk lehengas of North India, with their complex brocade designs and luxury texture, to the vivid and magnificent Kanchipuram silk lehengas of South India, embellished with bold colours and stunning gold accents. Mysuru (Mysore) silk lehengas exhibit a subtle elegance with their simple yet refined designs in the East, while Gujarat's Patola silk lehengas fascinate with their colourful geometric patterns and vivid hues in the West. These regional variants not only honour the rich weaving traditions of many parts of India but also provide brides with diverse options.
Customization and Personalization
Many modern brides choose custom-made silk lehengas that reflect their personality and preferences in search of uniqueness. Expert designers work directly with brides to understand their vision, adding complex elements, patterns, and colour palettes that are meaningful to them. This unique touch turns the bridal ensemble into a treasured keepsake that will be passed down through generations.
Styling Tips for Silk Lehengas
Here are some styling tips to help modern brides rock their silk lehengas with confidence:
1.       Choose the Right Jewelry: To compliment the opulence of silk lehengas, magnificent and intricate jewellery pieces are required. Choose classic pieces like Kundan, Polki, or Temple jewellery to complement the richness of silk fabric. Statement necklaces, chokers, maang tikkas (forehead decorations), jhumkas (dangling earrings), and bangles are great ways to lend a touch of royalty to your ensemble.
2.       Focus on the Hairstyle: The choice of hairdo can significantly impact the overall appearance. Consider complex braids embellished with fresh flowers or hair accessories such as jewelled pins or elegant hair combs for a more traditional look. Loose curls or a delicate updo can provide a beautiful and sophisticated mood for a more contemporary look.
3.       Complement with the Right Footwear: Because silk lehengas are frequently floor-length, the footwear choice is only sometimes obvious. Nonetheless, choose both comfortable and gorgeous footwear, such as embroidered juttis (traditional Indian flats), heels with elaborate embroidery, or stunning wedges that complement the colour palette of the lehenga.
4.       Makeup and Mehndi: Bridal makeup should match the colour scheme and embroidery of the lehenga. Brides can select between a conventional, bold look with dramatic eyes and deep-coloured lips and a more delicate, dewy makeup for a more modern feel. Remember to include henna (mehndi) designs on your hands and feet, an essential component of Indian bridal tradition.
5.       Drape the Dupatta: If your silk lehenga comes with a dupatta (scarf), drape it to complement the outfit. It can be draped over the shoulder or pleated to be worn as a half saree. Draping the dupatta as a saree pallu can add beauty and refinement.
6.       Consider the Blouse Design: The blouse design is vital in enhancing the overall appearance of the lehenga. Experiment with different necklines, sleeve shapes, and back patterns to find a shirt that flatters your figure and complements your style. Embroidered or beaded blouses can lend a glamorous touch to an ensemble.
7.       Balance the Look: While silk lehengas are large and rich, striking a balance in the entire aesthetic is vital. If your lehenga is extensively adorned or embroidered, keep your accessories and makeup simple to avoid overpowering the dress.
8.       Pay Attention to the Lehenga's Fit: A well-fitted lehenga may make or break the appearance of an outfit. Check that the lehenga properly hugs your waist and hips while allowing you to move comfortably and gracefully.
9.       Consider the Occasion: Silk lehengas can be worn for various wedding activities, including the main wedding ceremony, pre-wedding events, and parties. Choose the style and colour of the lehenga based on the formality and theme of the function.
10.   Confidence is Key: The bride's confidence and contentment are the most important aspects of styling a silk lehenga. Wear the lehenga with pride and a grin because it is your special day, and your happiness will be reflected in your attire.
Conclusion
Silk lehengas continue to captivate and enchant modern brides, evoking India's timeless elegance and cultural history. Silk lehengas come in various styles, from classic to modern fusions, to suit individual tastes and inclinations. Silk lehengas continue strong in the bridal fashion landscape, highlighting the rich workmanship and weaving traditions that make them essential to Indian weddings. Modern brides are encouraged to embrace their personality while honouring the cultural significance of this gorgeous dress, resulting in memories that will last a lifetime.