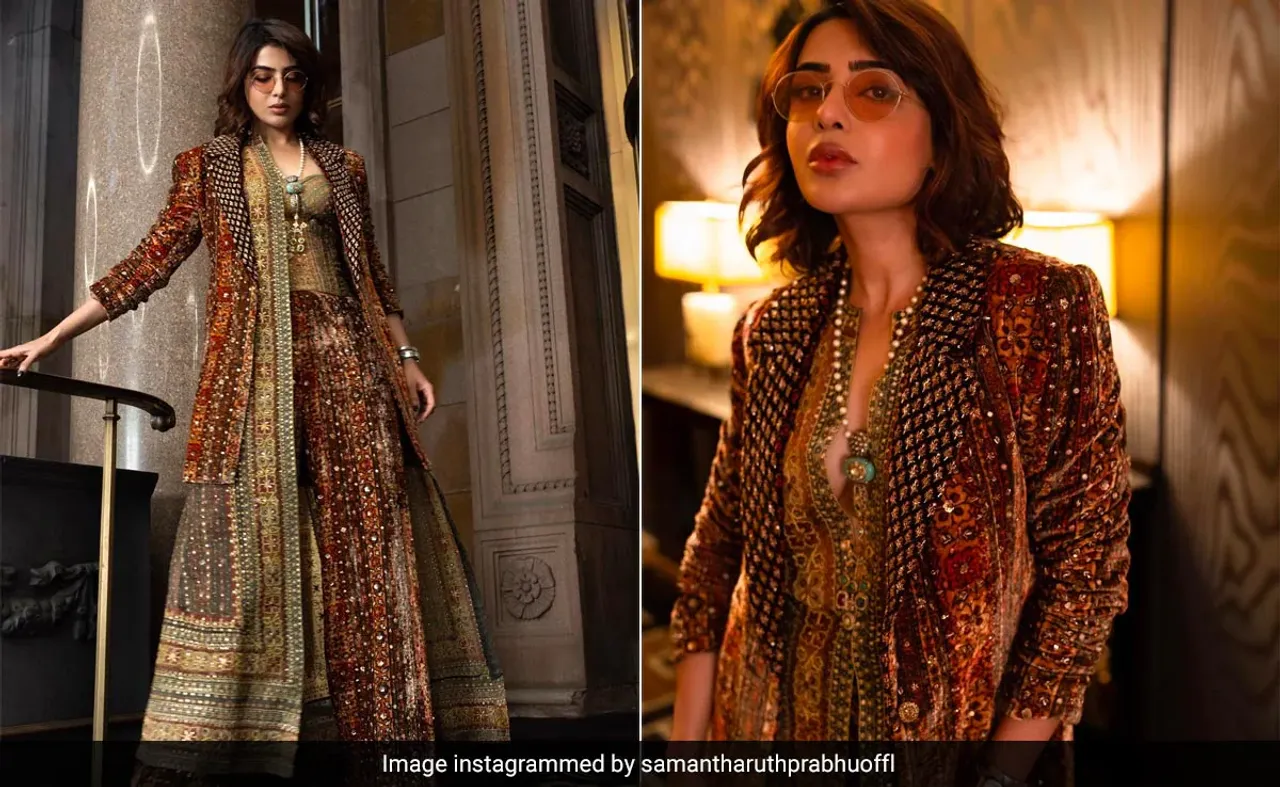 Samantha Ruth Prabhu has taken over the strrets of New York City with her modern traditional style. On August 19, She attended  the 41st India Day Parade on Sunday. She opted for traditional modern looks and has shared her pictures on social platfroms that took internet by strom. Her both looks gave vintage and classic vibes she looked regal and beautiful and she carried those looks on the streets of New York City with pride and confidence.
Samantha's vintage bohemian theme look:
Firstly, Samantha wore a four piece co-ord set from designer  Ritu Kumar's Cuture'23 collection. The outfirt gave a bohemian-rustic vintage look she wore Zergual jacket and the look was a celebration of earthy tones on rich silk and velvet. It is handcrafted outfit with intricate florals and paisely motifs, with multiple embroided boarders.. She paired it with vintage neckalce that perfectly went with the outfit and her side parted bob curled hair added that charm to her look. She wore a shade with it and she served a poweful and strong look. 
 Fans reaction:
Fans were awwstruck by Samantha's vintage look and one fan wrote, "You look gorgeous and glamour and smart girl". On the other hand one wrote, "You go girl like 13 years back you were there just for shooting but today a chief guest at the India Day parade representing our country. bow down to the queen. You in New York is our favourite view". And the other wrote,"Looking stunning and beautiful, You look so graceful".
Samantha's Elegant Black Sari Look:
After serving vintage bohemian look Samantha stunned netizens with her traditional elegant look. She wore designer Arpita Mehta's Black mutlithread hand-embroidered sari set. It was pre-drapped black saree that had floral embroidery in the boarder of the saree with golden strape V neckine embroidery blouse. She looked elegant and gorgeous in her attire she wore a heavy Jhumka that gave a bold statement to her look and she did side-pated curled bob hair that complimented her look. The cost of the elegant black saree was worth Rs 1,38,000
She came and conquer the street of New York City with her tradional-modern elegant look. She carried herself with elegance and class and made our country proud.