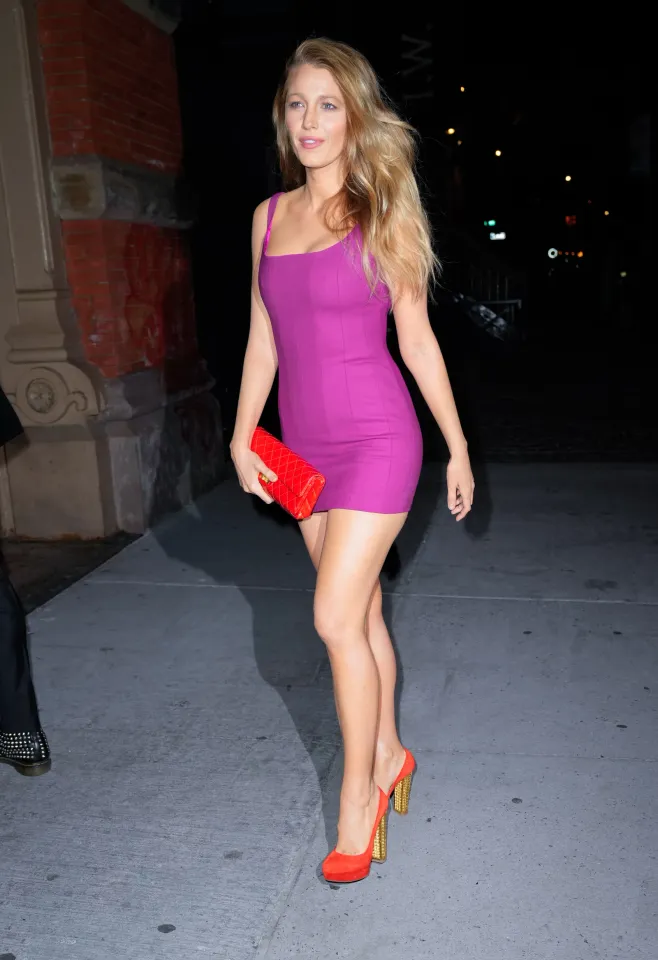 Gossip Girl fame actress Blake Lively is one of the most talented and popular Hollywood actress. She is known as the queen of fashion in west. She is a fashionista who knows how to carry herself, from red carpets to casual outings there is no one who does it better than her. On her 36th birthday lets revisit some of Blake's most stylist and popular looks from past that has grabbed people's attention and has become hot topic in fashion world. 
Blake's Glittery Look From September 2022
Back in september, 2022, Blake revealed her fourth pregnancy in the most unexpected way, she appeared at Forbes Power Women's Summit in Valentino's mini dress. And revealed her baby bump in the red carpet she looked stunning in the glittery mini dress which had white scaf styled around it and she had a pregnancy  glow and she paired ith with shimmery hoobs . 
Blake's Purple Mini Dress
Blake's look from Gigi Hadid's 27th birthday party in year 2022, took people back in Gossip Girl Day's. She wore Sergio Hudson's mini dress and she looked firece and vibrant in the purple mini dress. She looked super hot and she carried herself gracefuly she did a contrast with heels and wore a spunky orange colour heel with a matching colour purse.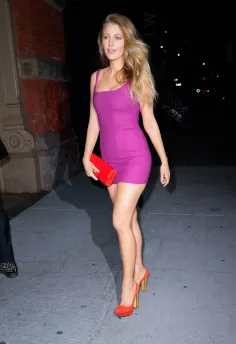 Blake's Sexy and Bold Look
On the 20th Annual Gem Awards Blake  took the internet by strom in her bold and sexy black leather dress by Sergio Hudson. Blake looked elegant and eddy in the stunning black leather dress it had a deep v shped cut neckline and the dress had a cut on the middle that added spice to her look. She carried her look with so much grace and confidence.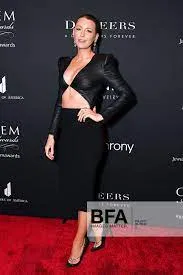 Blake's Rainbow Look
On 2019 spring/summer collection for the The Adam Project Premiere Blake looked dreamy and soothing in a rainbow Versace gown.  The colourful deep V neckshape gown looked so beautiful on Blake and the gown had a slit which mde it look super sexy. she looked so elegant and beautiful. jsut like princess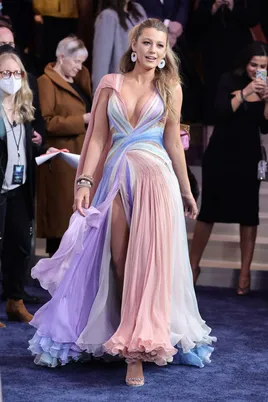 Blakes's Boss-Lady look
At the Broadway opening of Music Man, Blake Lively turned herself into Boss-lady she looked glamorous and stunning in a Sergio Hudson pantsuit and Lorraine Schwartz jewels. She looked fierce and bold in her purple paintsuit it is one her most killer look.