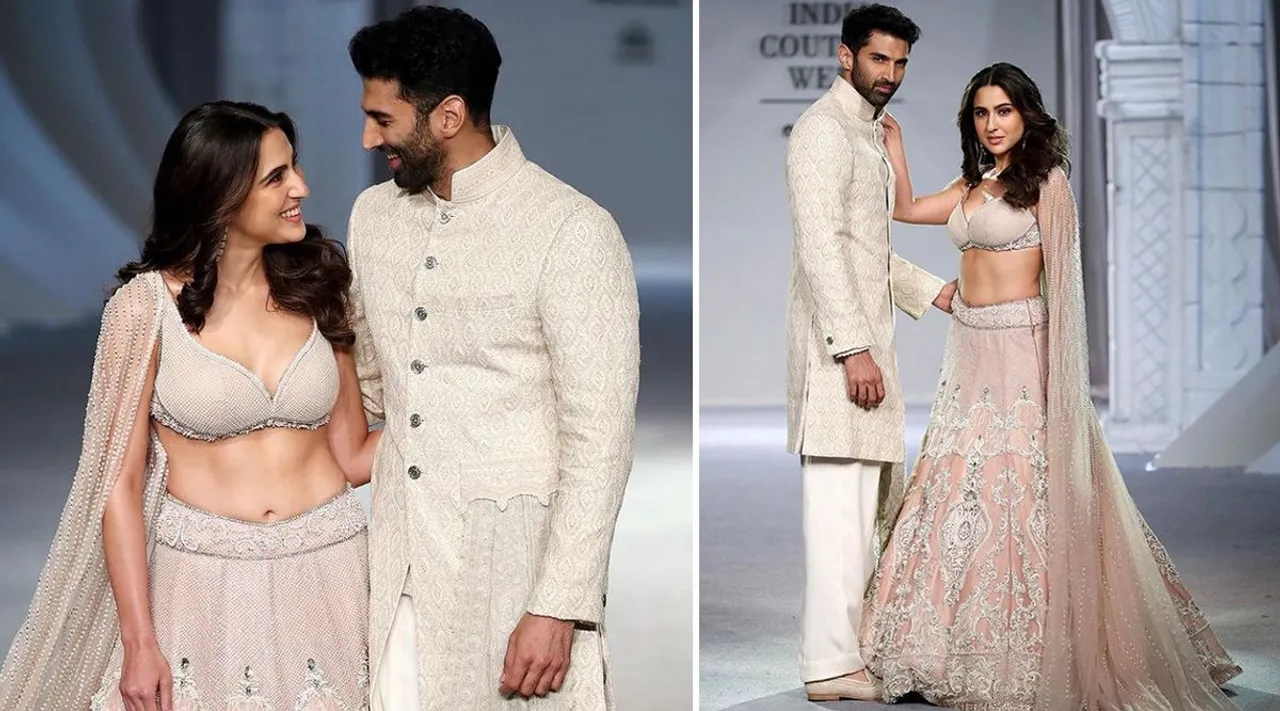 Indian Couture week is currently going on from July 25 the event is organised by Fashion Design Council of India (FDCI). On seventh day of Indian courture week bollywood heartthrob Aditya Roy Kapoor and Bollywood Diva Sara Ali Khan graced the show by walking the ramp for Shantanu and Nikhil. Ever since the fashion week has started it has been in the spotlight and has been grabing people's attention. From Ranveer and Alia Bhatt to Ranbir Kapoor and Ishan Khattar and Shobita, many bollywood celebirites have walked the ramp. 
Sara Alia Khan & Aditya Roy Kapoor Graced the show as Showstopper
Sara Alia Khan and Aditya Royal Kapoor graced the show as the showstopper for Nikhil and Shantanu. Sara Alia Khan looked stunning and Royal in her attire. She wore a pastel pink ballet blouse and had a long cape attached to it and she paired it with Lenhenga skirt and it had silver hand embroidery over it. Whereas, Aditya Kapoor looked dashing and handsome in an ivory sherwani with zardozi collar with white pants he had extra piece of fabric in the side of the cloth that added more glamour to the look. The inspiration behind this collection of designer Shantnu and Nikhil was taken from te ethereal beauty of travel and the glamour of bygone era.
Ever since the photos and videos of their ramp walk has surfaced on internet people have gone crazy and they feel that this fresh pair can be a great pair for new bollywood. movie. Soon this fresh pair is coming onscreen for the first time with Anurag Basu's "Metro In Dino". One user wrote,"Omg this pair is so hot", Another wrote," I guess if I were this close to Aditya, I'd be walking around like Sara at the end of this video. Or I'd just freeze. Nothing in between. Another one wrote, "Nothing just Sara Ali Khan and Aditya Roy Kapur casually walking the ramp and looking completely like a married couple".