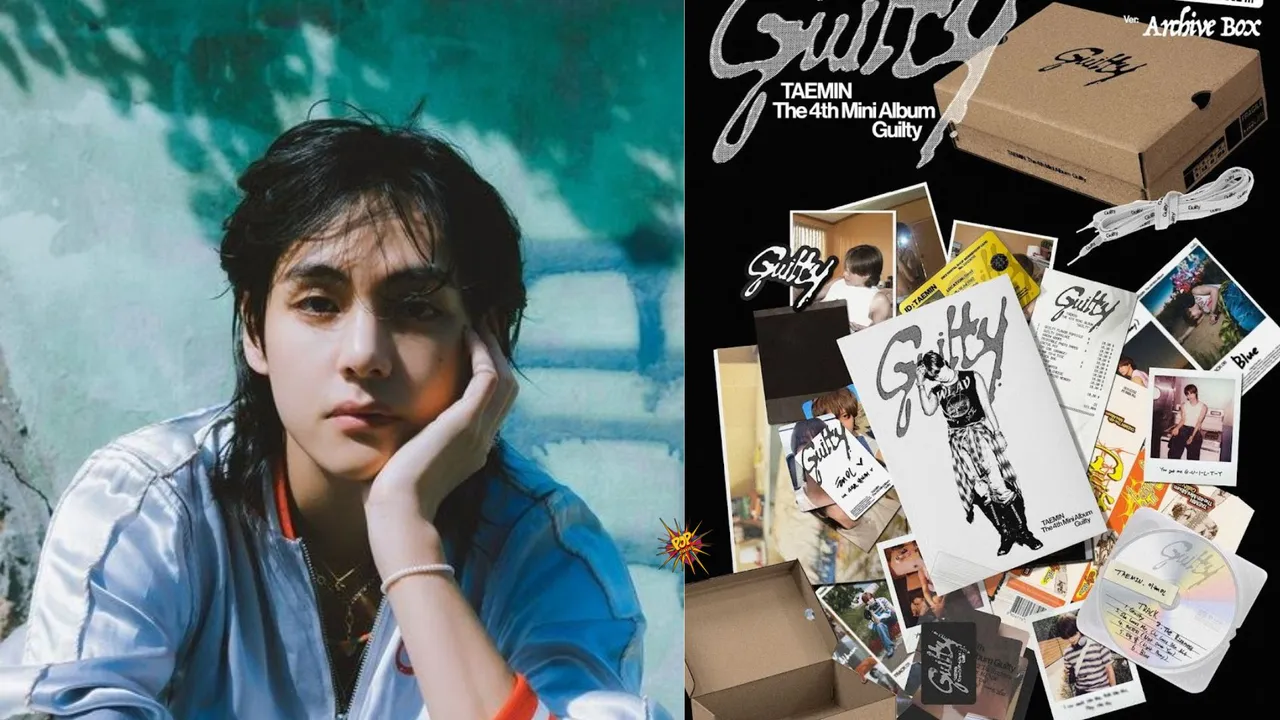 arlier this year, BTS's V made headlines with the release of his much-anticipated debut album, Layover. The album, praised for its unique and innovative concept, captivated fans worldwide. The physical album design, in particular, garnered immense love for its creative representation of V.
However, recent teasers from SM Entertainment about Taemin's upcoming album, Guilty, have caused a stir among netizens and ARMYs alike. On October 22, the SHINee Twitter page shared a preview of Taemin's album, unveiling tracks, concept photos, and the outer box. 
TAEMIN 태민 The 4th Mini Album 〖Guilty〗
Packshot - Archive Box Ver.

➫ 2023.10.30 6PM KST#TAEMIN #태민#SHINee #샤이니#Guilty #TAEMIN_Guilty pic.twitter.com/3oo2Ukjket

— SHINee (@SHINee) October 22, 2023
Fans quickly noticed striking similarities between the designs of Taemin's album and V's Layover, leading to accusations of plagiarism against SM Entertainment.
we're all obsessed with layover's concept, can't blame him https://t.co/dmKUNTKcRD pic.twitter.com/wkbmz6iBaK

— layover official manager (@kthvord) October 22, 2023
Cheap copy of layover

— 𝗗𝗮𝗹𝘂𑁯∗ ִ ֹ ★ ִ ⬦ (@xminsug_) October 22, 2023
Netizens, especially ARMYs, were swift to point out resemblances in the outer box, the style of the concept photos, and even the coincidence of a shared song title, "Blue," between the two albums. While it's plausible that the groundwork for Taemin's album was laid before V's Layover was released, fans expressed their frustration over the apparent similarities, questioning the originality of the upcoming SHINee album.
Is this even legal atp? Literally copy paste and the fact track 6 is actually called "blue" 💀💀💀pic.twitter.com/wcTUeH0jhM https://t.co/dcXu6vt2vi

— ariie⁷ 📀 (@gguksgenre) October 23, 2023
The controversy has sparked heated discussions within the K-pop community, with fans expressing their disappointment and demanding transparency from SM Entertainment regarding the design choices for Taemin's album. 
Some argue that the similarities might be purely coincidental, given the creative nature of the industry. However, the passionate response from ARMYs highlights the dedication and protective nature of the BTS fandom.
« Just one month old » is a keyword here. Production of such albums are planned months ahead, so the concept was very very much likely already designed when Layover physical ver. started being teased.

— punaise de lit HATE ACCOUNT (@Gookiie) October 23, 2023
As the debate rages on, fans eagerly await an official response from SM Entertainment to address these concerns and clarify the creative direction behind Taemin's Guilty album. The controversy serves as a reminder of the watchful eyes of fans and their commitment to upholding the integrity and originality of their beloved artists' work. Stay tuned for further updates as this story continues to unfold, shaping discussions in the ever-vibrant K-pop community.