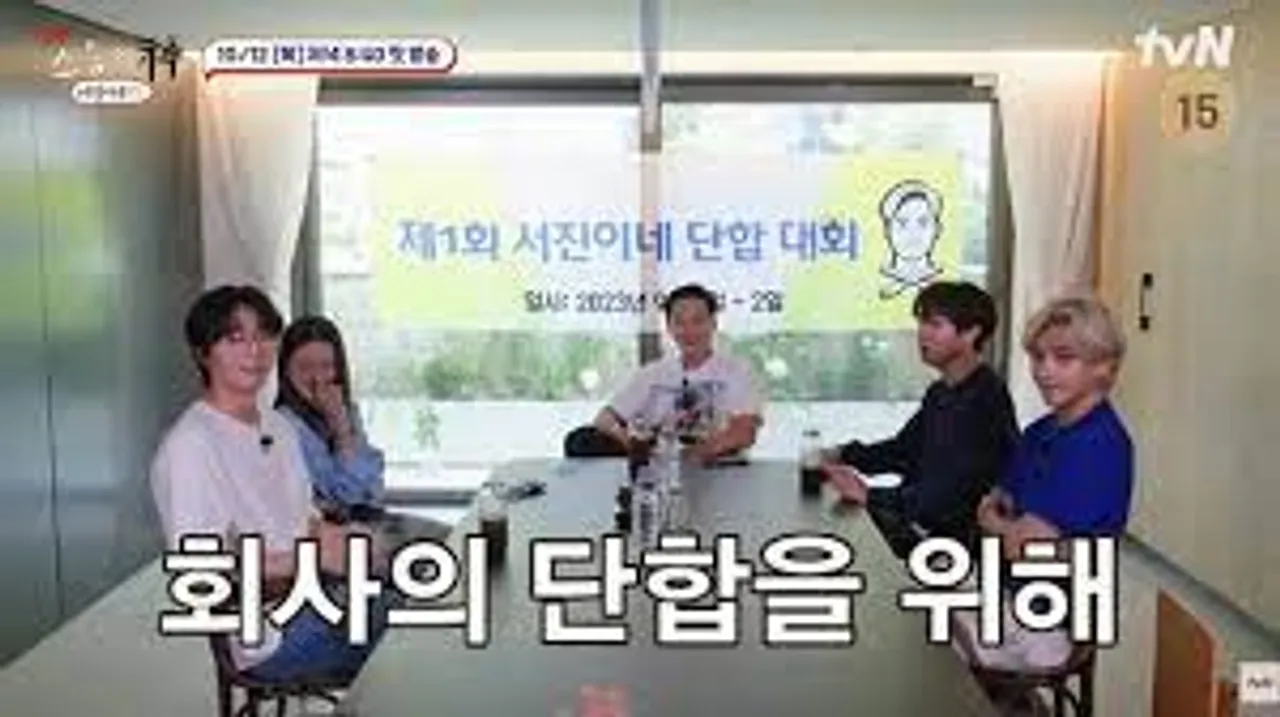 In a big surprise to fans, tvN on Wednesday unveiled a teaser of the spin-off of Jinny's Kitchen, a cooking show. As per Soompi, the upcoming spin-off has been titled Visiting God of Communication: Jinny's Kitchen. Taking to its YouTube channel, tvN posted a nearly minute-long clip in which the cast of Jinny's Kitchen was seen.
In the clip, the team of Jinny's Kitchen--BTS member V aka Kim Taehyung, Park Seo-joon, Choi Woo-shik, Jung Yu-mi and Lee Seo-jin reunite. As per the report, this time the staff members will "strengthen teamwork and communication through recreational activities". In the teaser, a person says, "It seems like the boss isn't really interested in [his employees]." So, all executives and employees are asked to hold the first company retreat at Jinny's Kitchen in order to "strengthen their teamwork and communication", as per Soompi.
CEO Lee Seo-jin, director Jung Yu-mi, and executive manager Park Seo-joon as well as interns Choi Woo-shik and V get together. A not-so-happy Lee Seo-jin asks, "Communication is going very well, so who reported that it isn't?" Yu-mi, V and Seo-joon avoid making eye contact while Woo-shik in a bid to get out of the situation asks repeatedly, "Who is it?"
Next, they take part in some games--both indoors and outdoors. As they play football, Seo-jin falls making those around him laugh. All of them sit on the floor playing another game while Yu-mi screams and laughs. While skipping, V follows Seo-joon but as soon as Woo-shik joins them, they miss their step. Woo-shik makes funny noises as V stares at him in disbelief. The first episode will air on September 12.