Meanwhile, BTS's 'BE (Deluxe Edition)' was dropped last year on November 20, 2020, which debuted at No. 1 on Billboard 2020 with their title track Life Goes On earning No. 1 spot on the Hot 100 chat and the list goes on. Now, it's time for 'Be (Essential Edition)', which is set to release on February 19, 2021, and they are poking us by releasing new content every day for a month. After revealing each member's murmuring notes, BigHit has now released a new one added.
BigHit Entertainment has now released a video of BTS RM's room with a special touch of the message. He curated the ARMYs room and added his own touch to it, called 'Moonchild' in the fandom after his track. His room expresses the beauty lies in simplicity but also finding comfort in your space. Keeping these thoughts in mind, the special edition for the ARMY is pretty thoughtful.
And adding a four-way case in the room, the most traditional type of Korean furniture, and a jar on the top to the right corner of the room, RM says in his voiceover, "I also thought a Korean "four-way-case" sabangtakja would be a good addition to ARMY's room. I make good use of this item to display figures. The four-way case is open all around to make it extra useful and the open sides imbue an expansive feeling to the entire space around it, bringing out comfort. It's antique furniture with many modern aesthetics. I hope the harmonious balance created by the gentle curves of the moon jar and the lines and angles of the sabangtakja can bring lots of comfort and relaxation from every direction."
"I remember saying that something in porcelain would be nice for RM's room but I've actually been saving it for ARMY's room. I thought the moon jar would suit ARMY's room really nicely. A moon jar is made by combining two halves that are made separately, so each piece is unique. I'd say just like people, each different and unique. Just as all of these different jars are called 'moon jars', so are all our ARMY who are different but stand by BTS as one ARMY. Looking at the moon jar in the room brings a certain tranquility to my mind. I hope through this beautiful piece, my full moon wish is to gift you a warm day that will be felt by all ARMY," RM says in the video.
Checkout the video:
Bangtan leader earlier has always kept his room heartwarming and seems he like to keep the vibe minimal, as back in November 2020, each member of BTS curated special concept photos – those were rooms representing them. Kim Namjoonie's room had a set color tone, there were figurines, his bonsai, and wood objects and today he did exactly minimal vibe and beauty with ARMYs room. What a creative man ad of course the other bandmates!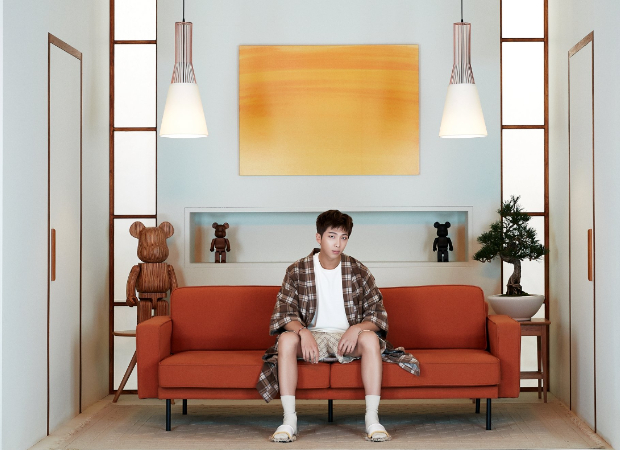 Now, cannot wait to see what all creativities we'll get to see from Jin, V, Jungkook, J-Hope, Suga and Jimin. And also, for 19 February day!
Who all are excited? Comment down in the comment box and let us know?