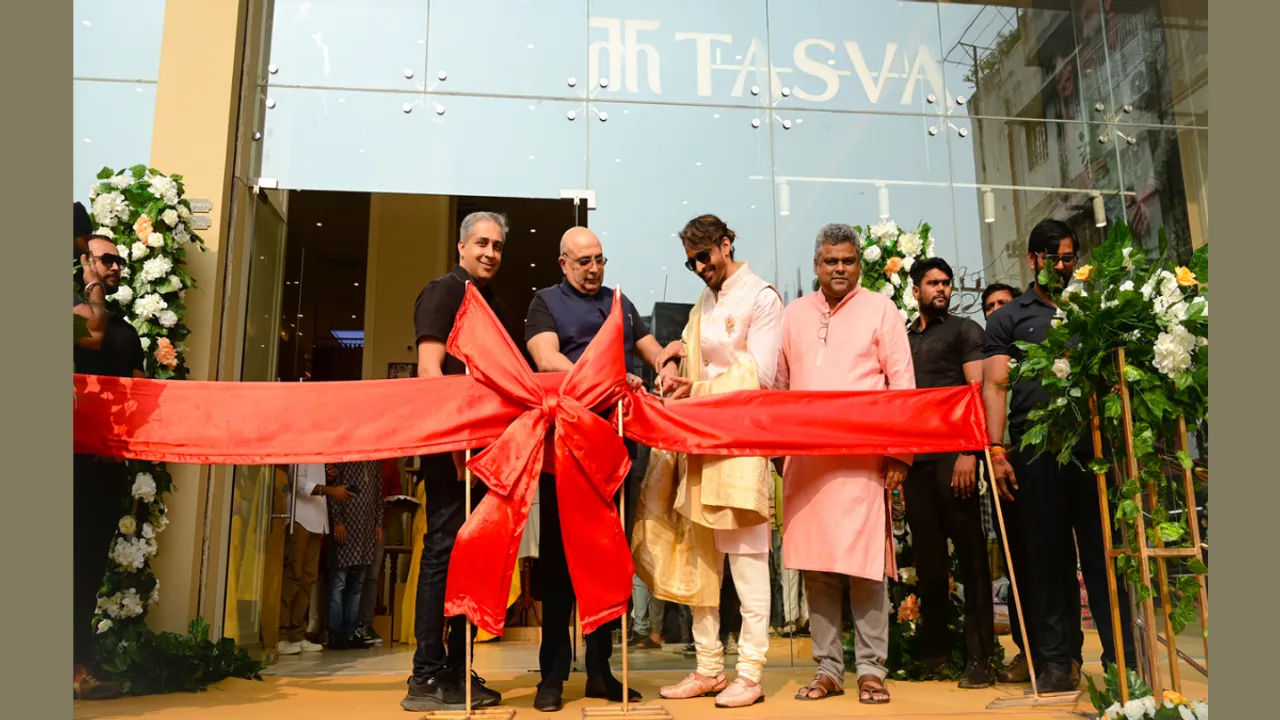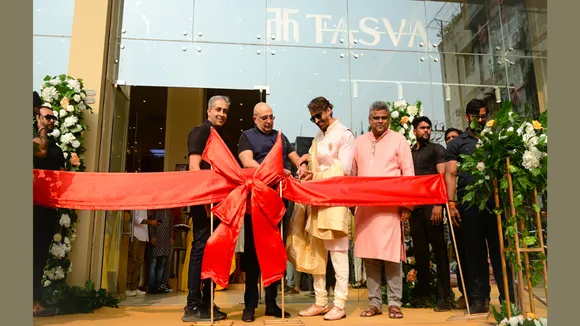 Image Caption: Patna store launch - Launch of Tasva, designer wedding wear
New Delhi (India), November 11: Harshvardhan Rane, resplendent in groom's attire, led a day baraat that showcased the epitome of style and elegance at the grand launch of Tasva on Patna's Boring Road. The event, featuring the exquisite collection curated by the renowned Tarun Tahiliani, was a masterclass in blending beauty with impact—an unforgettable moment that will resonate across the nation for years to come. 
Tasva, a collaboration between Aditya Birla Fashion and Retail Ltd and the renowned designer Tarun Tahiliani, is the latest entrant in the fashion scene, promising an exceptional array of ethnic and wedding attire tailored for the contemporary Indian gentleman. Spanning an expansive 7500 sq. ft., Tasva's flagship store presents a grand exterior, sophisticated interiors, and a diverse assortment of high-end designer wedding ensembles, featuring the latest AW23 collection. Reflecting Tarun Tahiliani's distinctive design ethos, the collection effortlessly fuses traditional aesthetics with modern flair.
Harshvardhan expressed his thoughts saying, "This city holds a special place in my heart. Patna is known for its discerning audience and to have earned a place in hearts of Patna's people is truly an honour. Today it's a privilege to witness the fusion of traditional elegance and contemporary style right here in Patna. Tasva's commitment to redefining the groom's fashion experience is commendable, and I'm excited to celebrate this significant milestone with them."
Tasva's collection is a testament to unparalleled sophistication. Thoughtfully curated, it offers garments with a focus on comfortable fits, meticulously crafted from opulent silk blends, skin-friendly cotton-viscose, and intricately woven jacquards—ensuring unrestricted freedom of movement. The extensive wedding and festive attire range encompasses an array of choices, from effortlessly stylish kurta sets to impeccably tailored sherwanis and achkans, as well as versatile Indo-western ensembles.
Elevating the ensemble are a plethora of accessories, including safas, sarpeches, brooches, pocket squares, buttons, sehras, stoles, shawls, and footwear. This comprehensive selection ensures that every groom finds the perfect finishing touch to complement his attire.
Setting Tasva apart is the innovative concept of a day baraat, an idea that seamlessly aligns with the philosophy of offering a one-stop destination for all of a groom's needs. This unique approach redefines the wedding shopping experience, creating a harmonious synergy between the distinctive collection and the practicality of finding everything essential for a groom's special day.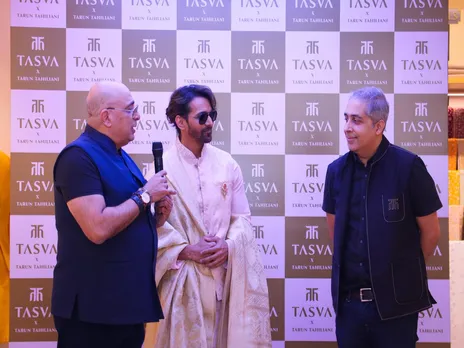 Tarun Tahiliani, Chief Design Officer of TASVA acknowledged the city's rich tradition seamlessly blended with modernity and its growing affinity for contemporary fashion. According to Tahiliani, the cultural tapestry of Patna resonates dynamically with the design philosophy of TASVA. He eagerly looks forward to offering the city a taste of their timeless elegance, emphasizing Tasva's mission to redefine groom's fashion and become an integral part of Patna's evolving narrative. The grand opening marks a significant moment as the brand sets out to weave its distinctive style into the fabric of this culturally vibrant city.
Ashish Mukul, Brand Head, TASVA, shared his thoughts stating, "At Tasva, we're strategically expanding our retail footprint, and the grand opening of our flagship store at Patna's Boring Road is a major milestone in this direction. Patna holds a pivotal place in our growth strategy, as we recognize its significance as a thriving market with a strong cultural heritage and an evolving taste for modern groom's fashion. This 7500 sq ft space is more than just a store; it's a testament to our commitment to redefining the shopping experience for our discerning customers."
Tasva, SKU Centre, Boring Road, Patna, Bihar 800001
Timings: 11:00am – 9:00pm daily | Phone: 06124035339
 www.tasva.com
Tags: Harshvardhan Rane, groom's attire