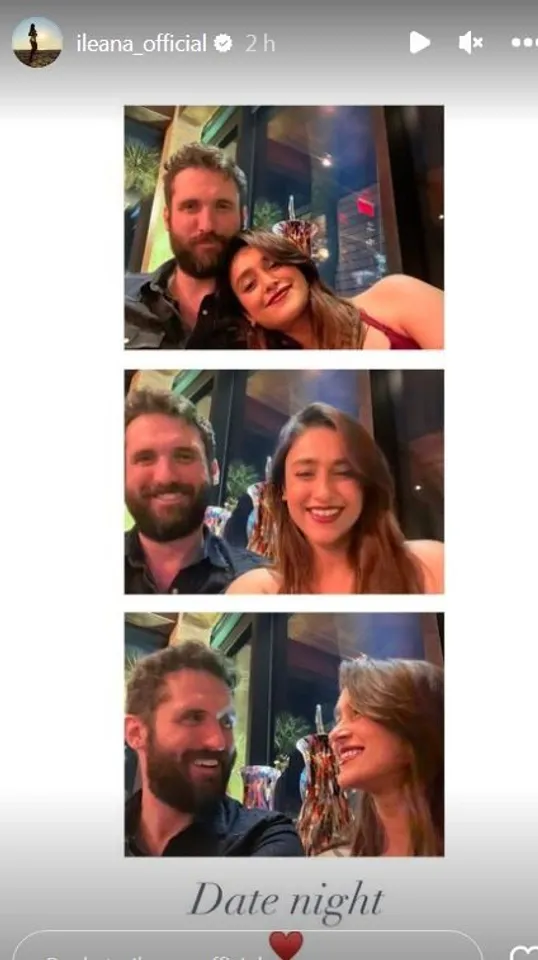 Bollywood Actress Ileana D'cruz has finally reveled her secret boyfriend. She has been in the spotlight since her pregnancy announcement. On, Monday morning she took to her instagram story to share the picture with her boyfriend from their date night with the heart emoji.  Ileana was wearing red dress and her pregnancy glow was visible while her boyfriend was in black shirt with full beard. On the month of  April  Ilena had announced her pergnancy on instagram platfrom which left her fans and audience shocked. She had not revealed the child's father's name and had kept her boyfriend secrect. While, people specualted that Katrina Kaif's brother Sebastien Michel was the father of the child beacause early their were rumoured to be dating. 
Earlier, after announcing her pregnancy Ileana has kept her fans updated about her pregnancy journey. She had also shared blur pictures of her boyfriend with her and her dog. She never revealed his clear picture or name. People are guessing he is the same guy who's blur pictures she had shared earlier. She kept the identity of her partner secret. Ilena was last seen in Badshah's music video Sab Gazzb which was a super-hit.
Her Pregnancy Note about her Journey 
She had shared a blur picture with her Patner on her instagram post where she had decribe her pregancy journey. She wrote that it is a beautiful blessing and she was fortunate enough to experience this journey. How she is overwhelmed with the thought of carrying a life inside her. She even wrote about her tough time, where there is tears and guilts. And how the voice in her mind puts her down. And she has expressed her emotion by saying, how she should be thankful rather than crying over something so trivial. And she even wrote about her patner's support how he has been her rock and has held her when she felt emotional and crack .
Her pregnancy announcement.