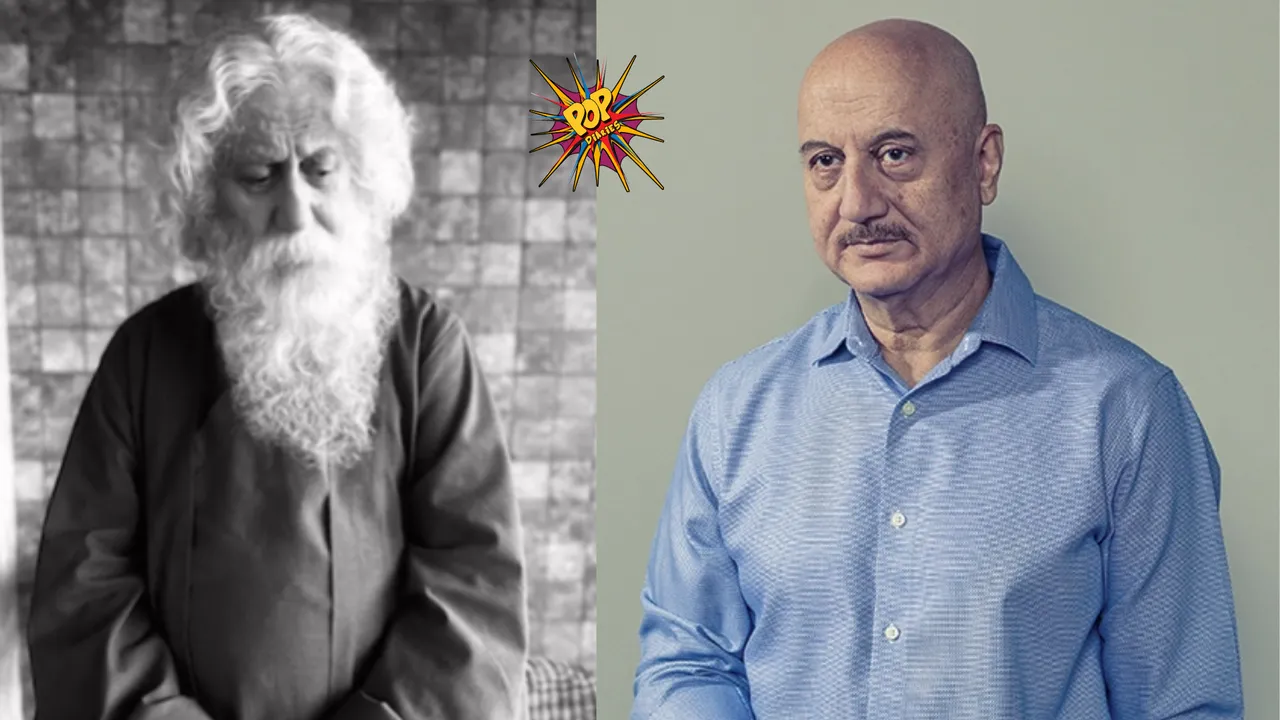 On July 7, the veteran versatile star Anupam Kher released his look of Rabindranath Tagore for his upcoming film. He was one of the greatest men who ever lived, a Bengali poet, writer, playwright, composer, philosopher, social reformer and as well as painter. And as we all know how wonderful actor Anupam is and he is going to portray the real-life character in his 538th project. 
No doubt, Saraansh actor has surprised us with this look of him and he looks simply perfect and captivating that makes sure of doing full justice to the role. But it didn't go well among a few netizens who started pouring in negative messages in the comment section and one such comment was of the actress Swastika Mukherjee, who said, "No one should play Robi Thakur. Leave the man alone." 
ALSO READ: From Bollywood To South Indian Cinema, 22 Indian Actresses Who Gracefully Romanced On-screen With Both Father And Son!
And now in a recent interview with Hindustan Times, Anupam Kher has indirectly pointed out the actress' comment and said, "My look as Rabindranath Tagore went viral because of the work that my whole team has put in it. But I was very amused by some people saying, 'Oh, leave Rabindranath Tagore alone, and nobody should do this'. I got to know about this reaction when my PR team sent it to me. There are 86,400 seconds in a day, and if someone says such things for 10 seconds, I will not waste my other seconds thinking about it." 
The actor further spoke without taking her name, "They want to be noticed by their negative views instead of their work. Aap criticism ke liye notice hue toh kya hi notice hue. I also want to ask if that concerned person is Tagore's spokesperson. Going forward, people will tell us not to make any project on Gandhi Ji. I found it to be an absurd point. What do you mean leave Tagore alone? It had no meaning. I didn't even know the name of the person. When I got the message from my team, I asked them to focus on the appreciation that is coming our way because it took my team almost two months to create the look, and took me three months to get that expression right. There is no one in the world that doesn't get criticised. I can live with it."
DEETS INSIDE: Huge Update For Cinephile! Thalapathy Vijay & Shah Rukh Khan To Come Together For 'Jawan'
And he concluded by saying, "I don't even want to discuss it because it is such an idiotic thing to say. Aise toh people will stop making projects such as Oppenheimer and Schindler's List. People should stop making documentaries. Such remarks hold no importance to me. I have a lot of energy but I have no time to waste on people who are random and who have nothing to do but to get noticed by criticising somebody."
And actress Churni Ganguly came in support of Anupam's Tagore portrayal in her recent exclusive interview. Appreciating how great an actor he is, she said, "As an actor, I don't see why not. But getting the Bengali nuances right is something that I would be concerned about. But then, he's such a wonderful actor. When he was so young, he played 'Saaransh'. He played a man much older than him. So, with that kind of creative prowess, I think he might be able to overcome these problems and work well."
ALSO READ: Action-packed 'TIGER 3' Update: SRK's Look Out On THIS Day & Salman Khan's Teaser To Be Attached With 'Jawan'
ALSO READ: AI Universe Hits Again! From Shah Rukh Khan as Oppenheimer To Flavourland's Icons Imagined In Real!