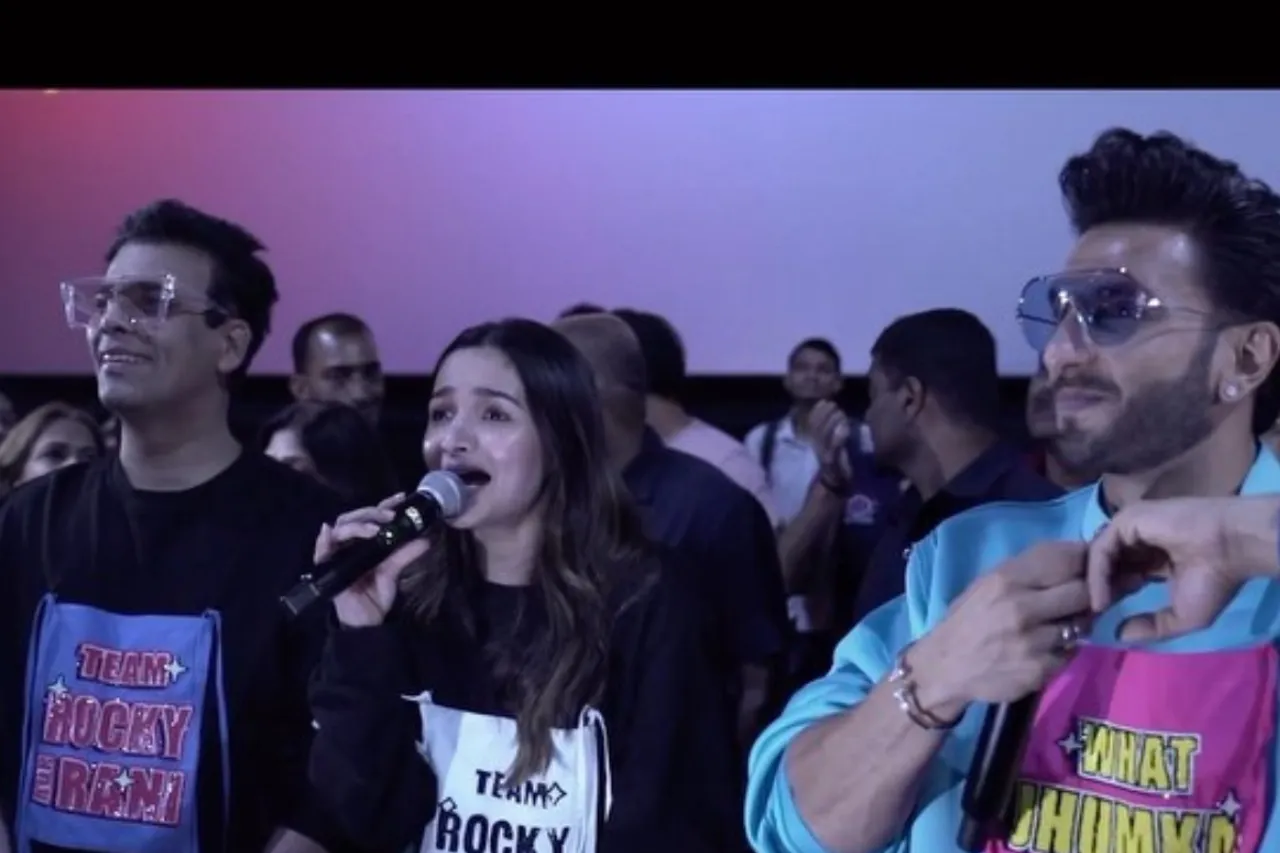 Karan Johar's most anticipated movie Rocky Aur Rani Kii Prem Kahani has released in cinema on 28 July and ever since its release the movie has received positve response from both the critics and the audience. On Tuesday, Both Ranveer Singh and Alia Bhatt made a suprise visit to the theatre in Mumbai where the screening of Rocky Aur Rani Kii Prem Kahani was going. They paid the suprise visit along with their movie director Karan Johar three of them were seen wearing a customize Sweatshirts  that had "Rocky Aur Rani Kii Prem Kahani"written on it. 
They entered the theatre in the end of the movie and Alia Bhaat asked the audience "Picture Kaisi Lagi" (How was the movie). Ranveer Singh gave a kiss to a man on his cheek and he was overjoyed with the response  and he introduced Karan and said, "Ladies and gentleman a round of applause for the maker, man of the moment, Karan Johar, Aapke chehre dekh ke I'm so happy, so happy, so happy". Alia Bhatt thanked the audience and said, "We just wanted to come and say hi. Ye suprise visit hai and thank you so much for watching our film and taking out the time."
After that both the actors clicked pictures with the fans and they took many selfies with the fans and interacted with them. Fans were super happy and suprised whereas, Karan Johar along with Alia and Ranveer were happy and joyful with the response fans gave.
Karan Johar's Rock Aur Rani Kii Prem Kahani has Earned Rs 70 crore till now.
Karan Johar's family drama Rocky Aur Rani Kii Prem Kahani is doing well in box-office and movie is emerging as super-hit. Ever since it's release the film has recevied posttive response from audience and critics. It is more than just a family drama or a Romantic drama. It tries to break a stereotypical thought and has talk about other important issues. The movie has collected  Rs 67.12 crore in six days and is still going well in the box-office. On the first day the movie collected Rs 11. 1 crore and by the end of the weekend movie earned Rs 45,90 crore. Inspite of having tough competition in the Box-Office with big hollywood movies like Barbie and Oppenheimer the movie has made it place and so far collected Rs 67.12 crore and is expected to enter the 100 crore club soon. Movie has become a super hit and is still going strong in the race. This year few bollywood movies have become blockbuster as compare to other years. Pathan had earned rs 543 crore whereas, The Kerala Story earned Rs 242 crore. Movies like Tu Jhooti Main Makkar and Satya Prem Ki Katha enterd the 100 crore club and became a superhit.