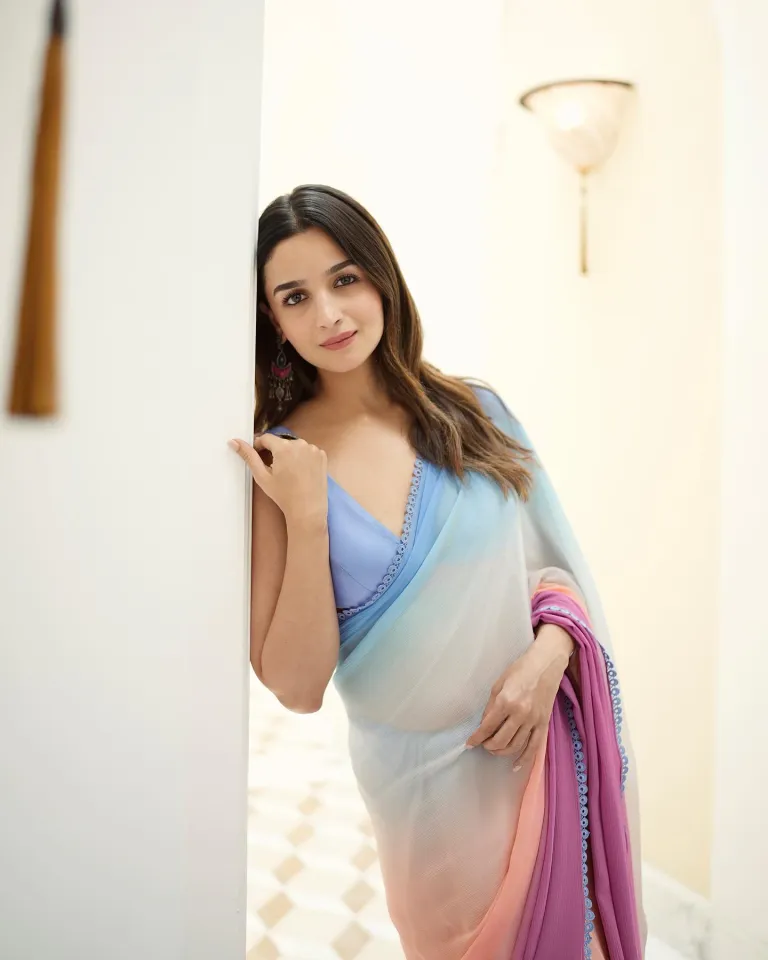 Alia Bhatt is back with a bang and her movie Rocky and Rani Ki Prem Kahani has released in cinema. The movie is getting postive response from the audience and the critics. Alia has come a long way in her journey she is an arc of sucess and growth. She made her bollywood debut with Karan Johar's  "student of the year"  and from that moment Alia has been improving and acing in her  movies. She is currently one the most succesful and bankable actress of bollywood now she has become a global star. With her each new movie she has proved her versatality and her capability as an artist and has been giving the biggest bollywood hit.
She has been contributing to the Indian Cinema with her excellant performance and achivements in global level as well. She has brought newness in all her movie characters and she keeps doing movies of different genres and she keeps challenging herself. She has worked on biggest bollywood movies that has received both critics appreciation and has done super-well in box-office. She has been part of movies like, Brahmastra, Gangubai Kathiawadi, Gully Boy, Raazi, Dear Zindagi and many more. She has proven her worth as an artist and people who earlier had trolled her for being a nepotism product also appreciates her acting skills. She is one of those few actress whose seven movies have been part of Rs 100 Crore club. She truly is an inspiration for many people and specially for younger genration.  She has massive fan following and has also received many awards for her excellant performance in her movies. There is no denial at saying this, that currently Alia Bhatt is the biggest and the most successful celebrity in the Indian Cinema who has given alot to the insdustry.
From Net Worth To Global Star, True defination of success.
After ruling Bollywood for more than a decade Alia Bhatt is all set to rule globally. She has become a global star and soon she is making her Hollywood debut  with Netflix's movie "Heart of Stone" alongside Gal Gadot and Jamie Donan. Her list of achievement does'nt end here she has become the first Indian brand embassador for Gucci and she even made her first public apperance as Gucci's ambassador at the Gucci Crusie 2024 runway show. With that she also made her debut in Met Gala 2023, Where she wore a chanelbride-inspired Prabal Gurung  white gown and she took the internet by the storm with her look. Each day Alia is reaching new heights of success at this young she has not only achieved great sucess in bollywood industry but she is also making her name in hollywood industry. She has masssive fan following globally and her present net worth is 299 crores.
Apart from acing in her acting career she is an entrepreneur and a producer as well and she has made some of the best business choices Alia Bhatt entered the business world with Ed-a-Mamma which she started at 2020 it is a clothing brand and it specialises in provising sustainable clothing options for children at affordable price at it current net worth is Rs 150 crore and according to the latest report Reliance is considering to acqurie Alia's Ed-a-Mamma for Rs 300-350 crore. Alia Bhatt has also made an investment in Nykaa, she was one of the early investor in Nykaa and she is earning appoximately 54 Crore by it. She has also bceome a producer and has her own production house "Eternal Sunshine Production" and has produced her Netflix movie "Darlings" which was a sucess. She is brand of brands like Cadbury, Make My Trip, Lay's, Caprese, Blenders Pride, Manyavar, Cornetto, Titan Raga, Phonepe, Philips and many more and her brand value makes her the second highest paid bollywood catress. She charges Rs 20 crore for her films and charges 1-2 crore fee for her endorsement.
Alia Bhatt is one of the most popular face of bollywood who is ready to take over he world.