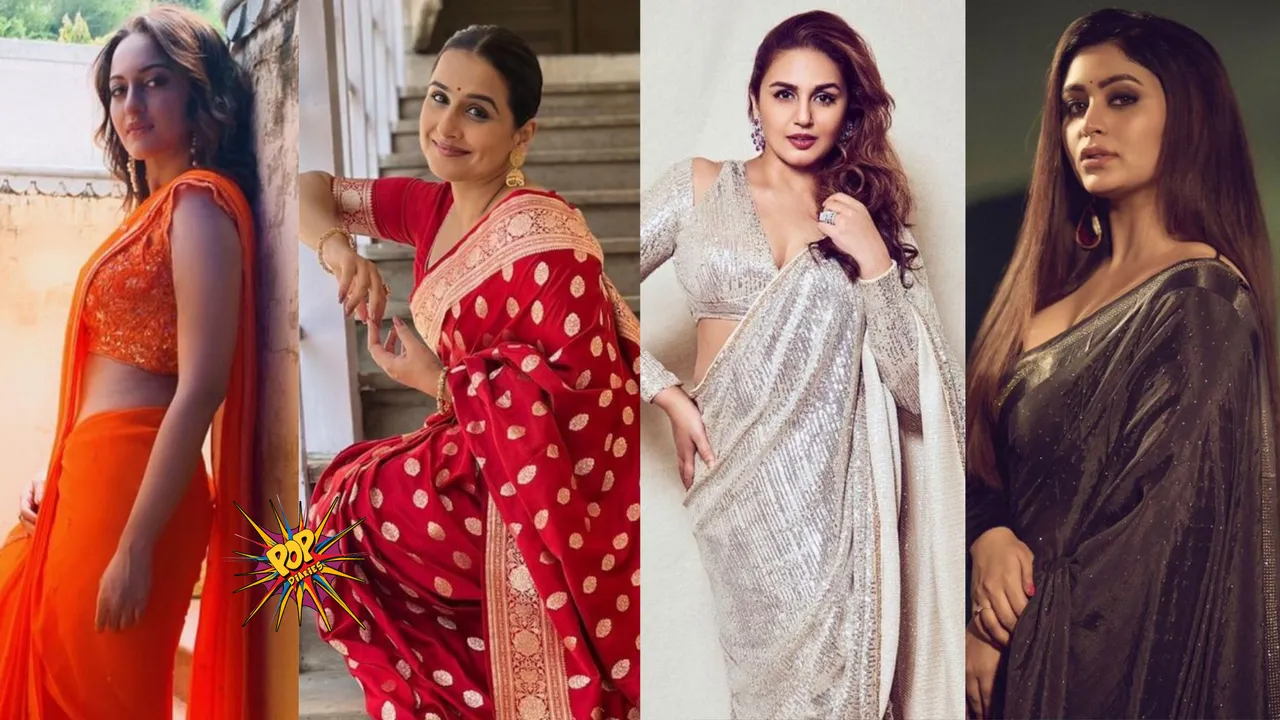 The timeless elegance of a saree is unmatched, and these Bollywood divas have effortlessly showcased its charm on numerous occasions. From red carpets to promotional events, these actresses have donned the six yards of grace with impeccable style and panache. Let's take a closer look at how Vidya Balan, Ritabhari Chakraborty, Sonakshi Sinha, and Huma Qureshi aced the saree look, proving that this traditional Indian attire is both versatile and glamorous.
Have a look:
Vidya Balan:
Vidya Balan's love for this traditional attire is evident in her public appearances. She effortlessly combines traditional weaves with contemporary styles, making her saree look stand out. Draped in an exquisite red Banarasi saree adorned with intricate gold embroidery and complemented by elegant gold jhumkas, Balan exudes a captivating radiance. Vidya never fails to make heads turn with her saree ensembles.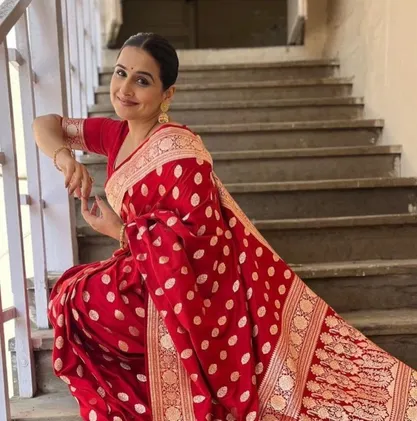 Ritabhari Chakraborty:
Ritabhari Chakraborty is a true saree connoisseur. With her epitome of grace and sophistication, she has charmed everyone with her saree looks. In the enchanting ensemble of a black georgette saree embellished with mesmerizing silver tikli work and adorned with a delicate silver lining, Chakraborty epitomizes a breathtaking fusion of glamour and timeless elegance. Her presence captivates every onlooker, leaving them in awe of her refined grace and sophistication. She proves that simplicity and elegance go hand in hand, making her a role model for saree enthusiasts across the nation.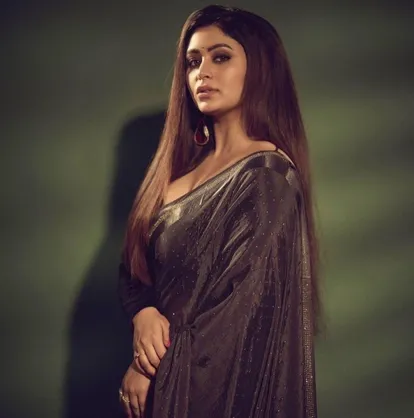 Sonakshi Sinha:
Sonakshi Sinha's saree looks are a perfect blend of modern chic and ethnic elegance. Drifting like a vision in a lightweight, ethereal orange chiffon saree, Sinha embraces simplicity and elegance. The saree's subtle lining and minimal embellishments enhance her innate charm, while the beautifully embroidered blouse adds a touch of sophistication to her look. Her impeccable style and confidence in sarees make her an inspiration for the millennial generation.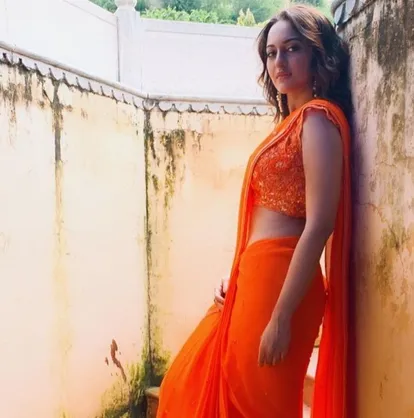 Huma Qureshi: 
Huma Qureshi's saree style is all about confidence and charisma. She carries herself with unmatched poise, making her saree looks exude an aura of sophistication. Draped in a resplendent ivory silver sequin saree, complemented by an elegant full-sleeved blouse, Qureshi radiates an enchanting allure of shimmering opulence and unparalleled glamour. Huma proves that sarees are not just about tradition, they can be a powerful statement of elegance and empowerment.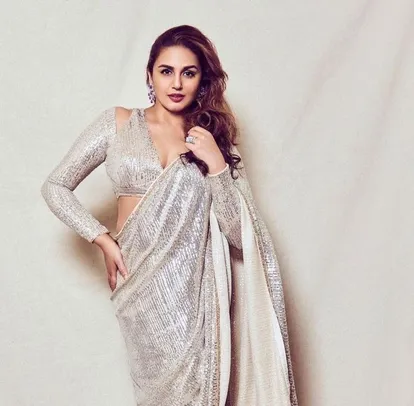 These four Bollywood actresses have shown us that the saree is a timeless garment that can be embraced in myriad ways. From traditional weaves to contemporary designs, these divas have demonstrated that the saree is not just a piece of clothing but a symbol of grace, beauty, and cultural heritage. Their impeccable saree looks continue to inspire millions of women, encouraging them to embrace the saree with elegance and confidence.