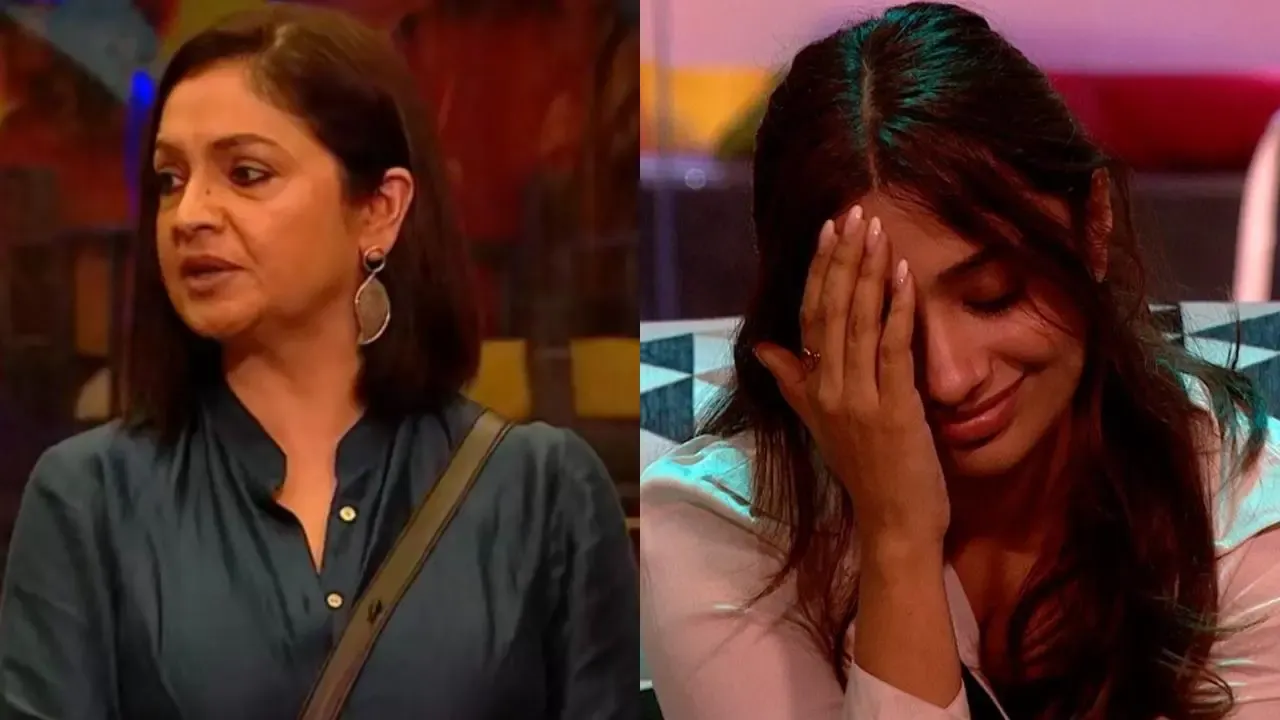 Big Boss OTT2 is getting more intense each day. The show is going on in full swing with the new wildcard entry's. Each day the house witnesses new dramas and fights. In the upcoming episode you'll watch a huge fight that broke out last night between Jiya Shankar and Pooja Bhatt. Pooja Bhatt and Jiya Shankar had a heated argument between each other. The fight started after the sponsored task ended where Pooja was seen calling out Jiya's gameplan. It looked like she had been building up all this thought within herself which blasted out last night. The heated agrument turned into a big fight. Pooja blasted on Jiya and confronted her in front of all contestant for double stantard. She slammed Jiya for her backstabbing and confusing nature she called her slow poision . She pointed out her diplomatic nature towards her friends and also called her fake who convinently becomes  sweet and aggressive. Jiya's friend Avinash, Abhishek,Falaknaaz and Jad were also seen agreeing with Pooja bhatt. In heat of the moment Pooja even cursed jiya and took a slight dig on her for wearing makeup. Jiya also responsed her with the same rage and called out Pooja Bhatt's behaviour and she fought for herself. Social media is buzzing after this fight.
Its not the first time when Jiya has been called out  for her diplomatic and backstabbing nature. This has been her gameplan since the begining even audience felt that she is confused and her stand for her friendship is never clear. She has been seen backbitching about her own friends and then being sweet to their faces. Even her own friends have called out this nature of hers. She has never confronted people face to face and has never expressed her feelings to them directly. Her stands in the game is not clear in recent episode she choose Avinash over Jad  fior the capataincy task which came as shock for both housemates and audiences. She has done it before as well. Salman has also called her out for this and on weekend ka vaar during the task she was given  slow poision plant indicating towards her gameplay. After the fight Jad has mainted his distnace with Jiya and even Falaknaaz was seen avoiding her. This fight has brought in new masala in the show it will interesting to watch the new  dynamics of the house. 
Fans have a mixed responses to it:
There are many people who have had some complains with her. Fans have a mixed response to it many people feel pooja has taken the right stand and were happy that she finally exposed Jiya's double face. While Jiya's fans felt she was being ganged up and felt bad for her. 
Here are some reaction from fans. 
#PoojaBhatt and #JiyaShankar had a huge fight#AbhishekMalhan #FukraInsaan #FukraArmy #PandaGang pic.twitter.com/BYa8EcjA6z

— Disha (@dishagoyal539) July 13, 2023
In a world full of #PoojaBhatt s trying to dominate you, trying to overpower you, trying to silence your voice

Be a #Jiyashankar who takes a stand for herself no matter what the consequences lies ahead

She is hurt but not crying for attention or sympathy #Jiya#BiggBossOTT2 pic.twitter.com/ZqmL72PWrE

— ✪✪✪𝗠𝗨𝗡𝗡𝗔✪✪✪ (@BABAPOPA) July 14, 2023
#PoojaBhatt exposing the game play of #JiyaShankar that she is using #AbhishekMalhan for votes

Ab toh Aankhein khol lo bhai Abhishek🤦‍♂️#BiggBossOTT2 #BBOTT2

pic.twitter.com/jpaKdkUCbh

— Bigg Boss Guru👁 (@_biggbossfc) July 13, 2023
Literally this Girl slept without eating anything 💔 like seriously if she doesn't say that doesn't mean that she don't feel pain! More power to you girl ❤️🙌#JiyaShankar #AbhiYa #BiggBossOTT2 #AbhishekMalhan pic.twitter.com/FCFdW6HcOk

— Arnavi (@UrEyesOnMine) July 13, 2023
Gal fought like a Queen..
The so-called privileged Lady,went below the belt but gal still never crossed her line.With this she exposed PB aggression.
JIYA YOU ARE A QUEEN#Abhiya #JiyaShankar pic.twitter.com/FCmWEN3SQX

— Lizelle (@just_Lizelle) July 14, 2023